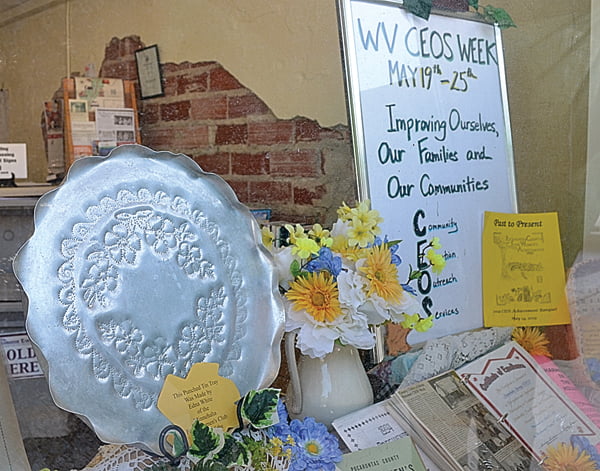 Laura Dean Bennett
Staff Writer
The State of West Virginia designated the week of May 19 as "CEOS Week" to celebrate the achievements of one of West Virginia's oldest volunteer service organizations.
WVCEOS is a voluntary, nonprofit organization functioning in cooperation with West Virginia University Extension Service.
It is one of the largest educational organizations in the nation.
CEOS programs emphasize education, personal growth and building healthy families and communities.
Through dedicated service, continued education and leadership development, CEOS members strengthen individuals, families and communities across West Virginia.
But you may know the organization by another name, as its name has changed four times throughout the years.
It was first known as the Farm Women's Club, then as the Home Demonstration Club, then Extension Homemakers and finally, as Community Education Outreach Service Clubs – CEOS.
The organization's history coincides with the early days of West Virginia University itself, which was formed after the 1862 West Virginia Land Grant Act established Land Grant Colleges, one of which was WVU.
It was recognized early on that agricultural education and scientific farming was vital for our state.
The College of Agriculture at WVU, founded in 1867, was formed to address this need.
In 1895, the West Virginia Board of Agriculture established a system of Farmers' Institutes, and by 1910, there were more than 100 such institutes in West Virginia, most of which included programs for farm women.
In 1912, WVU's Extension Division of the College of Agriculture was formed.
In 1914, the Smith Lever Act established WVU's Cooperative Extension Service and that same year, the first Farm Women's Clubs were registered.
The Farm Women's Clubs had officially begun their long history of educating and supporting West Virginia's women.
By 1917, WWI created the need for increased food production and preservation in America.
Here in West Virginia, this spurred interest in the Farm Women's Clubs and the education they offered.
"War kitchens" became a popular term, and club lessons focused on growing and preserving food – with canning in glass jars and in tins being taught in every club.
In 1919, the Farm Bureau Farmer's Week meeting in Morgantown established a close association with the Extension Service.
In 1920, there were 126 Farmers Institutes in West Virginia, with a total meeting attendance of approximately 11,000 members.
In the 1920s, Farm Women's meeting lessons leaned toward home improvement and home industries, food and nutrition, sewing clothing and making hats.
During the Depression in the 1930s, the clubs and local Extension Agents sought to help struggling families – offering good advice on how to make do with less.
There were lessons on managing home finances, the care and safe use of electrical appliances, dry cleaning at home and refinishing furniture.
The Pocahontas County History Book records the first official Farm Women's Club formed in the 1930s in Pocahontas County – the Swago club.
Also in the 1930s, Farm Women's clubs offered lessons in "Adventures in Good Living" and the purposeful reading program was initiated.
The Minnehaha Farm Women's Club was established in 1935 with 10 members.
Their early projects included food for the hot lunch program and the purchase of a stove for one of the schools.
They furnished a hospital room, assisted 4-H clubs and assisted with a pre-school clinic.
In the 1940s, WWII brought practical lessons in rationing, food conservation and Victory Gardens.
Extension agents spoke on these topics at Farm Women's Clubs, even teaching lessons on how to make mattresses from surplus cotton.
In the 1950s, lessons included how to wisely purchase appliances, civil defense, nutrition and dealing with the culture of television.
In 1954, the club's name was changed to the Home Demonstration Club.
Members continued meeting in each other's homes to absorb lessons provided by the university and local extension agents, including consumer education, cultural advancement, understanding and appreciation of our heritage and concerns of low income families.
In 1968, there came another name change – Extension Homemakers Clubs – and inclusion in the National Extension Homemakers Council.
Although the name had changed, the emphasis remained on education and support of women and their families.
Lessons in the 1970s, 80s and 90s focused on women's changing roles, recycling, health and nutrition, medical care, aging and economic concerns.
Finally, in 1998, the club's name changed again.
The clubs became CEOS – the Community Education Outreach Service clubs.
Lessons included a focus on family issues, business and cultural issues and community service.
At one point, there were many clubs in Pocahontas County, but in recent years, the number has dwindled to three: Edray, Hillsboro and Minnehaha.
Over the past decade, West Virginia CEOS members performed more than 5.6 million hours of service for the communities in which they live and work.
As the WVCEOS clubs tackle the issues facing us in the 21st century, their mission remains the same.
They continue to offer education and support to women, while promoting strong families, healthy living, communication and volunteerism.
Pocahontas County CEOS clubs support countless worthy local causes.
They donate time and money to libraries, school groups, fire departments, the local radio station, senior centers, 4-H clubs and many other organizations and agencies.
If you would like to learn more about WV CEOS, visit ceos.wvu.edu or contact the Pocahontas County office of the WVU Extension Service at 304-799-4852 to be put in touch with the club nearest you. Pocahontas County's CEOS clubs would welcome your interest.
Laura Dean Bennett is a proud member of the Minnehaha CEOS club.