The Opera Pocahontas County Opera House will welcome back old friends and familiar audience favorites this spring, with performances by world music ensemble Lone Raven, folk musician John McCut-cheon, the Davis & Elkins College Appalachian Ensemble, and the Pocahontas Drama Workshop PlayFest.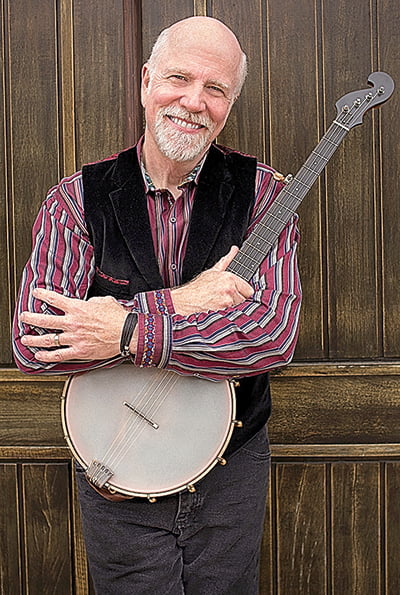 John McCutcheon
Saturday, April 21
7:30 p.m.
John McCutcheon has emerged as one of our most respected and loved folksingers. As an instrumentalist, he is a master of a dozen different traditional instruments, most notably the rare and beautiful hammer dulcimer. His songwriting has been hailed by critics and singers around the globe. His 30 recordings have garnered every imaginable honor including seven Grammy nominations. He has produced more than 20 albums of other artists, from traditional fiddlers to contemporary singer-songwriters to educational and documentary works. His books and instructional materials have introduced budding players to the joys of their own musicality.
The legendary figures of Appalachian music imbedded McCutcheon with a love of, not only home-made music, but a sense of community and rootedness. The result is music – whether traditional or from his huge catalog of original songs – with the profound mark of place, family and strength. People of every generation and background seem to feel at home in a concert hall when McCutcheon takes the stage, with what critics describe as "little feats of magic," "breathtaking in their ease and grace…," and "like a conversation with an illuminating old friend." Whether in print, on record, or on stage, few people communicate with the versatility, charm, wit or pure talent of John McCutcheon.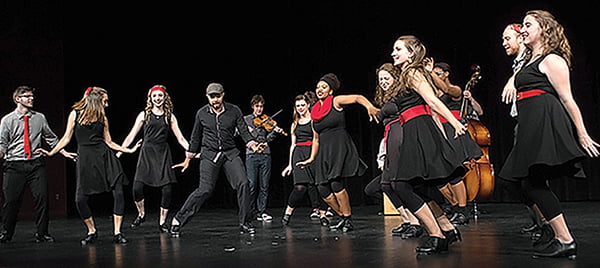 Davis & Elkins College Appalachian Ensemble
Friday, April 27
7:30 p.m.
The Davis & Elkins College Appalachian Ensemble, a student performance group led by String Band Director Emily Miller and Dance Director William Roboski, is dedicated to bringing live traditional music and dance to audiences in West Virginia and beyond. Composed entirely of students attending D&E, the group features an acoustic string band (fiddle, banjo, guitar, mandolin and bass) and a team of dancers with a diverse range of expertise.
The group focuses on the intersections of different American vernacular forms and their roots, ranging from old-time music and flatfooting to jazz music and tap dance, to Irish sean nós dance, body percussion and numerous traditional American styles of harmony singing. The performances include a variety of regional dance styles, contemporary choreography, and a selection of traditional songs and tunes.
"Performing with Appalachian Ensemble is like building a community – not just among the dancers and musicians, but also across the region," says dancer Will Roboski. "In return, we are gifted with new tunes, dance steps, stories and friendships."
"Appalachian Ensemble does more than just provide a space for expression," adds musician Scotty Leach. "It preserves and spreads the traditional arts of West Virginia and Appalachia in a way that is visually and aurally appealing. We respect those who came before us while holding in reverence our own interpretations of Appalachian traditional arts."
The Ensemble performs at festivals and concert halls during the school year. The Ensemble also leads workshops in the basics of traditional clogging, body percussion and singing styles for both children and adults as part of its mission to bring traditional music and dance to a broad range of audiences around the country.
Tickets for these performances are $10 for adults. Youth 17 and younger are admitted free of charge. Advance tickets are available at pocahon tasoperahouse.org and the 4th Avenue Gallery in Marlinton.
Save the Date for these upcoming events:
Pocahontas Drama Workshop Playfest 2018: May 18-19
Pocahontas County Opera House 2018-19 Season Preview Party: June 15
The Opera House Performance Series is presented with financial assistance through a grant from the West Virginia Division of Culture and History and the National Endowment for the Arts, with approval from the West Virginia Commission on the Arts. Support is also provided by Pocahontas County Dramas, Fairs and Festivals and the Pocahontas County Convention and Visitors Bureau.
The Pocahontas County Opera House is located at 818 Third Avenue in Marlinton. Performances at the Opera House are informal, family-friendly and open to all. The entrance and main seating are accessible to persons with disabilities. Persons with disabilities are encouraged to attend; special accommodations can be arranged upon request by calling 304-799-6645.