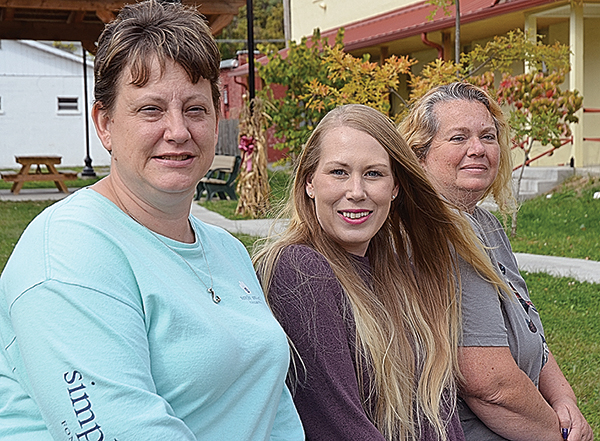 Laura Dean Bennett
Staff Writer
Pocahontas County residents and visitors will want to put the annual Empty Bowls dinner on their October calendars.
The Family Resource Network and the Pocahontas County Arts Council are teaming up again to host the seventh "Empty Bowls" dinner to benefit the Family Resource Network's Harvest House Food Pantry. 
The "Empty Bowls" fundraising concept originated in Michigan in 1990 when Lisa Blackburn and art teacher John Hartom were looking for ways to involve art students in projects that would make a difference in their community. 
The students made ceramic bowls in their high school art classes, and the community was invited to a supper held to aid a worthy local cause.
Guests bought a bowl and soup was served in it for the fundraiser.
They called their idea, "Empty Bowls." It was such a success that the concept soon spread around the country, eventually making its way to Pocahontas County where it has also been well received.
"We all look forward to the Empty Bowls dinner every year," FRN executive director Laura Young said.
"It's a wonderful way to spend an evening with friends and neighbors. 
"Empty Bowls has become a fall tradition – gathering together for a meal of delicious soup is a great way to warm up on a chilly fall evening. And the bonus is that it benefits the Harvest House food pantry at the same time."
Pocahontas County High School art teacher Diana Nelson and her visual art students will be helping by glazing the bowls which will be "thrown" by members of the Pocahontas County Arts Council. 
"This is so good for our students," Nelson said. "They get to help with a community service project, and they really are enjoying doing it." 
The students and the artists will have the satisfaction of knowing that their art will be going home with someone to be enjoyed long after its purchase at the Empty Bowls dinner.
The Empty Bowls meal will consist of homemade soups, breads and desserts soups, breads and desserts prepared by friends of the FRN and community volunteers.
Guests are invited to come and choose their favorite bowl from the 200 bowls that will be available. All bowls are finished with a food safe glaze.
Each bowl will be a one of a kind piece of art. There will be various shapes and sizes and each will be uniquely decorated. 
Arts Council president Gurreri said the Empty Bowls fundraiser is a "win-win for everybody – the artists, the students, everyone helping to organize and prepare the dinner, but most of all, our community."
The Family Resource Network has been doing good work in our county for many years. 
In addition to operating their monthly food pantry, the FRN provides weekend backpacks of food for kids in food-insecure situations, hosts baby showers and educational programs for young mothers, administers programs to help those having trouble paying their heating bill and hosts Project Christmas, which provides gifts for children in need.
All of this is accomplished with grant money and donations from our local community. 
"We couldn't do what we do without the support of our community," Young said. 
"I am always in awe of it and grateful for it."
Rebecca Campbell, FRN Family Support Center Director, is especially fond of the annual fundraiser.
"Empty Bowls is my favorite event of the whole year, because it brings together so many different kinds of people," Campbell said.
"You look around the room and see an interesting mix of people from all walks of life who come together to fight hunger in our community."
The Empty Bowls dinner will be held Thursday, October 19, from 6 to 8 p.m. at the Pocahontas County Opera House.
Entertainment will be provided by local musicians and a good time will certainly be had by all.
Anna Cassell, FRN's Community Outreach Coordinator, said there'll be more than just good food, music and fellowship that evening. 
"There will also be a silent auction," Cassell said.
"Guests will have the opportunity to bid on, among other items, a variety of interesting crafts, handmade wreaths, a cheesecake, a pasta basket and a local gym membership."
Tickets will cost $30 at the door, but may be purchased in advance for $25 each at the FRN office at 821A Third Avenue, 9 a.m. to 4 p.m., Monday through Friday.