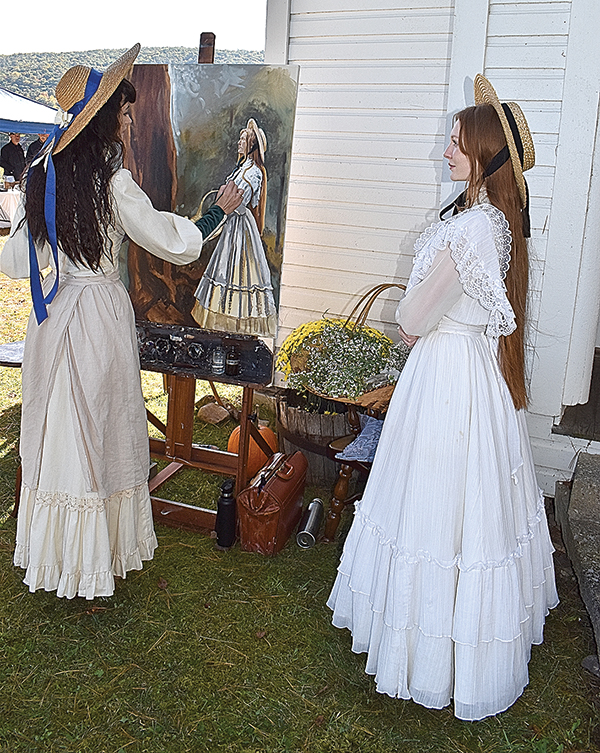 Suzanne Stewart
Staff Writer
Saturday was a blustery day, but it didn't deter the crowd taking a respite from the 21st century to enjoy some 19th century traditions at Huntersville Traditions Days.
The senses were flooded with sightings of Civil War soldiers, frontiersmen and ladies dressed to the nines; smells of fresh beans and cornbread, as well as apple butter brewing; and sounds of old-time music performed by Juanita Fireball and the Continental Drifters, the Viney Mountain Boys, the Hefner family and the Front Porch Pickers. The Appalachia Cloggers with Lou Maiuri joined Juanita Fireball and the Continental Drifters, who provided music for the dancers.
In front of the schoolhouse, artist Vivian Blackwood, of Marlinton, painted a portrait of Kate Mackenzie, of Highland County. She also had several oil paintings on display, including one of her fiancé, Philippe Willis, who was set up on Schoolhouse Lane with his taxidermy and pen and ink illustrations on display.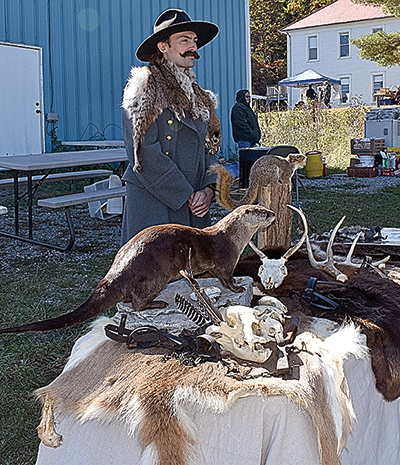 On the grounds of the schoolhouse, artisans demonstrated broom making, basketweaving, wool spinning, wood carving and pumpkin carving. Renowned basket weaver Clyde Jenkins also had his heirloom apples and apple tree saplings on display. Jenkins has honed the art of growing heirloom apples on his family farm in Stanley, Virginia.
In addition to the demonstrations, local historians were on hand at the schoolhouse to give a further glimpse into the past. Bob Sheets, owner of Fort Warwick, the Revolutionary War era fort in Green Bank, had a display of artifacts that have been discovered during digs at the fort, and Pocahontas County Genealogy Group, led by Roger and Jan Orndorff, had historical books for those wanting to learn more about Pocahontas County and their roots.
In the schoolhouse, Joyce Mullens portrayed the school marm and shared stories of the good ol' days in the one – or in Huntersville's case – two room schools. Upstairs, Preserving Pocahontas had a display of photos from its collection for visitors to enjoy.
In the school cafeteria, the room was filled to the rafters with quilts from all eras, with hand sewn traditional quilts mixed in with the new machine made quilts in a variety of colors. Quilters Christy Sharp and Linda Adams held a small quilting bee in the midst of them.
The side yard at the home of Terry and Connie Carr was filled with activity. Terry welcomed visitors into his blacksmithing shop, while others showed their skills at chair caning and wool spinning. For those who wanted to try some old-fashioned chores, there was apple cider making and corn shelling. 
After all the hard work, they could enjoy a bowl of soup which was cooked in a cast iron pot over an open fire.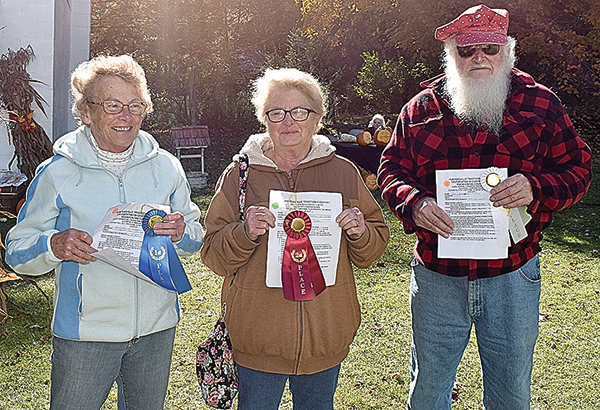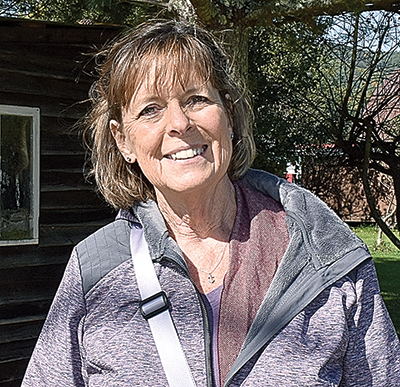 A friendly baking competition was held with entries in the Joyce Varner Memorial Salt Rising bread and the Hazel Sherbs Memorial Cornbread baking contests.
Winners in the salt rising bread category were: first place, Ramona Anderson, of Ona; second place, Lois Mamak, of Buckeye; and third place, Nancy Broyles, of Marlinton.
In the cornbread category: first place went to Barbara Broyles, of Marlinton; second place to Rita Kelly, of Marlinton; and third place to Tom Simkins, of Marlinton.
Judging the entries was Jenny Stewart, of Huntersville, and Cindy Johnson, of Marlinton.
Tours were given throughout the town, including the Presbyterian Church, jail and museum. All the sites could be easily taken in as visitors traveled by horse or tractor drawn wagons. 
While it originally began as a one-day event, Huntersville Traditions Days has expanded into a full-fledged festival with three days of activities in the community. Thursday and Friday, Pocahontas County students were given a tour of the historic sites in the town and learned more about their home county from local historians.
Huntersville Traditions Days is the first full weekend in October of each year and is a celebration of the way of life of the founders in the first county seat of Pocahontas County.