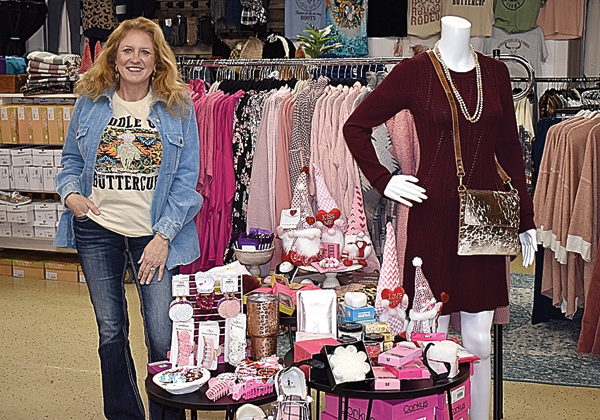 Suzanne Stewart
Staff Writer
When Nancy Harris and her husband, Frank, moved to Pocahontas County from their native state of Florida, she didn't intend to open a clothing store, but in September 2022, she found herself turning her online shop, Emma Grace Foothills Boutique, into a storefront in Green Bank.
The Harrises owned and operated their own irrigation and landscaping business in Florida and worked side-by-side for 30 years until Nancy was diagnosed with Crohn's disease and had to take a step back from working in the field.
As a way to fight boredom – and make a little extra income – Nancy started Emma Grace with the idea that a portion of the proceeds would go toward dog rescue and other organizations in the area.
Along with their business, the Harrises also worked together to rescue dogs and have taken in dogs for almost as long as they've had their business.
In fact, several of their rescues were the inspiration behind the boutique name and logo.
"Emma and Gracie are two of our rescues," Nancy said. "The dog on my logo is not Emma or Gracie. I'm always asked that. That's Hoss. He's going to be fourteen in a couple months."
The online business was doing so well that Nancy continued to make sales when the couple moved permanently to the county in March 2022. After 13 years of renovations and additions, they moved into their home on Buffalo Mountain, with their rescue dogs and boutique in tow.
Nancy planned to continue her online sales at home, but the Internet speed at home was nowhere near what she had in Florida. She reached out to Kay Gillispie, who owns the Art in Green Bank building, with the intention of renting a space to use just as a staging area for her online videos.
Instead, she found herself opening a store filled with women's clothes and accessories.
"I had no idea it was going to be so much fun and people here would react to my crazy ideas to raise money for organizations," she said.
Since opening, the store has kept a steady pace of shoppers who are on board with Nancy's yearn to give back. During the holiday season, for every Christmas T-shirt that was sold, five dollars was put aside for the Green Bank Senior Center. Nancy said $350 was raised.
Nancy also donates clothes and has a large collection of women's and men's fashions to take to Pocahontas Center in Marlinton.
Although the shop is mainly for women of all sizes, Nancy added men's clothing during the holiday shopping season.
"I did learn something this year from the hunters," she said. "They need stuff. They come here and they forget [to bring things with them]. I was asked for men's boots left and right. Before hunting season starts, I'll bring the menswear out."
Nancy also plans to add a children's section in time for Easter, including Easter dresses and accessories.
With her passion for fashion, Nancy is always on the lookout for trends and watches to see what customers gravitate toward when they shop.
"I just watch people," she said. "I see what they're buying and what they like. We sold surfing clothes [in Florida] and here, it's different. I've learned that people like cow prints, and I sell a lot of jeans. I carry a bunch of different brands of jeans – from a moderate price all the way up to the Miss Me expensive jeans."
Along with selling clothing and accessories, Nancy has worked with other businesses in Green Bank to attract customers to spend the day in the area and have a little shopping spree. They have also planned several events, including an upcoming Valentine's Day event.
Nancy and The Mtn. Shop owner Yvonne Wallech are selling tickets for a Valentine's Day event which includes dinner, dessert, drinks, games, door prizes and a raffle. It will be Saturday, February 11, at 6 p.m. at the Arbovale Community Center. Tickets are on sale now at the boutique and The Mtn. Shop.
"We're doing a lot of stuff," Nancy said. "I think it's going to be nice. We're teaming up and doing all kinds of cute little things."
She may not have intended to have a store, but Nancy says she is happy to have taken this route with her boutique.
"The store allows me to give to local organizations and continue to give to animal rescues where I would have been forced to cut back due to retirement, if I didn't have it," she said. "The customers are such a blessing to me, and I can't wait to see what different, local organizations we can contribute to this year."
The boutique is open Wednesdays, 9 a.m. to 5 p.m. and Saturdays, 10 a.m. to 4 p.m.