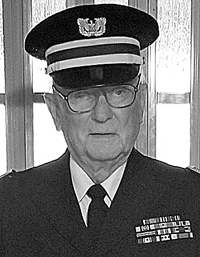 Eldred Maxwelton "Max" Gibson, 84, of Maxwelton, passed away Friday, September 10, 2021, at Peyton Hospice House in Fairlea. 
Born November 10, 1936, in Broken Bow, Nevada, he was the son of the late Eldred Rafael Gibson and Ona Gladys Landreth Gibson. 
Max was a member and Elder of Clifton Presbyterian Church.  He was a 42-year veteran of the National Guard, retiring as a CWO4. 
Max met his wife, Vivian Shue Gibson, December 5, 1985, and he invited her to visit him in Denver, Colorado, for two weeks.  They were married February 28, 1986. Following his retirement in March 1995, Max and Vivian traveled the U.S. in their motorhome until 2000.  Max was a member of the Frankford Ruritan Club and served as District Governor from 2007 to 2016.  
 
In addition to his parents, he was preceded in death by an infant sister, Gladys; stepdaughter, Cindy Hutto; stepdaughter-in-law, Bonnie Cochran; and an infant granddaughter, Savannah Gibson. 
In addition to his wife, he is survived by a son, Eldred M. (Shelly) Gibson Jr.; daughter, Debbie Klinger; stepson, Raymond Cochran, Jr.; and stepdaughters, ReDonna Koch and Gracious (Charlie) Payton; special step-grandson, Ronnie Smith; six grandchildren, seven step-grandchildren, 16 great-grandchildren; and nine step-great-grandchildren.
Graveside service was held Tuesday September 14, 2021, at the Rosewood Cemetery in Lewisburg with Pastor Ron Miller officiating. 
Online guestbook can be signed at www.morganfh.net 
Arrangements by Morgan Funeral Home in Lewisburg.