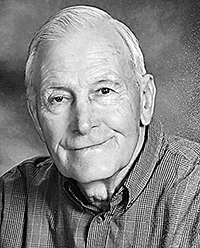 Edward "E.S" Hurst, 89, of Mineral Wells, went to be with the Lord, Monday, July 3, 2023, at Ruby Memorial Hospital.
Born in Lashmeet, May 25, 1934, he was a son of the late Abney and Ella Mae Hurst.
E.S. enjoyed working horses and was an avid fisherman and hunter. He was a member of Big Tygart United Methodist Church, the National Wild Turkey Federation, where he was awarded mentor of the year. Teaching the youth brought him great joy. He was also a member of West Virginia Turkey Hunter's Hall of Fame. He was a clever man and a hard worker. E.S. was well-respected and admired by his neighbors, community and all who knew him.
He is survived by two daughters, Janet Allio (Randy), and Libbie Oliver; two sons, Jason Hurst and Daniel Hurst (Dawn); brother, Mickey Zane Hurst (Ilean); seven grandchildren, Emily Strickland (Michael), Jeremy Allio (Rachel), Holly Correro, Amanda Delp (Casey), Justin McHale, Sara Smith and Ariella Oliver; six great-grandchildren, Brett Strickland, Kristian Strickland, Isaac Allio, Vivian Allio, Danica Delp and Beau Delp; and three step-children, Debbie Workman (Dennis), Richard Workman (Natalie) and Billy Gilmore.
In addition to his parents, he was preceded in death by his first wife, Norma Tibbs Hurst; his second wife, Maybell Kelley Hurst; third wife, Nancy Kelley Hurst; siblings, Larry Hurst, Polly Miller and Christine Shutt; one granddaughter, Leah Strickland.
Funeral service was Saturday, July 8, 2023, at 11 a.m. at Lambert-Tatman Funeral Home, Pike Street in South Parkersburg with Pastor Andrew Lawrence officiating.
Burial was in Big Tygart Cemetery.
In lieu of flowers, memorial donations may be made to: Leah Strickland Memorial Scholarship Fund, Poca Valley Bank, PO Box 69, Elkview WV 25071.
Lambert-Tatman, South Parkersburg is honored to serve the Hurst Family.
Condolences may be shared with the family at lamberttatman.com