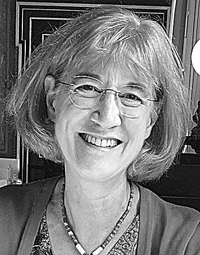 Dorothy "Dotsy" Schneider Fraker, 68, of Arlington, Virginia, and Clover Lick died suddenly Thursday, October 6, 2022, of cardiac arrest at Virginia Hospital Center.
Dotsy was born on Bastille Day, July 14,1954, in Midland, Michigan, to William and Jean Schneider (née Pottenger). At the tender age of nine, she attended an eight-week session at the National Music Camp in Interlochen, Michigan, where she was introduced to the oboe. She returned to the camp for many summers thereafter, continuing to play the oboe, despite the never-ending challenge of carving her own reeds for the instrument. She subsequently enrolled as a high-school student in the associated Interlochen Arts Academy, from which she graduated in 1972.
Following her father, Dotsy attended Carleton College in Northfield, Minnesota, majoring in English and earning a BA in 1976.  As a first-year student at Carleton, Dotsy lived across the hall from a third-year student, Thomas Fraker. Her extroversion overcame his introversion; they became a couple in the winter of 1973 and remained one for the next 49 years. In 1977, Dotsy joined Tom in Ann Arbor, where he was pursuing a PhD in economics at the University of Michigan. She worked for several years as a substitute teacher, bank teller and clerk at the Big 10 Party Store before enrolling as a graduate student in Michigan's School of Education, where she earned an MA as a reading specialist in 1980.  
In 1981, after the birth of their first child, Dotsy and Tom left the Midwest and settled in Arlington, Virginia. Dotsy was dedicated to her three children, Emily, Carolyn (1984), and Joe (1987). Highlights of their time together included visits to the Smithsonian museums, zoo excursions and frequent ventures into nearby Glencarlyn Park. As a mother of young children, she formed friendships with other mothers, many of whom remained dear friends until her death.
Tom and Dotsy first visited Pocahontas County around 1995; a few years later, they built a house in Clover Lick. They made frequent visits to walk along the Greenbrier River Trail and ski at Snowshoe, where they always arrived before the ropes dropped to enjoy the freshest powder or corduroy. Dotsy was an enthusiastic supporter of Pocahontas County FFA. Last spring, she and Tom received honorary chapter awards from the FFA.
Like her mother, Dotsy was a public-school teacher. For 19 years she taught seventh grade English at Kenmore Middle School in Arlington. Because Kenmore was her neighborhood middle school, she frequently met current or former students while walking her dog or visiting shops in Arlington; those encounters meant a lot to her. In retirement, Dotsy traveled the world with Tom, visited her grandchildren, skied, hiked in the Monongahela National Forest and discussed books with her long-time friends. She always had a book to read. 
Dotsy is survived by her husband of 44 years, Thomas Fraker; daughter, Emily Metzgar, and husband, Jordan, and their sons, Jed and Nat, of Christiansburg, Virginia; daughter, Carolyn Fraker, and her husband, Valentin Kirykovich, and their sons, Adrian and Julian Kirykovich, of Brooklyn, New York; son, Joseph Fraker, of Pittsburgh, Pennsylvania; and beloved dog Sabio.  She is also survived by her siblings, Margery Painter, Michael Schneider and William Schneider; along with many other relatives and friends. 
Dotsy was the glue that kept the family together. Her absence will be felt deeply by all who loved her. 
A Celebration of Life will be held Saturday, October 22, 2022, at the Unitarian Universalist Church in Arlington, Virginia.
In lieu of flowers, you may make a gift to the Animal Welfare League of Arlington in her memory.