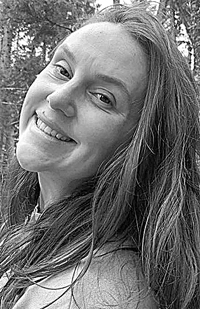 Danielle Caroline Gooding, of Snowshoe Mountain in Pocahontas County, enjoyed a brilliant and radiant life, and passed away unexpectedly Monday, October 10, 2022, at the age of 30.
Danielle was a modern mountaineer from start to finish who enjoyed what the Appalachians had to offer and served its people dutifully and with passion.
Danielle was born in Elkins, August 19, 1992, to proud parents who settled at Snowshoe Mountain.
Danielle was a bright student and graduated from Pocahontas County High School in 2010. She earned an Associate of Arts in Hospitality and Tourism Management from Davis and Elkins College in 2013. She was a dedicated Human Resources Professional and focused her career on supporting the employees of Snowshoe Mountain.
A fervent and adventurous traveler, she sought out the fruits of Spain, Italy, Peru, Brazil, Chile, Jamaica and beyond. She carried no prejudice and formed lasting relationships with people wherever she journeyed.
She was preceded in death by her maternal grandfather, Ronald Dane Moses; paternal grandfather, Glenn J. Gooding; paternal grandmother, Caroline "Scoots" Gooding; aunt, Julie Lamphear; and uncle, Jeffrey Ray Gooding.
Danielle leaves behind her mother, Donna Sue Gooding; her father, Jan Campbell Gooding; brother, Joseph Campbell Gooding; grandmother, Mary Jane Moses; loving partner, Will Allen; aunt, Coby Brown; adoring nephew, Walter Chad Gooding; cousins, Carrie Parker, Amanda Lamphear, Casey Horton and Cayla Brown; a bountiful collection of extended family; and two rescue cats, Miles and Janey.
Danielle was a daughter, a sister, a partner, an aunt, a cousin, a leader and a friend. She made the world a warmer and more interesting place to live in, and her absence will be felt by those who loved her. Friends and family, young and old, near and far, will forever miss the sunlight that she radiated when she was in the room. Her final gift was a powerful reminder to dedicate the time and effort to engage in genuine and meaningful ways with family and friends.
Danielle was lovely.
Those who wish to honor Danielle may do so by donating to the Snowshoe Foundation (https://snowshoefoundation.org/) which supports West Virginia communities.