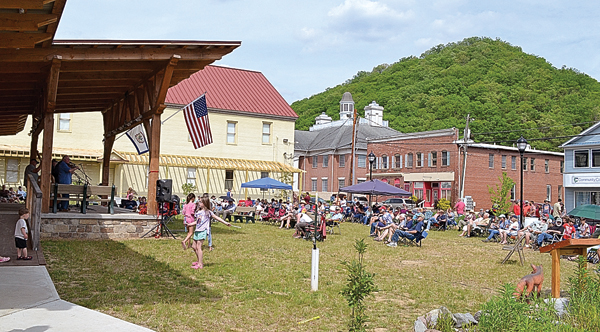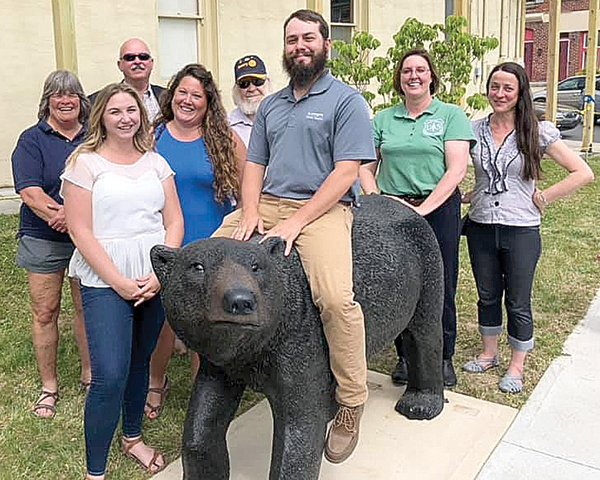 Suzanne Stewart
Staff Writer
Saturday was a gorgeous day – perfect for the grand opening and dedication of the Discovery Junction in downtown Marlinton.
A crowd gathered on the lawn in front of the large stage and enjoyed the sounds of old-time and bluegrass music performed by Mud Hole Control, The Black Mountain Bluegrass Boys and The Bing Brothers Band featuring Jake Krack.
In addition to the dedication and celebration; it was nearly the first time the community has had a large gathering in more than a year. 
With the threat of COVID-19 lessening as more and more citizens get vaccinated, it was a chance for the community to get together – mask free – and enjoy the newest gathering spot in the county.
During the dedication ceremony, members of the Discovery Junction committee took time to thank all those who have been involved in creating the space – whether it be through donations or manual labor.
"We're just glad that we finally got to this day," Marlinton Mayor Sam Felton said. "From children with a donation of a few cents to other contributions of several thousand dollars. The one that got the project started was an eighty-six thousand dollar grant from the Land Water Foundation. I just wanted you to know, if we would have only had big donations, this wouldn't be here. It was all of those small donations and the volunteers and all of those working together that made this possible today."
Felton did acknowledge that the spot isn't 100 percent finished and pointed out that the splash pad will be installed in the next few weeks.
Pocahontas County Parks and Recreation Director Lauren Bennett gave a history of the project, going back 20 years to when it was a vacant lot and several members of the community saw so much potential for more.
"When the Opera House was restored, I know a lot of us kind of stood there and thought, 'What could we do to make this lot something that would enhance the Opera House and enhance the town,'" Bennett said. "We had a lot of different ideas."
Over the years, the ideas grew. Sam Brill and the acting community envisioned a green stage where they could keep their sets intact during rehearsals. Jonathan Smith used the space as his senior project in architecture school. He designed a black box theater and several buildings for the arts. 
Others suggested an outdoor stage, while there was also the possibility of a simple parking lot.
In 2017, Gibbs Kinderman contacted WVU professor Peter Butler, who helped organize a committee of students who met with the community to hear their ideas and thoughts on the project.
"Their designs focused on our natural beauty of Pocahontas County," Bennett said. "They reflected on the forest, the river, the rocks and that's the theme that we tried to keep with what we've done here. I think this was s turning point. The students came with no biases, no prior information, no connections. They brought a fresh set of eyes, and they were able to take everybody's input and compile it into a design that seemed to fit everybody's desires."
Each little detail was examined by the students, including the old telephone booth which they wanted to salvage and turn into a charging station for mobile devices – combining the old and the new – much like most attractions in Pocahontas County.
"I'm really excited to see what this lot has become," Bennett said. "I just really appreciate all the community support we have received because without it, we wouldn't be here today, so thank you."
Committee Chairman Joe Smith introduced the members of the committee and thanked them for their hard work. Several were not in attendance but he mentioned all who had been involved – Kristen LeCroy, former Parks and Recreation staff member who came up with the name Discovery Junction; Cindy Sandeno, U.S. Forest Service District Ranger; Luci Mosesso, WVU Extension Service Extension Agent; Roger Trusler, citizen at large; Lauren Bennett, Parks and Recreation director; Kristen Beverage Doss, citizen at large; David Moore, Trinity Baptist Church pastor; Brynn Kusic, Pocahontas County Opera House coordinator; Margaret Worth, citizen at large; and Sam Felton, Marlinton Mayor.
Smith, who organized the committee nearly six years ago said he likes to think of the project in terms of distance.
"Five and a half years ago, we were ten miles apart on this project," he said. "Today, we are ten inches apart. We have a few little things yet to do, but we're here."
Sandeno also spoke about the efforts put forth by the committee and recognized those who worked on the project, including many members of her staff who helped plant the trees and plants around the green space.
"What a great day to be alive and well in Pocahontas County," she said. "When the U.S. Forest Service first came to this project that has become known as Discovery Junction, it was an opportunity to work with the people and the communities that we serve, but it was also an opportunity to work on a project that really embodies everything that makes Marlinton, Pocahontas County and West Virginia so special.
"Our vast forests, our clean and abundant rivers, our spectacular mountains, our unique mountain music, and, of course, our strong and resilient people," she added.
Sandeno mentioned Seven Rivers Design and Build which built the stage area; Margaret Worth, who suggested the rain garden; and Luci Mosesso, who wrote the grants that funded half of the project.
"Today is really about celebrating our past here in Marlinton, but also our very bright future and what we can accomplish when we work together," she said.
Several dignitaries also attended the grand opening, including Senator Bill Hamilton, Delegates Cody Thompson and Ty Nestor and Governor Jim Justice representative Lynn Phillips, who read a greeting from the governor, who unfortunately could not attend.
"I know – being here for the governor – what he'd look around and say, 'Wow, what a nice facility you all have here,'" Phillips said. "I know that he would like to say that he'd like to give a special thank you for making this great facility here possible and thank all the volunteers and everyone that worked in making this a reality. It is a big plus to Pocahontas County, the city of Marlinton and also the state of West Virginia."