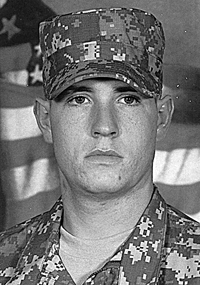 Derrick Edward Irvine, 38, of Marlinton, passed away at his home Wednesday, November 17, 2021.
Born June 1, 1983, in Elk-ins, he was a son of David George, Sr. and Marvina Carol Doss Irvine.
Derick was a U.S. Army Veteran and a laborer. He loved hunting, fishing and his children.
He was preceded in death by his maternal grandfather, Marvin F. Doss; and paternal grandparents, Ralph and Martha Friel Irvine.
In addition to his parents, he is survived by his daughter, Lilianna Nicole Irvine, of Tioga; son, Orion Knox Irvine, of Marlinton; maternal grandmother, Cookie Doss, of Marlinton, sister, Kristen Elaine Hines, and husband, Brandt, of Buckhannon; brother, David George Irvine, Jr. (Julie Shifflet), of Marlinton; nephew, David Allen Irvine; nieces, Brook Pennington, and husband, Frank, and twins, Elaina Belle Hines and Chole Jene Hines; and many aunts, uncles and cousins.
In keeping with Derrick's wishes, the body will be cremated.
A memorial service will be held in the spring.
In lieu of flowers and food, monetary donations for Lilianna's and Orion's college fund may be made to Marvina Irvine, 921 10th Avenue, Marlinton, WV 24954.
Online condolences may be made at Lantzfuneralhome.com