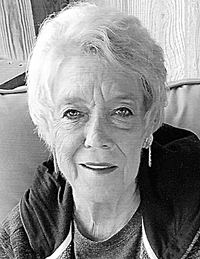 Deanna K. Frome, 76, of Quakertown, Pennsylvania, died Tuesday, March 7, 2023, at her home from ongoing health issues.
She was the oldest daughter of the late Troy and Glenna Lusk.
She was born in Baltimore, Maryland, where her parents resided after World War II, before moving to Green Bank.
Deanna graduated in 1964 from Green Bank High School where she excelled academically and was head majorette. She was also a favorite student of literature teacher Mr. Tweard Blackhurst.
Following graduation, she moved to Pennsylvania where she worked for many years in accounting and office procedure.
Deanna was a devoted Elvis and Golden Girls sitcom fan. She loved to dance, laugh and always kept a positive attitude toward life. She was a most generous, kind, witty and thoughtful person with unfaltering faith, who always thought of others first.
She was preceded in death by her spouse, William Frome; and infant son, Scott Michael.
She is survived by her son, John W. Vandevander, and wife, Teresa; granddaughters, Kristin, Tiffany, Caitlin and Haleigh; sisters, Judy Lusk and Janie Lusk; brother, Tim Lusk; two nephews; two nieces; three great-nieces; and a great nephew.
A private memorial service was held at Naugle Funeral Service of Quakertown, Pennsylvania with burial at Beulah Cemetery in New Britain, Pennsylvania.
Memorial donations may be made to her favorite organizations, Habitat for Humanity of Bucks County, 539 Jacksonville Rd., Suite 100, Warminster, PA 18974 or Wallace Willard Keller, American Legion Post 242, ATTN: Post Adjutant, 610 E. Broad Street, Quakertown, PA 18951.
Her presence sadly missed – her memory forever bright.