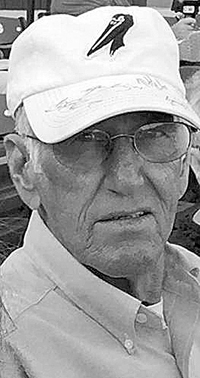 Danny James Wilfong passed away Monday, September 20, 2021, after a long and hard fought battle.  He was surrounded by family who will dearly miss him.  
Mr. Wilfong was born in Bartow, a son of the late Earl and Mabel Collins Wilfong.
He was a veteran of the U.S. Navy where he served for nine years as a Field Corpsman and Operating Room Technician. He also proudly served on the USS Forrestal and at Da Nang during the Vietnam War. Mr. Wilfong was a recipient of the Bronze Star. He worked as a Senior Security Specialist with the U.S. Department of State for 22 years. 
He was a member of Ebenezer United Methodist Church in Stafford County, Virginia, for many years and attended Christ United Church in Myrtle Beach, South Carolina. He enjoyed fishing, hunting and sitting outside. He especially loved children, but hated cats, except for Mr. Daggers. Mr. Wilfong was a fan of all Washington, D.C. sports teams and the WVU Mountaineers. He and his wife were frequent visitors of the 501 Eggs Up Grill and were members of the Friday Veterans Group.
He was a frequent visitor to the Sharp homestead in Cass.  He loved spending time chatting around the table with Myra and Ed Blankenship (Vickie). He loved Myra's biscuits and gravy and her special canned hot dog sauce. He was an avid hunter, or at least tree stand napper, up in the mountains around the family home.
In addition to his parents, he was preceded in death by six siblings. 
He is survived by his loving wife of 54 years, Barbara Banton Wilfong, of Conway, South Carolina; daughter, Leslie Michelle Wilfong (Kathy Smith), of Summerville, South Carolina; son, Brian Scott Wilfong (Mary Gaughran Wilfong), of Summerville, South Carolina; two grandsons, Hunter Garrett Wilfong and Thomas James Wilfong, both of Summerville, South Carolina; two sisters, Linda Travers, of Stuart, Florida, and Delores Kay Jeans, of Hollywood, Florida; and one brother, Dharl Wilfong, of Chambersburg, Pennsylvania. 
A celebration of life was held Friday, October 8, 2021, at Mullins and Thompson Funeral Service, Stafford Chapel, with inurnment in Quantico National Cemetery in Triangle, Virginia.