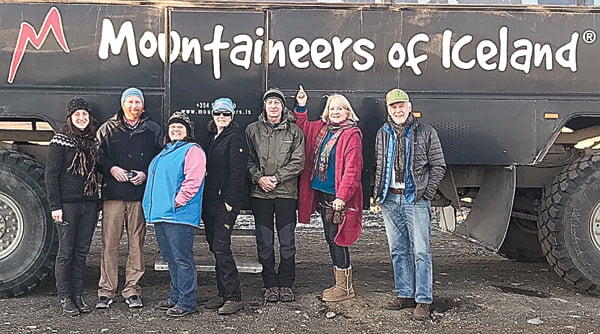 Laura Dean Bennett
Staff Writer
It's not every day that we hear about a group of folks from Pocahontas County going to Iceland on vacation.
After all, Iceland is hardly a typical tourist destination. It's a Nordic country in the North Atlantic Ocean. 
It sits just outside the Arctic Circle and with just 348,500 some inhabitants on the 40,000 square mile island, it's the least populated country in Europe.
When you think of Iceland, you may picture glaciers, geothermal hot springs and lava fields, and you would not be wrong. 
If, like me, you are a Game of Thrones fan, you probably know that many of its scenes were shot in Iceland.
So, imagine my surprise when I heard that several people from Pocahontas County just got back from a visit there.
It all started when Kim McComb, of Beaver Creek, and Stephanie Poppe, of Dunmore, found a particularly great deal on the Internet for a flight to Iceland and, on a whim, they decided that it would be a great way to spend Thanksgiving week.
The next step was gathering for dinner around Brynn Kusic's kitchen table on Stamping Creek where Kim and her husband, Morgan, Poppe, and Erwin Berry had come to get the lowdown on Iceland. 
You may know Kusic as the capable director of the Pocahontas County Opera House.
But I'll bet you didn't know that she is our own Pocahontas County Icelandic expert-in-residence.
Because Kusic has close ties to the Arnarsdotter family in Iceland, and has been to Iceland six times to visit her "family at the top of the world," as she calls them, she was the perfect "travel agent" to consult.
She began her friendship with the Arnarsdotter family in 1995 when her family had the wonderful experience of hosting foreign exchange student, Halla Ros Arnarsdotter.
Morgan knew about Kusic's connection to Iceland and wanted to know more about the unique "farm stay" that Halla's family runs in the "Golden Circle."
He was particularly interested in learning more about Icelandic cows and the potential to bring them to Pocahontas County. 
When Kusic contacted Halla about the group that wanted to visit, she learned that they would be visiting on the same weekend of Halla's sister's wedding.  
Kusic wanted to go to the wedding, so she looked up a flight for her and her parents and, as luck would have it, the Kusic family also got a great deal on airfare to Iceland – an easy six-hour direct flight from Pittsburgh – and were able to book an affordable last minute trip.  
The McCombs, Poppe and Berry flew separately and arrived in Iceland on November 20 and began exploring right away.
As we here in Pocahontas County were shivering in the grip of a particularly chilly November cold snap at the time, the travelers were surprised to find Iceland to be warmer than Pocahontas County! 
They visited the capital, Reykjavik City, soaked in geothermal hot springs and Vestmannaeyjar, anglicized as Westman Islands – an archipelago off the southern coast of Iceland, saw craters and enjoyed the warm hospitality of the Icelandic people.
And they received a royal welcome from the Arnarsdotter family.
The Kusics arrived on November 24.
The Pocahontas Countians reunited around a different kitchen table, this time located on the side of another mountain, in Efstidalur, Iceland. 
McComb reported that she had received the warmth of a West Virginia welcome in Iceland, when she arrived to check in at the farm. Halla ran around the counter and gave her a hug. 
The group enjoyed touring The group enjoyed touring some of the most famous sites in Iceland, such as Geyser and Gulfoss, which means, "Golden Falls."
As so often happens when things are meant to be, the group pulled into the parking lot of "The Golden Falls," and Kusic's mom spotted the perfect photo op – a giant tour bus which had "Mountaineers of Iceland" printed on the side.
And they felt right at home.
The intrepid explorers spent the next day learning about Icelandic dairy farms and getting to know their new Icelandic extended family. 
Kusic and her parents were lucky enough to get a thrilling glimpse of the Northern Lights, visit their Icelandic friends and Kusic had a wonderful time at the wedding.
There are plans for the international farm exchange to continue as Halla's brother's family will soon be traveling to Pocahontas County to tour some our farms, and they will stay with the McCombs on Beaver Creek.