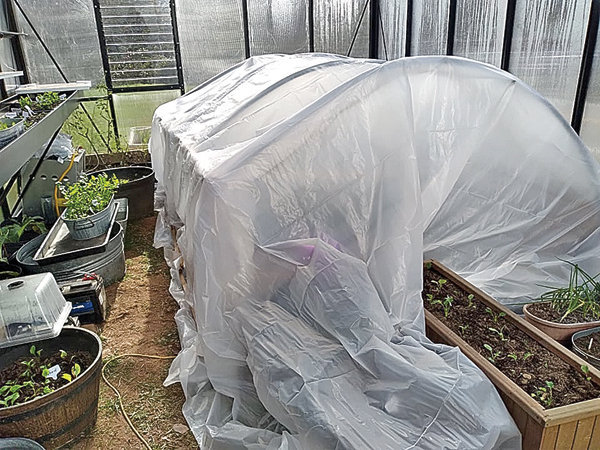 Greenhouse
Part 4: Heating
The foundation may seem like one of the first places to start on a new greenhouse, but that is not necessarily true. Before starting on any foundation, think about how the greenhouse will be heated, if at all. If there is a possibility it will be heated in the future then plan for it now. With some forms of heat, the layout for the system will go below the foundation.
There are many ways to heat a greenhouse. Here is a list of the main types:
The simplest "heat" is no added heat at all, only sunlight. This is for greenhouses or cold frames that are only used to extend the growing season by a few weeks in the spring and fall or to start seeds early.
Electric heaters
Electric heat is an easy heat source if the greenhouse is close to a power source. There are many different sizes, styles, BTU outputs, etc. Although electric heat is easy to set up, the cost may take a huge chunk out of any budget.
Propane or Natural Gas
Propane and natural gas are very common heat sources for commercial hot houses. There are about as many, if not more, options to choose from as there are electric heaters.
A simple tank top attachment on a 20-pound propane tank for a cold night here and there may be all that some hobby greenhouses need. These are small, inexpensive and easily used is an unexpected cold snap.
Carbon monoxide and carbon dioxide are byproducts of propane heaters. It is very important for propane heaters to be vented and properly installed.
Natural gas can produce carbon dioxide, but produces less than any other fossil fuel.
Oil Heaters
Oil heaters require electricity. They also need space for the tank and furnace. The BTU output of oil heaters can be higher than other fossil fuels but the cost of the fuel may not be worth it for some.
Wood stoves
For those who can harvest wood themselves, wood stoves may be the cheapest option. After the initial start up cost of purchasing the stove and setting it up, other than yearly maintenance and time spent harvesting the wood, it's a free heat source.
Framing in an area for the flue pipe is required. It is also important to insulate the side walls around the wood stove, especially if they are made of plastic, to prevent heat damage.
Most wood stoves should not sit directly on the ground. If the greenhouse floor is dirt or gravel a base should be made for the wood stove. Choose something that will not rot over time, like bricks, cinder blocks, pavers or a concrete pad.
Consider placement of the wood stove. This heat source is considered radiant heat. Larger greenhouses may need fans to move the heat around. If electricity is not available, you can get a stove fan. These fans use the rising heat to heat a Peltier device which powers a small electric motor and the fan blade.
A Peltier device can use heat from multiple sources to provide voltage, which is applied across joined conduct- ors to create an electric current.
Plants located near the stove will dry out more quickly so frequent watering is a must. Knowing which plants to grow near the stove and which will not like it should also be considered.
Pellet stoves
Pellet stoves use pellets made from sawdust, a byproduct, so it utilizes leftovers. The pellets burn cleaner and produce fewer emissions than wood stoves.
Most pellet stoves are easy to set and maintain but most require electricity. The electricity requirements for the pellet stove are minimal compared to other electric type heaters; running a blower, an auger, and possibly an auto starter depending on the model.
Most pellet stoves have blowers to circulate the warm air so coverage is greater than the radiant heat of a wood stove.
 
Composting
Compost piles produce internal heat during the process of composting. This temperature can run steady between 135-160 degrees.
Connecting a water pump to tubing coiled inside the center of a compost pile and running it through the beds in the greenhouse can increase soil temperature for plant roots. This system could be run off of solar power.
Placing a cold frame over beds with this system will help retain heat, which may protect crops from some freezing temperatures.
Passive heating
Passive heating, or passive solar heating, is trapping heat from the sun in a thermal mass to store and distribute later.
Lining the floor with pavers or using water barrels along the back wall where the sun can heat them during the day will add warmth to a greenhouse through the night.
Do not expect to keep a tropical greenhouse in sub-freezing weather with passive heat unless several other design modifications are used in conjunction with it.
TIP: When using open containers of water in the greenhouse: add some small goldfish. Goldfish are cold hardy and I have done this for many years in rain barrels, small flower ponds, etc. I never had to feed the fish; this would depend on your volume of insects available. During the warm months they eat all the mosquitoes and other bugs falling into the water. When winter hits and the water gets cold their metabolism slows so much that they do not need to eat.
During one winter the water almost froze solid, leaving only about one cubic foot of water in the barrel and about 2 inches in the bottom of the pond for them to stay in. When spring thawed them out, they were healthy and active again.
Get a peek at how I built my foundation and greenhouse kit on my website at https://www.queenbee1755. com/greenhouse-build/
Geothermal and GAHT systems will be discussed next week in Greenhouse, Part 5.