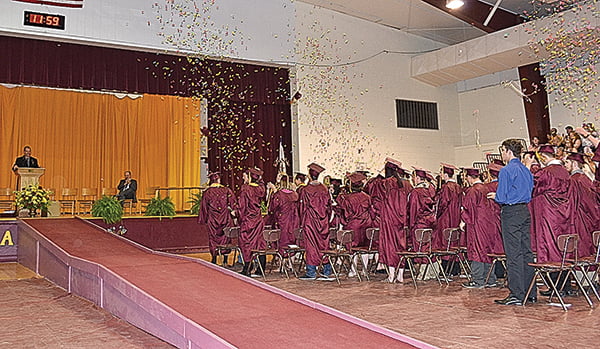 Suzanne Stewart
Staff Writer
Seventy-three seniors gathered for their last time as a class Saturday at Pocahontas County High School to participate in the commencement ceremony as the graduating Class of 2018.
The class may have been small, but the impact they make in the world will be greater than all of them, Valedictorian Jacob Hise said in his address.
"Some time ago, I heard a man give the following analogy: Have you ever been on a lake?" he began. "If so, you've likely seen passing boats leave wakes, which even in the middle of the lake make their way, however small, to the shore. These wakes disturb water from the point where it started all the way to the shoreline. In short, the wake of a passing boat, no matter how far away, will affect everyone on the lake, and those on shore.
"The same concept applies to our lives," he continued. "Our wake affects the world around us, almost never with a neutral affect. Our actions positively or negatively impact our own lives and the lives of those around us. So, today we have a choice – to strive to impact the world in a way which will improve life for everyone, or live selfishly."
Looking at his fellow graduates, Hise challenged the group to make every wake have a positive affect and to leave a lasting impression on everyone they encounter.
"In a world where few care about their fellowman, choose to care," he said. "In a world where honesty seems to be an obstacle, choose to be honest. In a world where bitterness and hate seem to have replaced forgiveness, choose to be honest. In a world where love has become second to lust, choose to love. In a world where laziness has become the norm, choose to be hardworking. In a world where everyone wants just a little more, choose to be content with what you have. In a world where selfishness reigns, be generous with your time, your work, your forgiveness and your care for your fellowman.
"I can guarantee you, life and the lives of those around you will be better if you choose to live above the norms of today and rise to a higher standard of self," he continued. "I hope you will take this with you and live to be more."
Salutatorian Laura Leyzorek also shared encouraging words to her fellow graduates, stressing the importance of making the next chapter of their lives even better than the past four years of high school.
"I'm sure everyone in this room has, at some point, been told that high school will be the best time of your life," she said. "How incredibly sad, then, to be leaving your happiest years behind you at the age of eighteen. How tragic it would be if we were to take the first steps into the rest of our lives with the conviction that it would never be this good again. The purpose of high school is not to provide us with the best time of our lives, but to prepare us for greater and brighter futures."
As the graduates leave Pocahontas County on their next adventure, Leyzorek said it is important to carry the lessons and memories of the past with them.
"As we set out on our separate journeys, we will cherish the memories we have made here, the lessons learned and the friendships gained," she said. "After four years of learning, growing and goofing off, we must hold close the memories we have made here and never forget where we came from. After saying goodbye to PCHS, we are finally free to take our lives into our own hands, and it is up to us to make sure that high school will not have been the best years of our lives. We have been given the tools to succeed, and we now must carry our memories from high school into the world with us and live so that the best years of our lives are still ahead of us."
After the graduates received their diplomas, principal Joe Riley addressed the class before he dismissed them from PCHS one last time.
Riley said he did some calculating and in the pursuit of their diplomas, the class spent the equivalent of 13 years, or 2,340 days, or 18,720 hours, or 1,123,200 minutes or 67,392,000 seconds in school.
"I've got my little short time to sum that all up, plus tell you everything that you need to know before you enter the world," he said. "Now, I think I've got it covered."
Riley grabbed a four inch binder full of wisdom and knowledge to spare, but due to the lack of air conditioning in the gym, he gave the Reader's Digest version.
Riley, a former agriculture education teacher and FFA sponsor, drew inspiration from the FFA Creed and asked the students to remember one thing – seek happiness.
"Every one of you should think about being happy," he said. "Surround yourself with people that make you happy. Have a job that makes you happy. Now, that job may not make you happy all the time, but overall, it should make you happy. Live in a place that makes you happy. Find someone to share the rest of your life with that makes you happy because it's important. We all have a certain part of this world where we've got to pay attention to people around us and make sure they're happy, too. Always keep that in mind."
Riley added a borrowed piece of wisdom from Marlinton Middle School principal Dustin Lambert.
"Another thing you need to realize is take care of your body and your mind," he said. "God only gave you one body and only one mind. Once again, life's long. Take care of your body because there's no way to replace it."
Added to his advice, Riley asked the graduates to remember to call their parents and to never forget where they came from.
"You all come from one of the best places in the world," he said. "One of the most beautiful places. You all are kids of Appalachia. You possess things that others wish they had, and always remember that there is a home here. There is a home here for you if you ever desire to come back."
Riley concluded by asking the graduates to remember the phone number: 304-799-6564, the high school's number.
"If you ever need anything – you're in trouble or you're at wit's end – if you dial that number, there'll be a lady on the other end that you'll recognize and she'll say, 'good morning, Pocahontas County High School, how may I help you.'" he said. "Remember that number because if you ever need it, we're there."
During the ceremony, Caitlin Keatley, Briana Mills, Mark Jordan and Hunter Tankersley reflected on the class' past four years at PCHS. Class president Catlyn Sparks also addressed her fellow graduates.
Suzanne Stewart may be contacted at sastewart@pocahontastimes.com