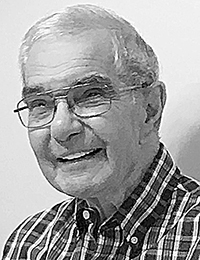 Clarence Neal Dorman, Jr., 92, of Greensboro, North Carolina, passed away Monday, August 21, 2023, at Beacon Place.
Born February 3, 1931, in Beard, he was son of the late Clarence Dorman, Sr. and Lillian Doss Dorman.
He honorably served in the U. S. Army and was stationed in Germany during the Korean Conflict.
Clarence graduated from Concord College in Athens. He worked at Burlington Industries for 37 years before his retirement in 1996. Years after his retirement, he would talk fondly of the people he worked with and how successful the company was during his employment.
In his retirement, he enjoyed working in his yard and spending time with his precious grandchildren.
Clarence was a dedicated and faithful member of the churches he attended throughout his life. He served as Deacon, Elder and Clerk of the Session in the Presbyterian Church.
In addition to his parents, Clarence was preceded in death by his daughter, Donna Weeks; son-in-law, Earl Weeks; brother-in-law, Ed-gar Starks; and niece, Barbara Lynn Starks.
He is survived by his wife of 68 years, Betty Beard Dorman; children, Debbie (Charlie) Welborn and Neal (Vicki) Dorman; grandchildren, Eddie, Ben and Lilly Weeks, Matthew (Logann) Welborn, Hannah (Nick) Zamboni, Micah (Amy) Welborn, Caleb Welborn, and Clay, Tanner and Lance Dorman; great-grandchildren, Meadow, Laurel, Austin Welborn and Enzo Zamboni; sister, Doris Ann Starks; nieces, Bonnie (John) Lee and Lois (Charlie) Wilfong; great-nephew, Hunter Wilfong; and family friends, Joe Simmons, Mandi Rivenbark and Laura Walker.
A memorial service was held Wednesday, August 30, 2023, at Westminster Presbyterian Church in Greensboro, North Carolina.
In lieu of flowers, memorials may be made to Westminster Presbyterian Church, 3906 Friendly Avenue, Greensboro, NC 27410.