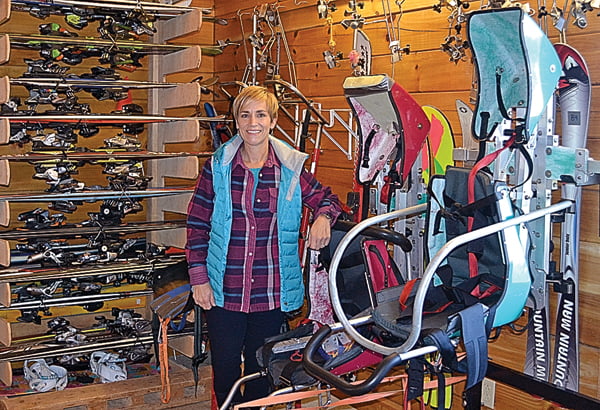 Suzanne Stewart
Staff Writer
In June, the Challenged Athletes of West Virginia at Snowshoe Mountain Resort suffered a great loss when founder and director Dave Begg passed away. To carry on his legacy and to honor his memory, Carol Woody, of Snowshoe, has taken the helm as director.
"I worked with the program ever since I moved here, really, just off and on in a volunteer capacity," Woody said. "I've always enjoyed my time here. I can't imagine anything better than this, so it's kind of bittersweet. I would much rather Dave were here doing this, but it's also important we carry on what we started."
The program began in 1996 when Begg filed for 501(c)3 non-profit status. The Adaptive Sports Center was built at Silver Creek and children and adults with physical and cognitive disabilities had a place to learn to ski and enjoy the outdoors.
"We're here for anybody that has any kind of disability or different ability for that matter," Woody said. "We have so much adaptive equipment to help people that have issues that would keep them from going out and taking a regular ski lesson or skiing on their own. We have a lot of autistic children that come and ski with us. They sometimes just need a little more one-on-one help to get them started. Their goal is to just go out and ski like anyone else with their family on a regular basis, but they need a little more attention and people who understand what they're dealing with."
Along with working with individuals with developmental issues, the program works with para- and quadriplegics and amputees.
"We have mono-skis, bi-skis and three track for people that might have only one lower limb," Woody explained. "That's what Dave Begg was, he was a three-track skier. Everybody is an individual, and everybody has their individual needs. We can evaluate those and adapt our equipment to help them go out and enjoy the sport just like everyone else.
"It gives them something they can do, and so many people that participate in our program really have a feeling of freedom and independence," she continued. "It brings families together because skiing and snowboarding are sports that people love, because families can do it together. It's not like going out to watch their kids play football or soccer or basketball. That's fun, too, but these are sports families can do together."
The program may be located at a ski resort, but it offers more than just winter sports assistance.
"I'm focused right now on skiing because we're coming up to winter, but it's other sports, too," Woody said. "We received a grant from the Christopher Reeve Foundation a couple years ago and acquired six hand cycles – those are the bicycles you sit in and work with your hands."
Individuals with disabilities and different-abilities participate year-round, and two times a year, the program offers camps specifically for disabled veterans.
"The families can come here, and it's all free of charge for the veterans and their families," Woody said. "Again, it's something for all of them to enjoy together.
"The same thing for the summer. At the summer camp, we go out and do everything from horseback riding and Razor tours to canoeing and kayaking – all the stuff that Snowshoe has to offer."
The majority of those involved with the program on the instructor side are volunteers, without whom the program would not exist, Woody said. The volunteers go through training to be prepared for all types of disabilities, as well as practice to be skilled skiers.
While there is a great pool of volunteers to rely on, Woody said she hopes to expand the volunteer base even more, especially to young volunteers.
"This year, we're going to have, specifically, a junior volunteer program," she said. "In the past, we haven't encouraged anyone under sixteen because of a lot of the insurance issues, however, there are things that the younger kids can do. For them to come and be involved and be a work in progress – by the time they get to be sixteen, then they already have an idea of what's going on."
The junior volunteers can act as ski buddies and can reap the benefits of helping the program.
"If you can commit to a certain number of hours or days, then you can get a ski pass through Snowshoe," Woody said. "They work really great with that."
With roughly two months under her belt as director, Woody said her focus is to continue to provide programs for disabled athletes, grow the volunteer base and continue to find funding to keep the program going.
"We do offer scholarships," she said. "We don't want the price of the lessons to deter people, so we want them to know there are scholarships that help with the cost. 
"We're trying to get the word out that 'hey, we exist, and we really want to grow our program and continue it and serve even more people.' In order to serve more people, we need more help and more money. We just received a grant from Dominion Energy. They have an annual charity golf tournament, and we received three thousand dollars from them."
As winter draws ever closer, Woody said she is excited to get the season started and get people on the slopes.
"Let's fund it, let's staff it, let's serve it," she said. "That's kind of the three things I'm focused on."