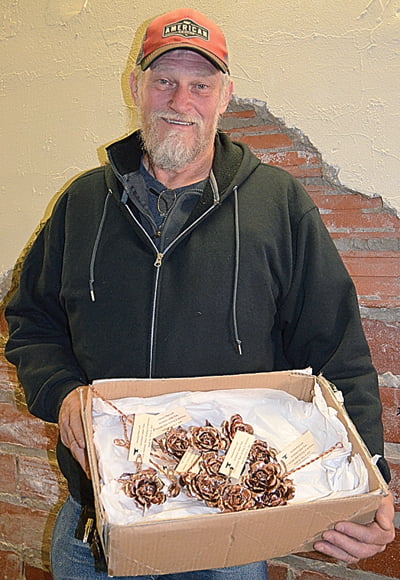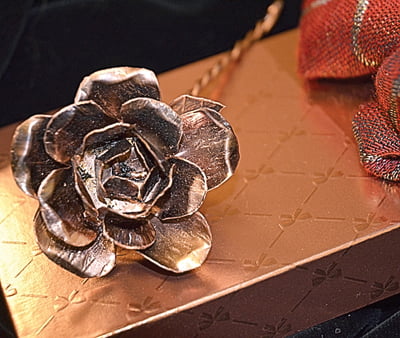 Laura Dean Bennett
Staff Writer
Terry Carr is a blacksmith and craftsman, although he said he does blacksmithing as a hobby.
"I'd be a starving artist if I did this for a living," Carr said, laughing.
You might not think this big, rugged man would have a sensitive side but, apparently, he does.
One of his most popular creations has been the lifelike roses he forges out of copper.
He was born in Richwood, came to Pocahontas County in 1977 with his parents – Everett and Phyllis Carr – when they moved here from their family farm in Clawson. 
He met and married Connie Grimes, of Huntersville, and has lived in Huntersville ever since.
The Carrs made their home in the historic old farmhouse that had belonged to Connie's grandfather, Garfield Grimes.
Terry Carr's copper roses have a story to tell.
The copper for the roses came from Marlinton's First National Bank building.
The original First National Bank building had been built sometime around 1910 and had been partially faced with a wide strip of copper probably in the 1960s or 1970s.  
When the building was being torn down to be replaced by a new structure, Willie Ryder was doing the demolition and Carr was a member of the crew working with him. 
Carr is a history buff whose creative side couldn't imagine letting that beautiful old copper be thrown away.
"The copper was all twisted and dented, but I just couldn't see it going to waste," Carr explained.
"I started making bird house roofs and different things with it.
"I cut out horses for windmills and other things.
"In November 2018, I had a bunch of small scrap pieces and I took them to the salvage yard. 
"They were only going to pay me thirty-nine cents a pound for it, so I just brought them home and decided to try and figure out something to make out of them.
"I had the idea to make roses. 
"I got on YouTube and, sure enough, I learned how to make roses."  
It takes about two and a half hours to make one, and Carr's roses range in price from $25 to $40. 
"I like to tell people the story behind them," he said. "I always show them the picture of the old First National Bank building with the copper strip on the side.
"It's nice that they are made from the recycled copper from a local building which was such an important part of Marlinton's history."  
There are probably lots of people who have fond memories of that bank. 
I know I do. 
This writer's second cousin, Beulah Dahmer Moore, was president of the bank for many years, and I remember often visiting Beulah with my mom.  
Beaulah and my mom, Mildred Louise Bennett Henkel, grew up across the road from one another in Cass.  
We never went there that she didn't pull open a drawer and give me something with the bank's name on it.  
I'm sure plenty of people in Pocahontas County have similar good memories of the old bank. 
But I didn't remember that it had any copper on the side of the building. 
When Terry showed me the old photo of the bank, it brought back a flood of memories. 
I thought, "Mom would sure like to be talking about this with Terry. And she'd probably want one of those roses, too!" 
Carr has an impressive and old-fashioned blacksmith shop in his yard at home, where he turns out all kinds of useful and decorative objects.
He makes ornamental hooks, key chain fobs and drawer pulls. 
Over the years, during Huntersville Traditions Day festivities, Carr has entertained and educated hundreds of guests who come by his blacksmith shop to see how metal was forged by our ancestors back in the day. 
Carr has been doing blacksmithing for 35 years, with a stint as a weatherization specialist and furnace supervisor thrown in along the way.
With no artistic training, Carr makes his own designs and has made some very impressive creations.  
He told me that he had started being creative with his woodworking, making things for around the house like bird feeders and birdhouses.
Carr has plans for the copper shards that are left over from his roses.
 "I would like to attempt to smelt them down and make a copper hammer for my blacksmith shop, he said. 
"I may never use it, but it will help me tell the history of where the copper came from." 
Anyone who has driven up Droop Mountain on Rt. 219 has passed the sign Carr made for Jim Burke's Windy Hill quarter horse farm.
Carr also made the Mill Run Trout Farm sign and many other farm signs around the county.
When he decided he to branch out into blacksmithing, Carr built a blacksmith shop out of an old barn.
He and his sons, Cody and Levi, tore down part of the barn and used the wood for his shop. 
Carr had the blacksmith shop before Huntersville Traditions Day started, but since the annual festival has been drawing so many visitors to the Carrs' yard – which is always decked out in grand, old fashioned style – he says he gets a lot of people who are interested in learning more about blacksmithing.
"I like to teach young people what I learned from older people," Carr said. "It's really important that we do that, I think.
"There was a boy who came around and liked to watch me work at the forge. He said I inspired him to become a welder.
"Then there was this little girl – maybe nine or ten years old – who came by one time during Huntersville Traditions Day. She must have stood by the door to the shop for three hours. An elderly gentleman, Paul Brown, a dear friend and a man of God, was there. He has also inspired me to keep blacksmithing.
"Paul asked the little girl if she'd like to learn how to do some blacksmithing.
"We sent her to get approval from her parents before we could let her work in the blacksmith's shop and she came running back, all excited.
"She took to it like she was a natural. 
"Paul and I told her how, but she did everything herself. She chose what she wanted to make, she turned the hand-cranked blower, got the metal the right temperature and made her own trinket.
"I make the roses outside, or, sometimes, in the house, if it's cold," Carr continued.
"First I clean the tarnish off the copper, then draw on the pattern, cut it out with tin snips and texture them with a hammer to get the "veins" in them."
His wife, Connie, may have been Carr's original inspiration for the copper roses.
"The first ones I made," he said, "I showed to Connie. I asked her if she thought they were good enough to sell.
"I guess she liked them because she said, 'Well, you're not going to sell these, because these are mine.'" 
Some of Carr's roses have left the county. He's sold some to people from Lynchburg, Virginia, and some went even farther afield.
Most have found a home here in Pocahontas County with local customers.
Kenny Woods gave one to his girlfriend, Jaclyn Hollandsworth, who said she treasures both its beauty and its history.
"I sell most of them for about $25, Carr said, "but you can't really put a price on love.
"I love what I'm doing when I make them, and maybe that comes through when people look at them.
"I hope so."