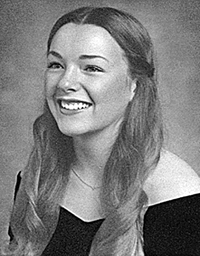 Sunrise: 15 August 1959
Sunset: 22 August 2021
The atmosphere in Heaven got a little brighter last week, with the addition of a new resident with an overly generous nature and an infectious smile.  Carol Lynn Calhoun Withers, beloved spouse and sister, passed away suddenly, leaving a void which cannot be filled.  
Born in Clifton Forge, Virginia, she was a daughter of the late G. E. "Buddy" Calhoun, Jr. and Nancy L. Calhoun. She was the youngest of four children.  
Carol attended Clifton Forge public schools, graduating from Clifton Forge High School in 1977, then becoming one of the first female students in the Drafting and Design program at Dabney S. Lancaster Community College.  After graduating with honors, she embarked on a career in major construction projects.  While working on the Back Creek Pump Storage project in Bath County, Virginia, she met Douglas Matthew Withers, of Marlinton, and the two of them began to build a life together.
Their careers took them to the Midwest for several years, working on nuclear power projects in Michigan and Illinois.  In 1987, they returned to Virginia and settled in the Montgomery County community of Elliston, where Carol completed the requirements for her Bachelor's Degree in Engineering from Old Dominion University.  She continued her career in that field until retirement. 
Carol and Matt were avid outdoors people, enjoying skiing, kayaking and riding bicycles as much as possible.  And while they had no children of their own, they did raise three wonderful German Shepherds – Thor, Zeke and Zoey.  Carol also doted on her many nieces and nephews, thoroughly enjoying playing the role of Cool Aunt, sometimes to the mild aggravation of her siblings, who had to deal with the aftermath of her spoiling their kids. 
Carol was an avid reader.  Whenever she and Matt found themselves in a new location, one of the first things she did was seek out the nearest library to get her card.  You would never see her without at least one book she was reading.  She also enjoyed sewing and crafts, including making holiday wreaths to give to friends and family. That was part of her generosity – when she and Matt were living in the Midwest, they made a point of having family visit them, taking them to dinner, concerts, parks and more.  
In addition to her husband, she is survived by a brother, G. E. "Garry" Calhoun III, and spouse, Teresa; sisters, Colleen C. Dillard, and spouse, Gary, and Connie C. Rose, and spouse, James "Bee;" brothers-in-law, Ivan Withers Jr., and spouse, Wanda, Brett Withers, and spouse, Rhonda; sister-in-law, Michelle Withers, and spouse, Jim Belanger;  special friends, Howard and Kathy LeCompte, of Monroe, Michigan; and her BFF, going back to grade school in Clifton Forge, Tracey Lestock, of Asheville, North Carolina.
There will be a private family service, with a celebration of Carol's life to be held at a later date. 
In lieu of flowers, the family requests a donation to St. Jude's Children's Hospital or to the Shriners' Hospitals.   
Godspeed, Carol, you are much loved and greatly missed.