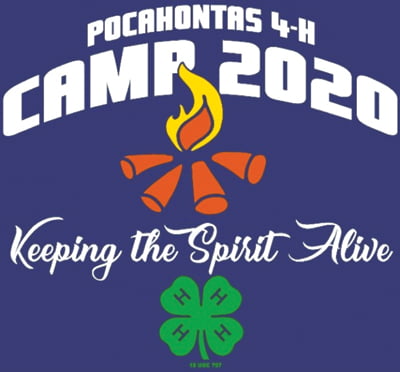 Luci Mosesso
WVU 4-H Youth Development Extension Agent
Due to the COVID-19 pandemic, this year's Pocahontas County 4-H Camp, under the direction of West Virginia University, became an at-home experience.
We were not surprised by the decision, but knew we had to move quickly to create, and deliver, a brand new 4-H camping experience to our youth in two months' time. The state 4-H program provided Camp URL, an online opportunity for 4-Hers to access camp-like activities.
Connectivity is a struggle for many of our youth in Pocahontas County, so we decided we had to create a program that children could access without the need for internet or technology.
When I was a college student my mother, Cathy Mosesso, would send me care packages. They frequently had a theme – finals week, holidays – and contained special details, notes, snacks and keepsakes. These boxes always brought a smile to my face, even when I was homesick.
I hoped we could do the same for our "camp sick" 4-Hers.
I was apprehensive about the campers' response to the in-a-box idea and expected about 50 percent of our regular attendance, but enrollments quickly came in. Last year we hosted just over 100 campers at Camp Thornwood. This year we mailed camp-in-a-box to 106 members.
Our Camp theme was "Keeping the Spirit Alive," and each day had activities that represented one of the 4-Hs.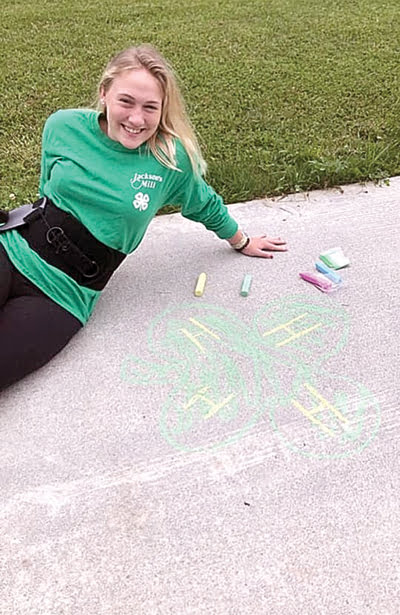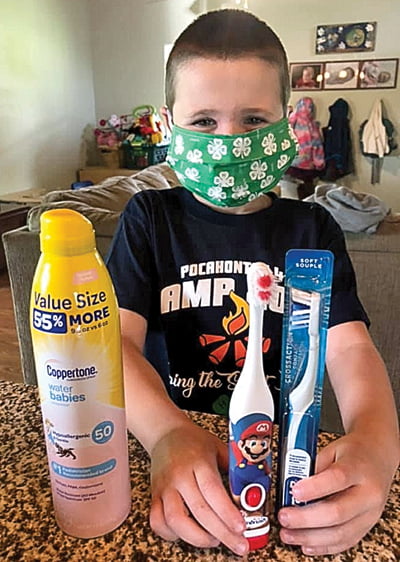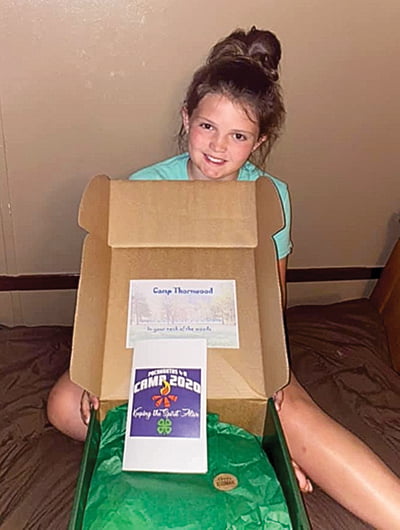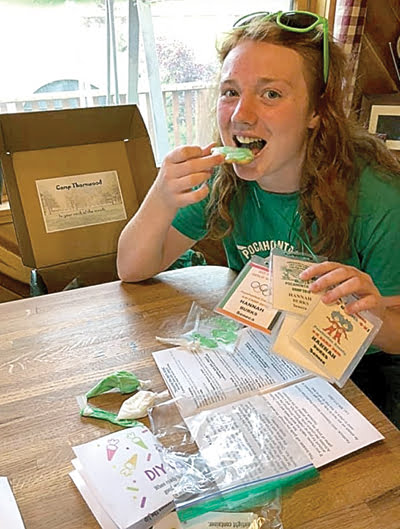 Monday started with the Head-H and campers pledged their heads to clearer thinking by participating in cookie decorating, STEM activities such as UV beads, balloon powered car design, and kitchen chemistry – rock candy making. The day concluded with an opening Zoom Council Circle where campers said the 4-H pledge, played camp song trivia, games, shared stories from their day and closed with a traditional camp song recording of Brightly Beams.
Tuesday was the Heart-H. Campers were given sidewalk chalk and were to use their hearts to write encouraging messages and designs to brighten someone's day. Pocahontas County Parks and Recreation provided instructions to make a homemade stress ball hacky sack, and campers used laughter as medicine by creating funny mad libs from camp. The day concluded with a frog hunt led virtually by WVU Wildlife specialist Sheldon Owen and family.
Wednesday, they pledged their hands to larger service by writing thank you cards to area first responders, reduced waste by trading disposable silverware for sporks provided by the West Virginia Department of Environmental Protection youth coordinator Beth Henry-Vance, and planned pollinator gardens.
Thursday was the Health – H. Campers made a healthy snack with a homemade granola recipe, learned about dental hygiene from WVU Dental Hygiene student Catlyn Sparks, received a special note from Dr. Clay Marsh and handmade 4-H facemasks donated by Nancy Martin, Christina Smith and Sandy Simmons. The day ended with a glow stick dance party.
Friday was our final day, and we celebrated with "spirit" as our theme. Campers learned the art of Origami by making paper clovers, made friendship bracelets, and proudly wore their camp T-shirts. Boxes contained a "s'more love from camp" s'mores treat and many members joined in the closing Zoom Council Circle at 7 p.m.
Throughout the week campers had a chance to check in on our WVU Extension Service Facebook page with pictures of themselves participating in activities. At the end of each day participants opened envelopes with letters from Pocahontas County 4-H Camp Alumni. On the final night, the last envelope included a silver camp fire pin and the following message:
"If there's one thing we know and love about 4-Hers, it's their perseverance. 4-Hers make the best better, and participating in this week was your chance at making a hard situation the best that it could be. We are sorry that we didn't spend the week at Camp Thornwood together, but put this pin in your nametag and bring it back to camp with you next year. No matter what part of this week sparked your 4-H spirit, we are proud of you for helping us keep the 4-H spirit alive.
"This is goodnight and not goodbye.
"We can't wait to see your smiling faces in 2021!"
With love from:
The Pocahontas County Extension Office, Big Feet tribe, 4-H leaders, and all our wonderful volunteers.
The spirit of the Pocahontas County 4-Hers and leaders is unshakable. They are funny, caring, sincere, and make the absolute best of any situation.
We know this experience will never compare to 4-H camp, but we hope our 4-Hers had fun, learned something, knew someone cared about them, and found a connection to something that felt a little like normal during these unprecedented times.
Special thanks to our mask makers, Nancy Martin, Christina Smith and Sandy Simmons; Camp in a Box packers, Catlyn Sparks, Cathy Mitchell, Clair Rose and Amy Bennett; donations from Matt Barkley, Beth Henry-Vance, Pocahontas County Parks and Recreation, the Marlinton US Postal Service employees, the Dramas, Fairs and Festivals committee and everyone else who helped make this project a reality.