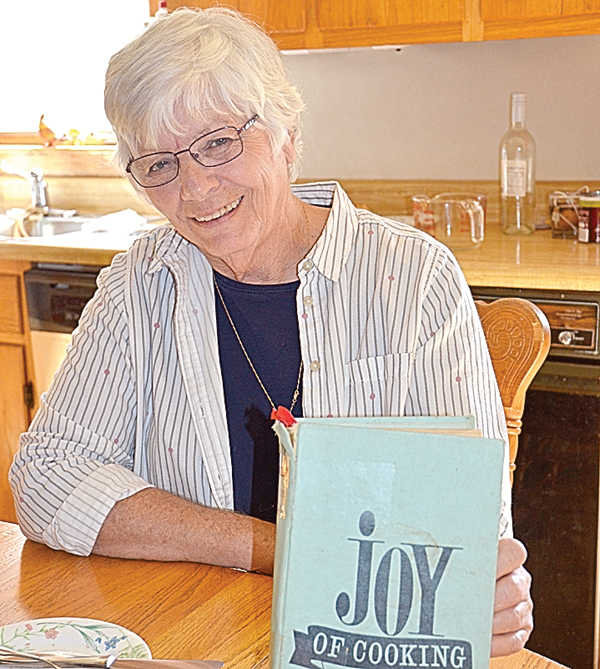 Laura Dean Bennett
Staff Writer
Liz Gay, of Edray, freely admits that she likes to eat her own cooking – her baked goods, in particular.
"I guess baking  probably rubbed off on me from my mother," Liz said as we sat down at the table in her sunny kitchen – surrounded by the aroma of freshly baked bread.
She cuts slices of dilly bread and pours a cup of Lady Grey tea.
"I got the recipe for this dilly bread from Aunt Gim," Liz said. "She was my father-in-law's [Bob Gay's] sister, Virginia Gay Mason. 
"Don't ask me why, but everybody just always called her, Aunt Gim "I got several great recipes from Aunt Gim. Besides this dilly bread, she taught me to make banana bread, divinity, potato salad with the best sweet/tart boiled dressing you've ever tasted, oh, and a wonderful potato soup, too."
Liz's dilly bread is golden and crusty on the outside and flecked with dill seeds. 
It's incredibly soft on the inside, with a delicate aroma of dill and onion.
"I think the texture comes from the cottage cheese," Liz explained. "And it makes great toast."
When asked what she thinks goes well with her dilly bread, Liz simply answers, "butter."
Her entire family – with one exception – loves this bread.
"When my kids are here, they start eating it as soon as it comes out of the oven.
Everyone loves it except my grandson," she said with a smile. "He just looks at it suspiciously."
Liz didn't grow up baking bread.
"In my family, we didn't have bread with every meal, like people do around here," she said. "I'd never made bread before [husband] Bill brought me here. 
"When I came to Pocahontas County, there were just so many wonderful cooks and they taught me a lot.
"Aunt Gim was real short and kind of stocky and she was always bustling around," Liz remembered. "She was a bundle of energy and a real sweetie pie.
"Aunt Gim taught school at Woodrow and Hillsboro, then later, substituted there and at Marlinton Elementary.
"When Bill and I moved here in the 70s, there were a lot of good cooks in Marlinton – Alice Waugh, Ruby McCarty and Mary Margaret Barlow, Sr., to name a few.
"Marlinton was full of great cooks and bakers.
"Mary Margaret could really bake salt risen bread. She was famous for it."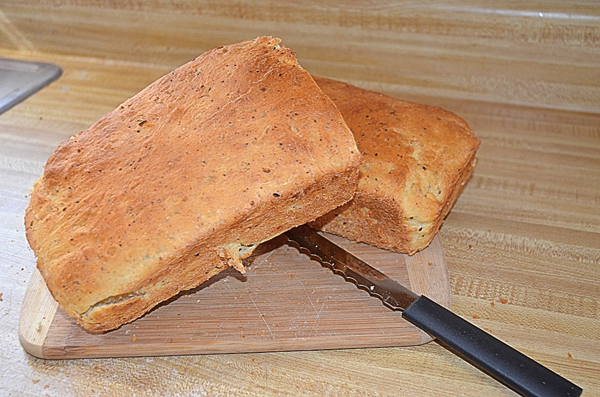 Liz grew up in Johnston, Rhode Island, about 10 minutes west of Providence.
Her parents were John and Helen Winter.
Her father was a first generation German-American who served in the U.S. Navy in World War II.
"My mother was a first generation Polish-American," Liz said. "She wanted to be more American than any American. 
"She didn't cook Polish. We went to my grandmother's for that – and it was delicious.
"But my mother loved to bake. She made a really great chocolate cake. 
"The icing on it was a quarter of an inch thick.
"She'd always do her baking after us kids went to bed – there were three of us," Liz reminisced. 
"A lot of her baking went to work with my dad for his lunch every day. 
"He worked at Nicholson File Company. I think there was a competition between the guys at work about who would bring the best lunch.
"I'm pretty sure Mom worked hard to make sure that Dad was always in the running for the prize," she laughed.
"On Sunday, she'd cook a big roast, and she'd make three or four meals from that.
"Dad took meat in a sandwich every day for his lunch, something special for dessert and a thermos of coffee.
"When she died, I inherited a big dress box full of clippings of recipes that she'd collected over the years."
Liz is a retired Navy Lieutenant, a R.N., who was stationed at the National Naval Medical Center in the Bethesda Naval Hospital – now known as Walter Reed Medical Center.
That's where she met her husband, Bill Gay, who was a First Lieutenant in the Marines when he was injured in Viet Nam.
They met on the ward and two months later, they were dating.
Bill and Liz married in 1971. 
They were inseparable until Bill passed away in 2014.
"When we got married, we lived in Washington D.C.," Liz said.
"But Bill wanted to come home to Pocahontas County, and I'd always wanted to live on a farm, so we moved back here in 1973."
They settled in on 10th Avenue in Marlinton, and Bill worked as an insurance agent for State Farm.
Liz continued her nursing career at "the old" Pocahontas Memorial Hospital in downtown Marlinton.
The couple eventually moved to Edray in 1983 on property across from Bill's home place. 
"This was a great place for our children to grow up, especially when all the relatives came in with all their children," Liz said.
"It took me a while to get used to cooking the way it's done here. I knew how to make baked beans. I guess that's a Yankee thing, but I'd never even heard of pinto beans.
"I would fix Chinese food, and Bill would make a few comments like, 'Well, it's going to be a popcorn night tonight,'" she said, wryly.
But she enjoyed cooking for her family and "we always ate together, except when there were games. The kids played a lot of sports – track, basketball and soccer."  
Her children are grown now. Matt is a mount maker, and he and his wife live in Philadelphia. Todd is in the Marine Corps, currently stationed in southern Germany.  Katie moved back to Pocahontas County from North Carolina and works for Youth Health Services as a counselor. 
It's worked out well having Katie around, "she's a very creative cook," Liz said.  
"Katie and I have a great relationship and [grandson] Elijah is the apple of my eye," Liz said with a smile.
"I'm not the best cook in the world, but I love to bake – cookies, cakes, pies. 
"Some of my favorites are applesauce oatmeal cake with pecans and brown sugar on top and apple strudel.
"And I'd rather make a pie than anything," she enthused. "I make a great apple raisin pie with orange icing, Jack Daniels pecan pie, praline pumpkin pie and sometimes I'll go pick blueberries just so I'll have enough for a fresh blueberry pie.
"I also make popovers, and I've started baking panettone, (a traditional Italian Christmas bread with orange peel in it).
"No one likes fruitcake any more, but I love panettone, so it's our new addition to the Christmas lineup." 
Back to discussing the dilly bread, which began with a disclaimer:
"The Dilly bread takes two rises," Liz said. "I mixed the dilly bread this morning, covered it and set it in the warmest room in the house to raise.
"Then I separated it into loaves, and covered it to let it rise again just like I always do.  But this time it fell between the risings. It's usually got a pretty tall, rounded top.
"I don't know what happened.
"I was so disappointed.
"I wanted it to look perfect for you," she said resignedly.
Of course, to me, her guest, it was perfect, with or without a perfectly tall, rounded top.
Aunt Gim's Easy Dilly Bread
2 pkgs. dry yeast
1/2 cup warm water 
2 cups [small curd] cottage cheese
4 Tbsp. sugar
2 Tbsp. minced onion – instant
2 Tbsp. butter
4 tsp. dill seed
2 tsp. salt
1/2 tsp. soda
2 eggs
5 cups flour
Dissolve yeast in warm water.
Heat cottage cheese to lukewarm and add to mixture.
Add remaining ingredients in order listed.
Knead dough 10-15 minutes.
Let rise. Punch down.
Form loaves. Let rise again.
Makes 3 loaves.
Bake at 350º degrees for 40-to-50 minutes.