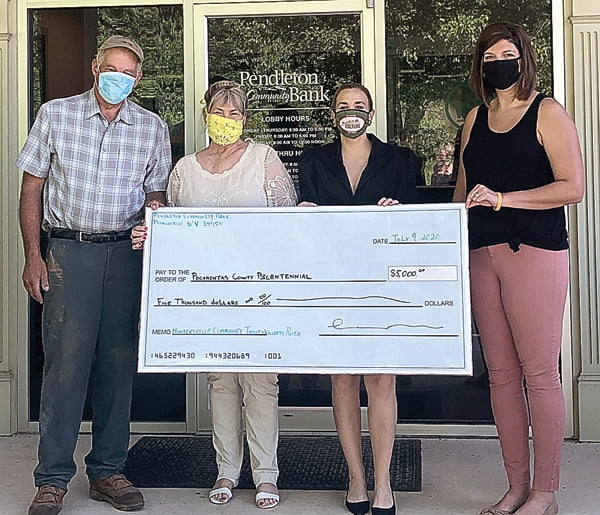 Laura Dean Bennett
Staff Writer
 
Although it's still more than a year away, Pocahontas County is readying itself for a year-long bicentennial celebration.
A public art project has been chosen as a county-wide bicentennial exhibit, celebrating  Pocahontas County's famous moniker, "The Birthplace of Rivers."
Eight large trout sculptures, custom painted by local artists, will be permanently installed in outdoor locations in eight county communities.  
Pendleton Community Bank chose the Huntersville community for its sponsorship.
The trout sculpture to be placed in Huntersville will represent the Williams River. 
Last week, Pendleton Community Bank Branch Manager Lauren Dunbrack and teller Ashley Moore presented a $5,000 bicentennial sponsorship check to Huntersville Historical Traditions President Tim Wade and HHT Secretary Laura Dean Bennett.
"We are so pleased to have Pendleton sponsoring our bicentennial sculpture," Wade said.
"Their generosity and investment in our community is commendable.
"Pocahontas County's Bicentennial is going to be one for the books. 
"And we look forward to welcoming everyone to Huntersville for the festivities."
Bicentennial events will occur from October 2021 through October 2022, and will begin and culminate in Huntersville, in collaboration with Huntersville Traditions Day festivities.   
Cara Rose, Executive Director of the Convention and Visitors Bureau and member of the Bicentennial Committee, said the trout sculptures will memorialize the bicentennial, benefit tourism and recognize bicentennial sponsors and local artists.
"The Pocahontas County Bicentennial Commission extends a huge thank you to Pendleton Community Bank for their support of Pocahontas County's Bicentennial celebration," Rose said.
"We are so grateful for the generosity of Pendleton Community Bank and all of the other sponsors of this bicentennial project."
The Pocahontas County Commission is sponsoring the trout sculpture representing the Elk River, to be placed at the county courthouse.
Marlinton's sculpture representing the Cranberry River, is being sponsored by Russell Jesse and Cinnamon Mitchum in memory of their families.
Snowshoe's trout sculpture, honoring the Shavers Fork, will be sponsored by Snowshoe Mountain and the Snowshoe Foundation. 
The sculpture placed in Cass will represent the Cherry River and is being sponsored by Southern States Cooperative.
Green Bank's trout is sponsored by the Green Bank Observatory and will honor the Greenbrier River.
The sculptures to be installed in Durbin and Hillsboro are still available for sponsorships.
The cost of sponsoring a trout installation is $5,000.
The sponsor of each installation will be permanently memorialized on each trout sculpture.
Individuals or business interested in being a trout sculpture sponsor should call Cara Rose at 304-799-4636.