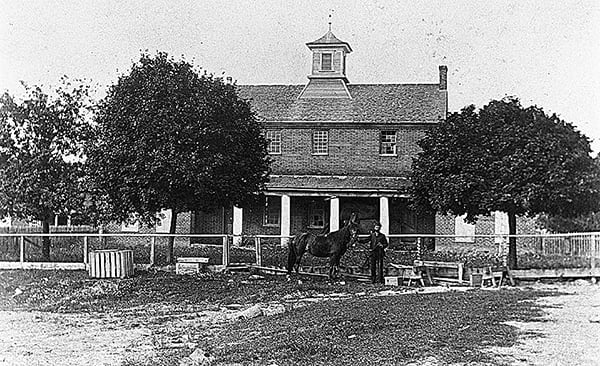 Laura Dean Bennett
Contributing Writer
There's something awesome – and I use that term literally – about living in a place where we can know in no uncertain terms who walked and struggled and lived exactly where we do now. 
As the county looks forward to its 200th anniversary, it's time to start planning for some big doins' for the Bicentennial Celebration. 
The celebration will begin between October and December of 2021 – 200 years from when the county was officially organized – and will continue throughout 2022 – 200 years from when Pocahontas County took up its governance.
Pocahontas County Convention and Visitors Bureau Director Cara Rose got the ball rolling several months ago when she established a committee to put some plans in place.
"The Bicentennial Committee is in the very early stages of planning," Rose said. "We've had three meetings, and we meet monthly. We are working on developing ideas and funding. 
"We're going to create a Bicentennial Seal that organizations will use during the bicentennial year.
"We think that we will be including some historical plays, and we'll be incorporating bicentennial content in our annual fairs and festivals throughout the year."
The Bicentennial Commission was officially formed by the county commissioners March 7 when Rose presented her volunteer member nominations to the commission for approval.
CVB staff member Chelsea Walker said one of the most fun aspects will be the educational component of the bicentennial celebration. 
"We hope to encourage all school teachers and students at all grade levels to produce projects, reports and plays about our history, and share them with the community during the bicentennial year," Walker said.
As a part of the educational component, The Pocahontas Times begins a new column this week, which will look at family names and histories recorded in William T. Price's Sketches of Pocahontas County – 1901.
The charter Bicentennial Commission members are:
Bill McNeel – Pocahontas County Historical Society
Cara Rose and Chelsea Walker – CVB
Ruth Taylor – Dramas, Fairs and Festivals
Bob Sheets – Educator, Community Representative
Jaynell Graham – Community Representative
Bill Jordan – Chamber of Commerce
Michael Holstine – Community Representative
Judith Fuller – Community Representative
Jesse Groseclose – Pocahontas County Commissioner
Gibbs Kinderman – Community Representative
Two hundred years is a real milestone.
How many counties in the country can claim that?
Our beginnings were on the humble side, or I guess you could even say they were pretty rough. 
But hard times just made the settlers who came here braver, stronger and more resilient.
As difficult as pioneer life must have been on the western frontier of Virginia, this was literally the promised land to the plucky men and women who brought their hopes and dreams here to begin a new life. 
The soil was rich – even if it must have been a herculean task to gather all the rocks. 
The hardwood forests were vast and thick with timber and game. 
The cold mountain springs were abundant and the rivers were teeming with fish.
 
Things were rough at the beginning, but, perhaps, only slightly improved some years later when, just after the county was formed, late in 1821, and beginning its responsibilities in 1822, a visiting magistrate came to the county seat of Huntersville in 1823.
During the discussion of the formation of the Bicentennial Commission, Bob Sheets, read excerpts of bicentennial interest from a letter written by Colonel J. Howe Peyton in 1823 and published in a family history book titled, A Blackhurst Comes to Burner Land.
Colonel Peyton was the first Virginia Commonwealth attorney for Pocahontas County.