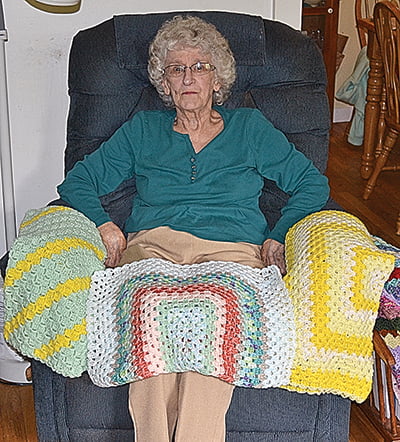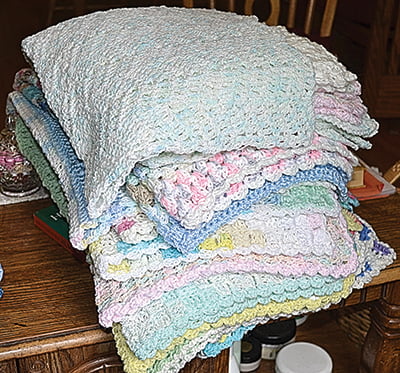 Suzanne Stewart
Staff Writer
Six hundred is a large number. Whether it's 600 pebbles or 600 trees – it's a lot.
In the past eight years, Arbovale resident Betty Gum has crocheted 600 blankets for the preemies and babies in distress wards at Ruby Memorial Hospital in Morgantown.
Gum first learned to crochet when she was pregnant with her first child, D.C.
"Grandmother told me I couldn't put him in gowns if they weren't finished," she said. "So, that's how I learned to crochet. I did that first. I went around his sleeves and around the neck and put in a ribbon. It had to be a ribbon. It couldn't be anything else."
Gum began the blankets after her companion, Ernest Galford, passed away. She had retired as a cook at Green Bank Elementary-Middle School and she was looking for something to do with her time.
"When I retired, Mrs. [Carol] Young came down – they had a party for me," Gum recalled. "She said, 'now's your time to give back.' She knitted little – size three and four – sweaters and sent them to Guideposts for the kids in the cities. She said to me, 'now what are you going to do?'"
Gum chose to make blankets for preemies, in part because she is the grandmother of a preemie. Her daughter, Donna Yost, had her son, Joey, at Ruby Memorial and now helps her mother deliver the blankets to the hospital.
"The first twenty-five blankets, Donna and Joey took them," she said, "and the lady who came to get them called the doctor and nurse that delivered him [Joey]. They came, and we got to visit with them."
Joey is now pursuing a master's degree at West Virginia University.
When Gum began, she didn't set a goal for herself. Instead, she was modest.
"When I first started, I said, 'if I could get fifty, that'll be good,'" she said. "[Ernest] died in September, so by spring, I had fifty. I said, 'well heck, I could do a hundred before Christmas.' And I did."
Along with the blankets, Gum made preemie hats – although she has no idea how many. She didn't think to count the hats, so there is no telling how many of those accompanied the blankets.
With 600 blankets under her belt, Gum shows no signs of stopping, although she has expanded on the projects she is working on.
"This is what I'm working on right now," she said, holding up the start of a larger blanket. "It will be a lap robe for continuous care. I will probably have enough for three of them when I get them done."
Gum is also crocheting edges around receiving blankets which is a little harder on her hands due to the small needle and type of thread. But it hasn't stopped her. Of the five receiving blankets she had to begin with, three are finished.
Always one to stay busy, Gum worked at GBEMS for 33 years, "actually, thirty-three and a third as they told me," she said.
Gum began part-time at the school, only working in the summer for one year, before leaving to work at the sewing factory in Monterey, Virginia.
After some time, Tony Hamed, who was a board of education member, called Gum and asked her to come back for a summer job at Green Bank. Gum, a mother of three, had to consider her options and luckily, things worked out in her favor.
"I said, 'Tony, I can't, I've got to think about feeding the kids,'" she said. "He said, 'if I promise you a job next fall, will you?' I said, 'I'll tell them tomorrow I'm quitting.' So I handed in my two weeks' notice, and I went to work in the summertime when they had a reading program. I worked three summers and then I went to work at the school house. That was a blessing."
Gum, whose husband was not in the picture, got help from her father-in-law, Markwood, who lived nearby. He would make sure the children – Donna, Mark and D.C. – got on the bus and were safe when she was at work.
"Markwood was good," she said. "He came and had his breakfast and when the kids left, he went back home. I'm really a lucky person. He was a nice person."
Even with such a busy career, Gum wanted to keep busy – leading to the blankets, hats and other projects – all of which she has donated to good causes or gifted to family and friends.
She has gone so far as to teach herself how to knit in order to make hats for cancer patients.
"They would usually get a dressy one with a flower on it," Gum said. "One striped or whatever to sleep in and one to wear every day, so I give three to everyone that needs them. I'm proud of this because I learned to knit."
Gum encourages others to volunteer their time and talents to help those in need, much like her friend, Carol Young, did for her so long ago.
So, what are you going to do now?
Suzanne Stewart may be contacted at sastewart@pocahontastimes.com