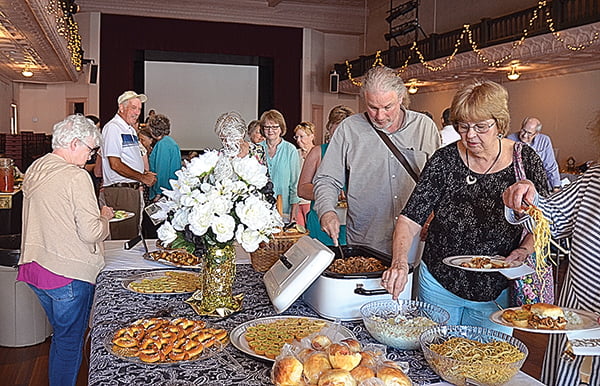 Laura Dean Bennett
Staff Writer
The third annual  Pocahontas County Opera House Season Preview Party was held June 15.
The black, white and gold decor lent an air of elegance to the gathering, as guests enjoyed buffet tables of food and festive libations while viewing a video presentation of the musical and dramatic presentations which the Opera House will be featuring in the upcoming season.
There was a silent auction, offering highly prized items, including artwork, handmade clocks, dining, gift and service certificates, stays at local inns, a week at a Snowshoe condo during ski season, gift baskets donated from several local individuals and organizations, coffee table books and much more.
Drawings were held throughout the evening for an assortment of great prizes, and Jud Worth showed photos of the process the Opera House underwent as it regained its historic glory.
Guests were also treated to an impromptu fiddle performance by two gifted young ladies, Misses Willa and Ramona Hardy.
The event was well-attended and, judging by the participation in the silent auction and the sale of season tickets, much appreciated funds were raised for the important work being done by the Opera House as it provides a beautiful venue for music, drama and community gatherings in the county.
This 2018-2019 Performance Series will include:
July 7 – Cheick Hamala Diabate. This West African historian, using a Malian stringed instrument which is the ancestor to the banjo, shares the oral history, music and song of his culture as it has been passed down for 800 years.
July 28 – Comedy of Errors. West Virginia acting troupe "The Rusty Mechanicals" offers a delightful and unusual take on Shakespeare.
August 18 – Honky Tonk Laundry. Take a ride through Nashville's country music heaven in this boot-scootin' musical theater tale performed by the ever popular actors from Greenbrier Valley Theatre.
September 1 – The Black Mountain Bluegrass Boys. One of West Virginia's most popular, longest running bluegrass groups, which originated right here in Pocahontas County, comes back to deliver another evening of foot-stompin' bluegrass classics.
September 14-15 – Music in the Mountains Festival. Everything from a mountain music concert to an old-time music jam, fiddle and banjo contests, square dancing and old-time mountain cooking – including a cornbread and bean supper and homemade ice cream – will be offered during this weekend of old-fashioned fun.
September 29 – Hammons Family Musical Heritage Celebration.  What better way to end the day during Marlinton's Autumn Harvest Festival and Roadkill Cookoff than an evening of old time fiddle music, banjo playing, ballad singing and storytelling in the tradition of this famous musical Pocahontas County family of musicians?
October 13 – Long Strange Night.   If you are a Beatles and/or Grateful Dead fan, you will thrill to the sounds of this talented band, who, besides performing fresh takes on Beatles and Grateful Dead favorites, add some of their own, unique and original creations.
October 27 – Be Afraid, Be Very Afraid. Prepare yourself for another spine-tingling murder mystery dinner theater, just in time for Halloween. If you enjoyed the spooky Ghost of the Opera House last year, you won't want to miss this new play performed by our own Pocahontas County Players, and written by Arla Ralston.
November 10 – Chris Smither. Drawing from the blues, American folk music and the words of poets and philosophers, this songwriter-guitarist is an American original, who has gotten rave reviews from music critics at Rolling Stone and The New York Times.
December 1 – Kenny and Amanda Smith. Winners of the International Bluegrass Music Association's prestigious Emerging Artist of the Year award in 2003, the Smiths offer a powerful, contemporary take on modern bluegrass music.
February through May shows include Opry Night, The Bing Brothers featuring Jack Krack, Alash, The Sweetback Sisters and Austin Walkin' Cane.
For more details, call 304-799-6645 or visit the Opera House website at pocahontasopereahouse.org
Laura Dean Bennett may be contacted at ldb@pocahontastimes.com