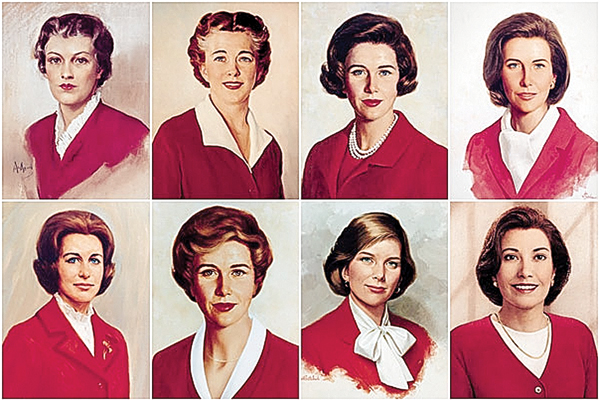 Laura Dean Bennett
Staff Writer
Before there was Martha Stewart, there was Betty Crocker.
As much as I have appreciated Martha Stewart's cookbooks and enjoyed devouring her "Living" magazine, I have to say, it's Betty Crocker who really takes the cake.
I'm probably one of the millions of children whose first cookbook was Betty Crocker's Cook Book for Boys and Girls, which was first published in 1957.
Mom also gave me the 1972 edition of Betty Crocker's Cookbook.
Hardly a week goes by that I'm not paging through that old, well-worn classic.
Betty Crocker's recipes – along with my grandmother's, my mother's and her best friend, Mary Lou Dilley's – have guided me in the kitchen all of my life. 
I've had to use packing tape and duct tape to keep the spine on it, but like a Timex, my copy of Betty Crocker's Cookbook – nearly 50 years old now – takes a licking and keeps on ticking.
Who knew that, since 1950, Betty Crocker has published more than 250 cookbooks.
She may be a fictional character, but she ranks right up there with Santa Claus, Barbie and Uncle Sam.
These days, Betty Crocker draws more than 12 million visitors to her website each month.
Her legend began in 1921 when a company that produced flour, the Washburn Crosby Company – later known as General Mills – was looking for a bit of promotion.
They had great success with a contest in which consumers completed a puzzle and won a pin cushion in the shape of a sack of flour.
It surprised them that in addition to a prize, many of their consumers had questions about baking.
The company was savvy enough to realize that they had struck gold.
They created an imaginary woman named Betty and gave her the surname of their recently retired company director, William G. Crocker, and asked the women in the office to each take a stab at a signature for Betty.
Secretary Florence Lindeberg turned in the winning signature, which is still in use today.
Betty Crocker immediately began receiving tons of mail and eventually, thousands of telephone calls.
She was so beloved that she even had fans who would travel to the General Mills office in hopes of meeting her.
The staff was instructed to tell those asking for her that Betty wasn't in when she received a telephone call or visitors dropped in to meet her.  
According to a 1945 Fortune magazine article, Betty was, at that time, receiving 5,000 letters a day and was second only to Eleanor Roosevelt as the most recognized woman in the world.
That article exposed the fact that she wasn't a real person, but instead of her fans turning against her, the revelation just made her that much more iconic.
Eight portraits of Betty have been commissioned over the years and in each, she's wearing a different outfit, but always in her signature colors, red and white.
The first was painted in 1936 and each subsequent portrait was painstakingly designed to reflect the fact that Betty Crocker was keeping up with our changing culture.
The current portrait of Betty was released in 1996, as part of Betty Crocker's 75th anniversary celebration.
Betty Crocker has answered millions of questions from all over the world and dispensed sage advice on everything that goes on in the kitchen and into homemaking.
Her advice actually came from a crack team of home economists, some of whom have been called upon to write Betty's cookbooks and bread-baking books.
Betty Crocker hosted the first radio cooking show – The Betty Crocker Cooking School of the Air, which began airing in 1924.
It was an instant hit.
For two decades her voice actually belonged to Marjorie Child Husted, who also wrote and hosted the program.
After getting picked up nationally by NBC, the show went on to become one of the longest-running radio shows in history, regularly drawing more than a million listeners.
In 1943, when America went off to war, Betty Crocker pitched in to do her part.
She produced a mealtime guide so women at home could help the war effort by learning how to stretch everything – meat, vegetables and even fat rations.
Betty's more than 250 cookbooks have always been gobbled up by her adoring fans – nationally and internationally.
Her first book, published in 1950, was Betty Crocker's Picture Cookbook.
It sold nearly two million copies in its first two years and is now in its 21st edition, with a distribution of well over 75 million copies.
Said to be the most popular cookbook in American history, it's been nicknamed "Big Red" and "The Kitchen Bible."
Having proven herself to be Queen of the Culinary Arts for a hundred years, I don't expect that we'll be seeing the end of Betty Crocker's reign any time soon.