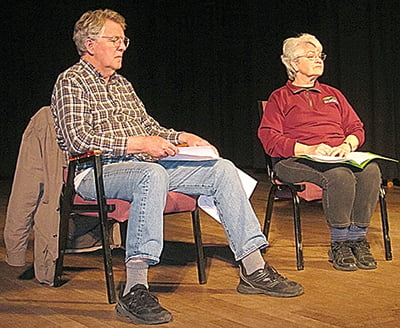 Bonnie Gifford
Contributing Writer
The second of a five-part series about Opera House PlayFest 2018, this year's production by the Pocahontas County Drama Workshop. 
Beans and Franks Never Tasted So Good is a short play by Jonathan Joy in which an older couple, named Man and Woman, argue and reminisce about a meal they had during their first date. 
Joy is the author of more than 40 plays that have been staged in 17 U.S. states, including a January 2018 debut of his Under the Shattered Streetlight with Manhattan Rep in New York City and a four week February/March 2018 run of his Darlene's Resistance Monologue with The Open Fist Theatre in Los Angeles.  Publications and features include the New York Times, Smith and Kraus, the One Act Play Depot, Brooklyn Publishers, Insight for Playwrights, Southern Theatre Magazine, and more.  A West Virginia resident, Joy's plays have been performed on West Virginia stages in Huntington, Charleston, Lewisburg, Marlinton and Wheeling. Joy's play, Tammy and Tom, was performed during the Drama Workshop 2016 Playfest.
Joy compared the plays, writing Beans and Franks is a very different kind of play than Tammy and Tom.
"While the latter was quick paced and funny, this new 10-minute play is slow and deliberate, more naturalistic," he said. "The theme is a bit more dramatic, too."
Beans and Franks won second place in the Short Play category at West Virginia Writers last summer.  It has been presented as a staged reading in Huntington with ARTS, but this will be its first full performance.
Janet Ghigo will perform the role of Woman.  Most of Ghigo's theatre experience has been literally behind the scenes.  While at Bryn Mawr College she learned stage lighting, a skill she brought to the Drama Workshop when she and her husband, Frank, moved to Pocahontas County in 1988. Ghigo appeared in front of the lights as Old Pearl in Between Two Worlds, the musical on the life of Pearl Buck performed in Hillsboro in 1992 on the 100th anniversary of Pearl Buck's birth.  She also appeared as Mom in the 2012 Drama Workshop production of A Nice Family Gathering and as Gertie in About the Baby by T.K.Lee during the 2016 Playfest.
Man will be portrayed by Jay Miller. Miller first appeared on stage as the King of Bohemia in the Drama Workshop's 2015 production of Sherlock Holmes: The Final Adventure.  He subsequently appeared as Reverend in Legacy by Chris Shaw Swanson in the 2016 Playfest. In 2017 he portrayed L.B Milton in The Ghost of the Opera House by Arla Ralson, presented as a fundraiser for the Opera House Foundation.  Miller resides in Hillsboro with his wife.
The Opera House PlayFest 2018 will include five other short plays, including comedy, drama and a mixture of both.  The festival will be performed Friday, May 18, and Saturday, May 19, beginning at 8 p.m. each evening at the Pocahontas County Opera House in Marlinton. 
There will be a free preview performance Thursday, May 17, at 7 p.m.
Parents should be aware that some of the plays contain adult themes that may not be suitable for young children.
The Pocahontas County Drama Workshop is community theater supported by Dramas, Fairs and Festivals, Parks and Recreation and the Board of Education. Tickets are $10 and are available at the door.