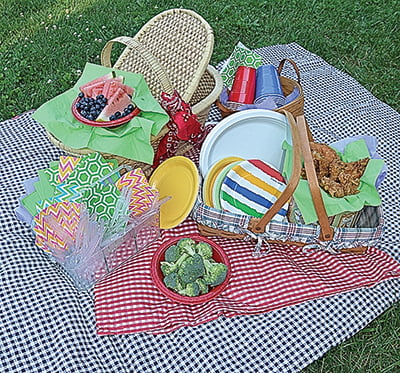 Laura Dean Bennett
Staff Writer
With families gathering for reunions, trips to the lake, the river or the beach, vacationing, traveling and camping, there's going to be lots of dining al fresco in the coming months.
Pocahontas County is just full of perfect places to picnic.
Even the theme for this year's Little Levels Heritage Fair is "Picnic on the Grounds."
Think portability for your picnic foods and casual, colorful charm for an easy, but impressive presentation when it comes time to serve them.
You know you'll be needing it, so get your picnic gear ready to go now.
Gather up hand-me-down quilts, a few folding chairs and blankets that will be easy to shake clean. 
Pack cloth or paper napkins, plastic or paper plates and bowls, plasticware or silverware and plastic or paper cups in baskets with handles.
Organize some games like badminton, frisbee, croquet, bean bag toss, a beach ball, a battery operated radio and/or CD player, a pack of cards and a game of checkers and you have all the entertainment you'll need for a day of outdoor fun.
Have at least one or two coolers on hand and ready to pack at a moment's notice. 
Check them now. They may need to be freshened up – inside and out – with a little bleach water, then rinsed and dried. 
Now that you have everything ready to pop in your trunk, all you'll need to add is the food, when someone says, "Lets have a picnic."
There are a lot of neat, new picnic ideas.
For one – think glass jars!
Get out those canning jars, lids and rings and you have the perfect portable and attractive serving containers for lots of picnic foods.
If you're packing something wet or liquid, put a bit of plastic wrap over the top of the jar before you add the jar lid and ring. It will help prevent leaks.
For a quick snack, fill a glass jar with fresh salsa and another with tortilla chips. 
You can thread various combinations of fruit – melon, strawberries, blackberries, grapes – fresh small mozzarella cheese balls, and fresh sprigs of mint on six-inch wooden skewers and slide them into jars. You can do this up to three hours in advance.
Prepare bitesize fried chicken cubes, let cool and place in a glass jar.  These golden nuggets are easy to pack and will be great dipped in your favorite dressing or barbecue sauce.
One of the nice things about casual picnic-style food is it will feed a crowd very inexpensively.
Some good old standbys come to mind – hot dogs, rotisserie chicken, which can be served cold; for BLTs, pack separately: sliced bread, cooked bacon, lettuce and sliced tomato; cheese and crackers, Waldorf salad, deviled eggs, potato salad, veggies and dip, pasta salad, fresh fruit; and baked beans. Skip the expensive sodas and serve iced tea or lemonade.
And don't forget fried chicken – the picnic perennial favorite for generations.
If you want to pack sandwiches, but want to try something new, these recipes will be welcomed additions to your summer picnic menu.
Note: If you plan to use lettuce on sandwiches, wash it, pat it dry and bag it for the cooler.
Greek Yogurt Chicken Salad
You'll never miss the mayonnaise.
2 cups chopped rotisserie chicken
1/2 cup diced red onion
1/2 cup diced apple
1/2 cup grapes, halved
1/4 cup dried cranberries
1/4 cup slivered almonds
1/2 cup plain Greek yogurt
1 tablespoon freshly squeezed lemon juice, or more, to taste
1/2 teaspoon garlic powder
Kosher salt and freshly ground black pepper
8 slices bread
4 leaves Boston bibb lettuce
Combine all the ingredients in a large bowl, mix well, and serve on your favorite bread.
Zesty Pimiento Cheese
This is not your grandmother's pimiento cheese.
This one has a bite!
1/2 lb. sharp cheddar cheese
1/4 tsp. cayenne pepper
2 tsp. horseradish
1/2 tsp. Worcestershire Sauce
1/2 tsp. dry mustard
5 Tbsp. mayonnaise 
3 Tbsp. chopped, marinated roasted red pepper
Romaine lettuce, optional
Large baguette or 16 slices firm white bread
Stir together cheese, cayenne pepper, horseradish, Worcestershire sauce, dry mustard, and mayonnaise in a medium bowl. Blend half the mixture in a food processor until smooth. Transfer back to bowl, add roasted red pepper, and stir to combine. 
This is enough for eight sandwiches.
Put the spread in a Tupperware-like container for the cooler. 
Make your sandwiches, as needed, at the picnic, to avoid soggy bread.
Now, for the perfect, portable appetizer and salad, try these:
Cowboy Caviar
Once you add this to your picnic portfolio, it'll become your go-to appetizer or side dish all summer. 
Make it ahead and keep it on hand so you'll be ready when the buckaroos belly up to the bar. 
Rope:
2 (15 oz.) cans black-eyed peas, rinsed and drained
1 can (drained) or 1 cup fresh sweet corn
1/2 sweet onion, finely chopped
1 Tbsp. fresh cilantro, chopped
1 large tomato, finely chopped and drained
1 avocado, diced 
1 fresh jalapeno pepper, stem and seeds removed, chopped fine 
1/2 cup bottled Italian dressing 
Wrangle:
In a large bowl, combine all ingredients except dressing.
Then  pour dressing over the top and toss to coat. 
Cover and chill until ready to serve.
Will keep in fridge for two or three days.
Serve with tortilla chips, in hollowed out tomato cups or just spoon it on the plate. 
Caprese Salad to Go
6 Roma tomatoes
15-20 large fresh basil leaves 
1 pre-sliced log of fresh mozzarella cheese
Balsamic vinegar
Extra virgin olive oil
Coarse grain salt 
Pepper
Thinly slice each tomato along its length,  taking care not to cut completely through, so that you have pockets in which to stuff the mozzarella cheese.
Cut each mozzarella slice in half, creating half moons.
Lay a piece of basil on top of each mozzarella slice and wedge it between each tomato slice. 
Bring 1/2 cup balsamic vinegar to a boil and cook until thick, about four minutes.
Cool and pack to go.
Pack the tomatoes carefully and snugly in a Tupperware-style container for safe travel.
Just before serving, drizzle the vinegar and about 2 Tbsp. of olive oil over the tomatoes and season with a pinch of salt and pepper.
For the perfect picnic dessert, what could be easier to pack than Rice Krispies Treats?
But these are: 
Fancy Rice Krispies Treats
This upgrade takes just a few minutes more, but it's worth it!
1 cup butter
1 tsp. vanilla
½ tsp. salt
Two 250g bags miniature marshmallows
10 cups Rice Krispies
Line a 9×13-in. pan with parchment, leaving overhang on 2 sides.
Melt butter in a large pot over medium-high. Stir as butter foams up, then becomes nutty brown, 5 to 6 minutes.
Reduce heat to low, then quickly add vanilla, salt and marshmallows, stirring until completely melted. Remove from heat and stir in cereal until well-coated.
Press into prepared pan and let cool at least one hour.
Cut into squares.
Tips: This recipe is easily halved. Press into an 8-inch pan or stick with a 9×13-in. pan for thinner squares. Use wet hands or a wet spatula to press mixture into pan to prevent sticking. Use the bottom of a measuring cup to evenly press the squares.
I hope these picnic ideas will get you all revved up and ready for a wonderful summer of outdoor fun.