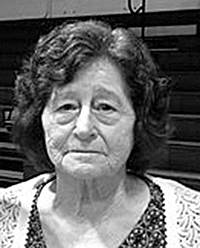 Arthea Faye Summerfield, 83, of Cass, passed away after a long illness Monday, August 21, 2023.
Born August 14, 1940, in Cass, she was the eldest daughter of the late Paul Clayton Bradley and Garnett Marie Lambert Bradley.
Early in life, Arthea raised her children and spent summers working at the Cass Country Store. She was an active member of the Bethel United Methodist Church in Durbin and Hebron Baptist Church in Green Bank, and participated in activities at the Green Bank Senior Center. 
She enjoyed flower gardening, singing in the church choir, attending square dances, working on puzzles and feeding the birds that visited her yard. In the evenings, you could often find her on the front porch swing with her Jack Russell Terrier, Skippy, waving at locals and tourists alike as they passed by her house. Above all, her relationship with God and her family meant the most.
In addition to her parents, she was preceded in death by her brother, Thomas Clayton Bradley. 
Arthea is survived by her children, Brenda Cassell and Joyce Boothe, both of Green Bank, and Kenny Summerfield, of Dunmore; sister, Patricia Foulks, of Parkersburg; four grandchildren, Andrew Cassell, of Green Bank, Bridget Martin (Boothe), of White Hall, James Boothe, of Timonium, Maryland, and Emily Boothe, of Hamtramck, Michigan; as well as several nieces and nephews. 
Graveside service will be held Saturday, August 26, 2023, at 1 p.m. at Wanless Cemetery on Back Mountain Road near Cass, with Pastor Amy Paul officiating.
In lieu of flowers, donations may be made to the Green Bank Library, PO Box 1, Green Bank, WV 24944 or to the Green Bank Senior Center, 4498 Potomac Highlands Trail, Green Bank, WV 24944.
Online condolences may be shared at www.WallaceandWallaceFH.com
Wallace and Wallace Funeral Home in Arbovale is in charge of the arrangements.