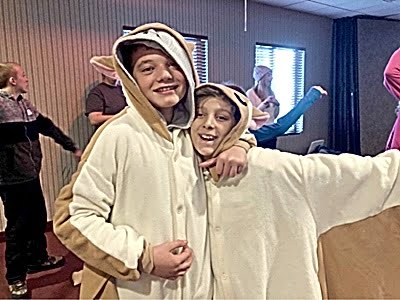 by Charles Gabbert, Resource Assistant
Monongahela National Forest
Making Tracks – Students explore the winter woods
This February, nearly 100 students from Pocahontas County elementary and middle schools visited Snowshoe Mountain to learn about the forests that surround their communities. The students' field trips were designed to introduce the students to a variety of environmental topics including winter ecology, the wonder of the red spruce ecosystem, and the science of snow. These winter field trips were just a small part of the ongoing conservation and education activities planned by Rachel Rosenberg, AmeriCorps member for the Monongahela National Forest, stationed in the Marlinton-White Sulphur Ranger District.
"I selected these topics to help encourage students to be more active in the winter, which is sometimes an overlooked season for outdoor education," Rachel said. "I chose to tie in the red spruce because red spruce forests are special places in West Virginia, and, because they are found at high elevations, they experience longer and more intense winters than other places in the state."
When the students from Marlinton Middle, Hillsboro Elementary and Green Bank Elementary-Middle schools arrived, they were divided into groups which were given names such "the flying squirrels" or "the saw-whet owls." The groups of students then rotated through different learning stations where they were led in games, outdoor exhibits, songs and a host of other educational activities. The activities resulted in students learning to snowshoe while they explored red spruce trees, dressing up as West Virginia northern flying squirrels and singing songs about the water cycle, all while learning what makes winter special in their home county.
Winter is a magical time on the Monongahela National Forest. The forest is quiet and covered in glistening ice and snow, and traveling on snowshoes allows visitors to visit places that many can't otherwise reach. Yet, due to the mild winter weather, there was a limit to the amount of snow that could be found for the outdoor lessons. This made Snowshoe Mountain a great place to hold the program.
"I hope that each of the students left with a greater appreciation of why winter is really cool (pun intended), and how to look at things in nature more closely, especially in winter," Rachel said. "I want to thank the very helpful staff at Snowshoe Mountain Resort and the Pocahontas County teachers for making this such a successful program."
More than one third of the Monongahela National Forest lies within Pocahontas County making this a great place to explore in all seasons. If you'd like to learn more about red spruce in West Virginia visit www.restoreredspruce.org
Until next time – Get outside and enjoy your public lands!