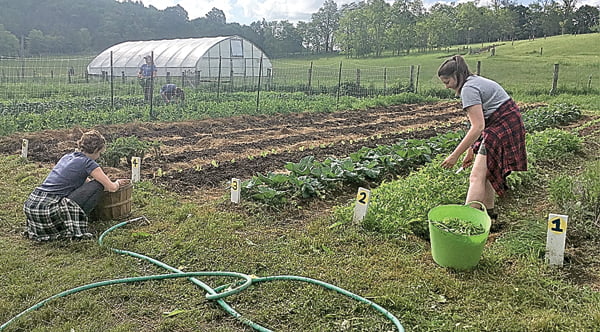 Fully sponsored program offers opportunity to learn to farm and serve regional communities
Applications for Allegheny Mountain Institute's fully sponsored Farm and Food Fellowship are now available. The 18-month Fellowship prepares and empowers individuals to become teachers and ambassadors for a more vibrant and accessible local food system. Applications are available on the AMI website, www.amifellows. org, and are due February 10, 2020.
The AMI Fellowship offers individuals the opportunity to study and apply regenerative farming practices and to serve regional communities. The two-phase Fellowship is a program of Allegheny Mountain Institute (AMI), an educational non-profit organization with the mission to cultivate healthy communities through food and education.
In Phase I, Fellows complete six months of immersive, experiential training in Highland County, Virginia, where they learn gardening, farming and homesteading skills, in addition to wellness, nutrition and community development (May 11 – October 28, 2020). Then, in Phase II, Fellows give back through a year of service, working for non-profits in the region while continuing their education through professional development, field trips and skills-based classes (January 4 – December 17, 2021).
Tuition to the Fellowship is fully subsidized by AMI for all Phase I Fellows who fulfill Fellowship requirements, including but not limited to participation in the Phase II year of service. Successful Phase I Fellows will receive a $1,000 stipend upon signature and commitment to the Phase II contract. Phase II Fellows are paid an hourly wage of $10 per hour and are provided with basic benefits, including Workers' Compensation, paid time off and sick leave.
Applicants must be physically fit, able to lift 50 pounds, walk distances up and down steep hills, work outdoors for extended periods of the day, and be comfortable living and working communally as a team in a remote, mountain setting.
For more information, please visit www.amifellows.org, or contact Jessa Fowler, Education Director, at jessa@amifellows.org or 540-886-0160.
AMI admits participants without regard to race, color, religion, gender, sexual orientation, gender identity, national origin, age, disability, genetic information, marital status, amnesty or status as a covered veteran in accordance with applicable Federal, State and local laws. AMI complies with applicable Federal, State and local laws governing nondiscrimination in employment, educational policies, scholarship programs, and other school-administered programs in every AMI location.
About Allegheny Mountain Institute (AMI): AMI's mission is to cultivate healthy communities through food and education. AMI is a 501(c) 3 educational nonprofit that works to create a thriving network of collaborative, vibrant, communities that value the connection between food and health, and to support our region in developing a more secure and healthy food system.