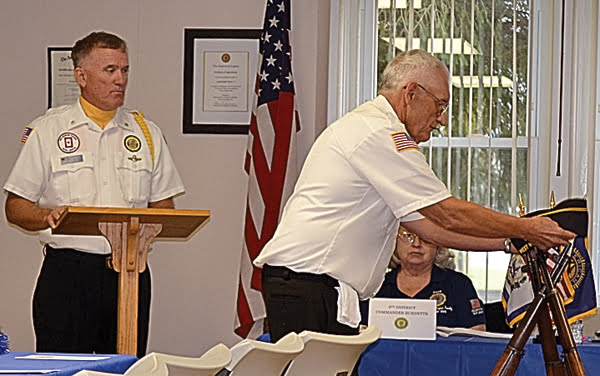 Suzanne Stewart
Staff Writer
American Legion Posts in Pocahontas, Tucker, Randolph, Nicholas, Webster and Greenbrier counties met last Saturday at the Arbovale Community Center for the Ninth District's annual fall conference.
Hosted by Allegheny Post 117, the meeting provided an opportunity for members to catch up on events from other counties and discuss future plans.
District Commander Barbara Burdette addressed those in attendance sharing good news and displaying awards from the National Convention.
"We met all the target dates," she said. "We were one hundred percent, and we made one hundred percent at the end of the counting time, and that was in all fifty-five departments. That's fifty-five departments which include Puerto Rico, the Philippines, Guam, Mexico and France. That's foreign departments included and we [West Virginia] were number one."
Burdette added that State Commander Frank Cooley won the Department Commander of the Year award at the convention.
The group also discussed a recently passed resolution which will open membership for the American Legion to all men and women who served in the Armed Forces. As it is now, there are "black out" dates which are not counted as service because there was no active combat during those years.
"That was the Cold War Era where there was not an actual conflict," Burdette said.
Burdette went on to explain that some veterans are excluded from membership because the original resolution adopted for the American Legion required that members be veterans of active conflicts.
Now that the National Executive Committee of the American Legion has passed the resolution, it is up to Congress to approve it, as well. Burdette encourages everyone to contact their Representative to express their support.
After her presentation, Burdette opened the floor to members of the different posts to give updates on what they have done in their counties.
The Pocahontas County Veterans Honor Corps, which shares many members with the American Legion, performed a Post Everlasting Ceremony to honor those who have passed away since the last district meeting, which was held in the spring of 2018.
Honor Corps commander Rick Wooddell led the ceremony, with the help of Sergeant at Arms Homer Hunter and Adjutant Steve Fierbaugh.
"We come to honor the memories of those who have offered their life in the service of their country and who have now enrolled in the great spirit army whose footfalls cause no sound but in the memory of mankind, their souls will go marching on, sustained by the pride of their service," Wooddell said. "Because of them our lives are free. Because of them our nation lives. Because of them the world is blessed. May this service deepen our reverence for our departed comrades."
As Wooddell read the names of the fallen, Allegheny Post 117 Commander Hugh Geiger rang a bell. Those honored were:
Elkins Post 29 – Charles Siler, Dennis Calain, Sr., Harvey Gum, John Stormer, Robert Roy, Robert Corbin, Sam Wilcox, Billy Keffer, Charles McElwain and Ronald Ferguson, Sr.
Belington Post 96 – Sherward Booth.
Allegheny Post 117 – Fred Crews and John McCollum.
Pickens Post 122 – John Ramey, James Lewis and Randolph Bachman.
Summersville Post 131 – Rommie Johnson.
Cowen Post 62 – Phillip Wilson.
Ronceverte Post 26 – Dwayne Borcher.
Richwood Post 97 – Gene Myer.