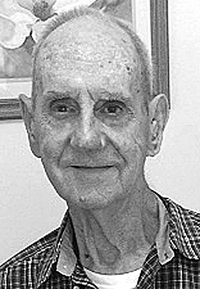 Allen Lee McClung, 95, of Marlinton, formerly of Richwood, met his Lord and Savior Friday, October 21, 2022, after a recent illness.
Born August 23, 1927, he was a son of the late Wyatt E. and Vista Bailey McClung.
After high school, Allen served in the United States Air Force then returned to Richwood where he was a lifelong resident.  He was a Baptist by faith and a Christian example to all who knew him. He worked for Georgia Pacific and then Laurel Creek Hardwood sawmill until his retirement. He moved to Marlinton with his son, Tim, after his wife, Mary, passed away. He enjoyed coon hunting, fishing, basketball and playing the banjo, but mostly, he enjoyed his time with family. He had so much pride for his sons, grandchildren and great-grandchildren.
Allen was a quiet and caring man; some will remember him walking up Oakford and Cranberry Street during his many years in Richwood. When he was not working at the mill, he would drive his sweetheart, Mary, up Marlinton Road or over to Stone and Thomas in Summersville. They enjoyed these outings almost as much as spending the time with one another. He loved nothing more than watching his son, Tim, play basketball and then in later years to watch him coach basketball. He was the true definition of a gentleman and always let his family know how much he loved them.
In addition to his parents, he was preceded in death by his wife, Mary Boone McClung   
He is survived by his sons, Timothy McClung, and Sherry Groves, of Marlinton,, and Craig A., and Aggie Johnson, of Craigsville; grandchildren, Stephanie McClung, of Leland, North Carolina, Craig W. Johnson, Susan and John Bird and Ryan and Brittany Groves, all of Craigsville; great-grandchildren, Camryn and Genesis McCleveland, of Leland, North Carolina, Holly Jo Johnson and Ivy Groves, of Craigsville.
Funeral service will be held Friday, October 28, 2022, 1 p.m. at Lantz Funeral Home in Buckeye. Burial will follow in Richwood Cemetery.
The family will receive friends from noon until time of service Friday.
Online condolences may be shared at Lantzfuneral home.com