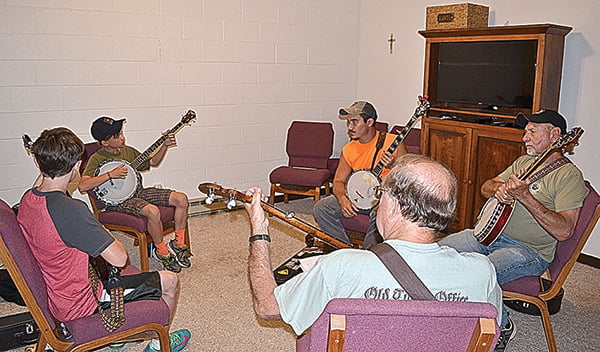 Suzanne Stewart
Staff Writer
Steven Casto began playing the banjo when he was eight years old. A year later, he attended Allegheny Echoes – the first of 12 years as a student. Last year, he made the switch to teacher of beginner clawhammer banjo and continues to pass on his knowledge to eager students – no matter the age – whether they be 12 or 72.
Casto's interest in music began in the same manner as it did with many musicians – through family.
"I had a relative that played and I just wanted to be like him, at first," Casto said. "So, I decided to start playing and once I got started, I met people and liked it. I liked the music and kept going. I've been with it ever since."
As a youngster, Casto immersed himself in the banjo and even joined in with Mud Hole Control from time-to-time, which led to his permanent place in the ensemble around five years ago.
"Charlie [Loudermilk] passed away at least three or four years ago, and I was playing with them before he passed," Casto recalled. "Maybe, technically, since five or six years ago. I was playing with them and around them long before that, though. There's a picture of me somewhere with them at the radio station when I was eight or nine – right around when I started – and I played with them at the radio station. Ever since then, they've always welcomed me to play anytime."
Although he got busy in high school and in college at Glenville State College, Casto continued to play banjo as much as he could. While old-time music wasn't popular in school, Casto was able to find a circle of people who appreciated the music as much as he did.
"I didn't have very many friends in school that liked this kind of music," he said. "But, then once you get around the people – like the Bings – and everybody that we hang out with at festivals, it's like you have a whole other family that's so passionate about the same thing you're doing, and that really helps a lot."
Learning at a young age helped Casto, who admits if he tried to learn an instrument now, it would be harder because of his busy schedule.
"Another thing is – starting out young – you have time to work on stuff," he said. "I couldn't imagine trying to start right now with as busy as I am and not taking the time to play. It would be tough to do it in the middle of your life versus early when you have time. I should be [playing every day]. Maybe a little bit every week, but even then, I kind of slack sometimes. I'll go two or three weeks without picking it up. You just get so busy."
Returning to Allegheny Echoes as a teacher has been as much of a learning experience as the years Casto spent as a student. Although he's the one leading the class, he said there's always something new for him, too.
"Being a teacher definitely teaches you a lot more than you think," he said. "You have to slow the tunes down. You kind of take it for granted after awhile because when you stop and have to slow it down, you realize 'maybe I fudged that part a little bit, now I've got to figure out how it really goes.'"
In his beginner's class this year, Casto had four students who exemplify the range of musicians who attend Allegheny Echoes. Two gentlemen – Mike Baranski and Larry Carrico – admitted they are in their 70s, and they were joined by two young men – Dillon Dunz and Silas Beezley –  who are pre-teens.
Despite the generational gap, the students shared a desire to play banjo and a love of old-time music.
Baranski was the first to say that Casto is a great teacher because of his patience.
"He has to put up with people like me – old-timers – we can't pick this stuff up the way these two young guys can," Baranski said. "They can just absorb it and it flows, and the fingers work. After you get to be, well, in my case, nearly seventy-two-years-old, it's not easy to do this kind of stuff."
Baranski, a Wheeling native, lives in North Carolina and vacations in Woodrow where he has a home away from home. He immersed himself in the music of the county and eventually found his way to being a student. He played bluegrass banjo for more than a decade and recently decided to go a different direction.
"I got talked into trying something new," he said. "So, I thought I would try the clawhammer."
Casto only plays clawhammer banjo, although he said he might try to learn bluegrass one day.
"Bluegrass players use three picks on their fingers and they do rolls – just kind of totally different process with the right hand than clawhammer," he said. "I like [bluegrass banjo]. I'm not opposed to it. I just never took the time to learn it. I'd like to one day."
Carrico had a similar beginning with banjo as Baranski. He played bluegrass banjo for a time and now, he's starting over with clawhammer.
"It's completely different," he said. "Once I started with the pick, I left it and forgot about it for years and everything I thought I knew was completely gone, so I'm starting brand new."
The younger members of the class are slightly new to banjo, as well. Dunz has attended Allegheny Echoes for several years as a banjo player, but has played guitar in the past. This was Beezley's first year taking classes for the instrument.
While he might be busy with his job, working with surveyor Justin Dilley, Casto continues to hone his banjo skills and is happy to pass on his knowledge to the next crop of players.
"It kind of scared me at first when they asked me to teach, but it's been a lot of fun," he said. "I'm glad to pass it on."
Allegheny Echoes is a week-long old-time and bluegrass workshop featuring classes in banjo, guitar, fiddle, mandolin, upright bass, vocals and creative writing. For more information, visit www.alleghenyechoes.com
Suzanne Stewart may be contacted at sastewart@pocahontastimes.com