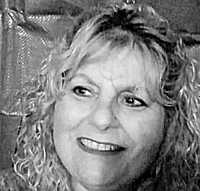 Adrienne Danielle Wanless, age 61, of Strasburg, Virginia, passed away Wednesday, September 22, 2021, at her little farm.
Adrian was born in Baltimore, Maryland, and was a daughter of Noel Brown Wanless and the late Gary Wanless. She had a storied career but the titles she most valued were Mom/Granola/Grandma/Noni.
In addition to her father, she was preceded in death by her grandson, Jeremy; and a nephew, Brendon. 
Adrienne is survived by her sister, Janeen; her children, Tasha, Arielle, Daniel, Rachel and Justin; 13 grandchildren, Jairyd, Elijah, Nic, Gabe, Ronan, Brendon, Michael, Isis, Abby, Espyn, Lenox, Kayla and Zach; one great-granddaughter; her fiancé Wayne Fisher, and many nieces and nephews.
She is also survived by many adopted family and dear friends.
It wouldn't be possible to list everyone whom she held so dear to her heart. Those who knew her also know you'll never have a doubt in your heart as to what you meant to her. 
A celebration of life for Adrienne is planned for a later date.
In lieu of flowers, please kindly donate to the Crooked Gate Farm, LLC, 1517 Mallard Place, Front Royal, VA 22630 which is her dream in the making. 
You may sign the guestbook and submit condolences to the family online at www.stoverfuneralhome.com
Stover Funeral Home and Crematory in Strasburg, Virginia, is serving the family.