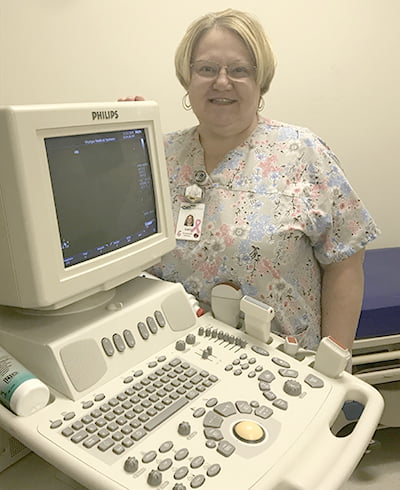 Pocahontas Memorial Hospital is proud to announce the registration of Lori Hunt, sonographer, in abdominal ultrasound through the American Registry for Diagnostic Medical Sonography. Hunt performs ultrasound examinations Monday through Friday from 8 a.m. until 4 p.m. on a scheduled or emergent basis. Ultrasound utilizes the principle of soundwaves in the body. This technology is safe, painless, non-invasive and does not expose the patient to radiation.
Abdominal ultrasound examinations might be ordered by the healthcare provider to help diagnose abdominal pain or distention and evaluate the kidneys, liver, gallbladder, pancreas, spleen and abdominal aorta. Abdominal aortic aneurysm (AAA) screenings are also performed at PMH and must be pre-authorized by most insurance companies. An indication for this screening might be family history of AAA or a male aged 65 to 75 who has smoked more than 100 cigarettes in their life.
In addition to abdominal ultrasounds, adult echocardiograms and carotid ultrasounds are also available through the Radiology Department. These procedures must be ordered by the patient's healthcare provider and pre- authorized through most insurance companies. Some indications for an echo may be congestive heart failure, previous heart surgery, aortic valve stenosis, mitral valve prolapse, heart murmur, irregular heart rhythm, pulmonary hypertension, pericarditis and coronary artery disease. Carotid ultrasound indications might include high cholesterol, carotid stenosis, history of stroke or TIA, carotid bruit, coronary artery disease, dizziness, abnormal gait, visual loss, weakness or numbness.
The Radiology Department of Pocahontas Memorial Hospital is fully operational 365 days a year.
Before traveling out of county for a procedure or test, call the Radiology Department at 304-799-7400 ext. 1305 to see if your examination might be available locally.