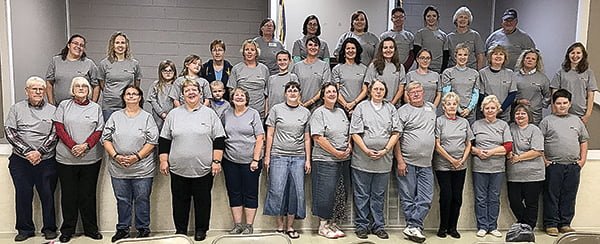 Connie Burns
WVU Extension
One hundred fifty-eight people in Pocahontas County set out in April to once again meet the challenge of walking 100 miles in 100 days. 
WVU-Pocahontas County Extension Service, Pocahontas Memorial Hospital and Pocahontas County Parks and Recreation partnered to offer the event as part of WVU Healthcare's 23rd Annual 100 Miles Challenge which has more than 6,000 participants statewide.  
Participants could count all of their miles this year – in previous years, there was a 12-mile/week maximum. 
County participants logged more than 20,000 miles during the three-month period from April 17 to July 25.  Ninety-nine people met the challenge of walking 100 miles in 100 days this year and received a commemorative T-shirt at a covered dish celebration September 12.
Winners of door prizes were Jennifer Dunz, Brad Dunz, Kati Friel, Jim Bullard, Christy Sharp, Heather Simmons, Carrie Curry, Gertrude Lester, Becky Tuttle, Sarah Barkley and Virginia Deputy.