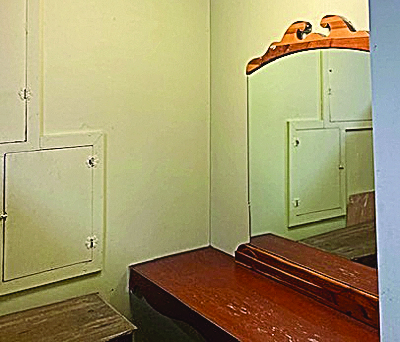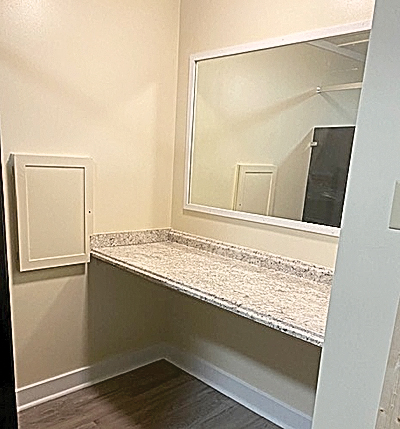 Before and after photos of the vanity area in a restroom in the Cass Company Store. This past spring, a crew with YouthBuild North Central West Virginia, located in Elkins, remodeled the restrooms as one of its many projects in the state. Photos courtesy of Marshall Markley
Suzanne Stewart
Staff Writer
Cass Scenic Railroad State Park is known for its well-preserved historical sites, including the Cass Company Store and company houses, built by West Virginia Pulp and Paper Company during the lumber boom in West Virginia.
While the buildings are restored and maintained to be as authentic as possible, there are still certain upgrades that must be made to keep the park inviting and somewhat modern.
One such modernization project took place at the Company Store early this spring, when a crew with YouthBuild North Central West Virginia, located in Elkins, remodeled and upgraded the public restrooms.
Park superintendent Marshall Markley contacted the non-profit and organized the project with program manager Michelle Phares. 
Construction supervisor Doug Zirbs assembled a crew and the students went to work creating two sleek new restrooms at the park.
This isn't the first time YouthBuild has worked with the state park. The students have also built clothing racks for the store and are in the process of building picnic tables for the company houses.
"We're in the process of building them, just when we get free time," Zirbs said. "There's not a rush for those. We've got a lot of projects going right now, so those are kind of on hold, but we have started cutting the pieces for them."
YouthBuild is an organization providing education for individuals between the ages of 16 and 24.
"We help them get their GED, and we also teach them life skills and job skills so they can be sent out into the job market as productive citizens," Zirbs said.
The majority of the students are from Randolph County, but Zirbs said there are also students from adjoining counties, such as Barbour and Tucker.
YouthBuild takes on project proposals from all kinds of non-profit organizations, as well as state parks and government entities.
"We do a lot of work for 4-H and the City of Elkins," Zirbs said. "We don't do private jobs for people."
Projects range from simple upgrades to brand new housing for the Randolph County Housing Authority. YouthBuild has built houses and apartments for low-income housing.
Organizations interested in contacting YouthBuild about a project may call Phares at 304-799-9008.