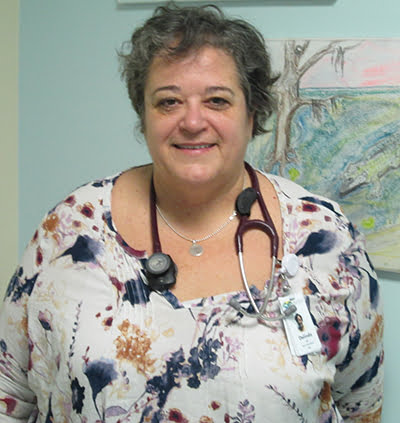 Delinda Woody has been on staff as a Family Nurse Practitioner with Pocahontas Memorial Hospital's Rural Health Clinic since September 2017.  She provides healthcare for the entire family, no matter the age. It is the variety of both ages and illnesses of her patients that Woody has seen so far that brings her the most happiness in her new position.
Woody, who is originally from North Carolina is embracing her new life in West Virginia.
"The patients have all been very genuine and have a strong thread of independence and straightforwardness that I appreciate," Woody said. "Everyone is friendly and seems to want to help you get on with your task at hand; whether it is offering to let you out into traffic, asking if you are finding things in the grocery store, or mailing a document for you from the DMV.  Going the extra mile seems to be an expected behavior."
Woody has a background in family practice, but her most recent work was with psychiatric patients. Prior to becoming a Family Nurse Practitioner, she was a Registered Nurse for the North Carolina Department of Corrections.
She has a particular interest in Chronic Disease management and likes helping both treat and educate patients. She enjoys seeing the improvements of her patients and empowering them to improve their own health. 
Woody will speak at the next meeting of the Pocahontas County Diabetes Support Group on Tuesday, January 23. 
"Growing the numbers for diabetes education will ultimately provide better outcomes for our patients," she said. "I am a firm believer that education strongly influences chronic disease outcomes."
Woody is currently accepting new patients, of all ages. 
The RHC offers a full range of medical services including care for illness and chronic disease management, well-child checks, immunizations, and physical examinations, in addition to women's and children's health services.
The PMH Rural Health Clinic is open to all and located inside the hospital, which allows patients access to lab and x-ray services without having to go through the emergency department. You may make an appointment with Woody or one of our other providers by calling 304-799-6200. Walk-ins are also welcome. The clinic is open Monday thru Friday 8:30 a.m. to 6:30 p.m. as well as one Saturday a month. Registration for the clinic is at the front desk of the hospital.