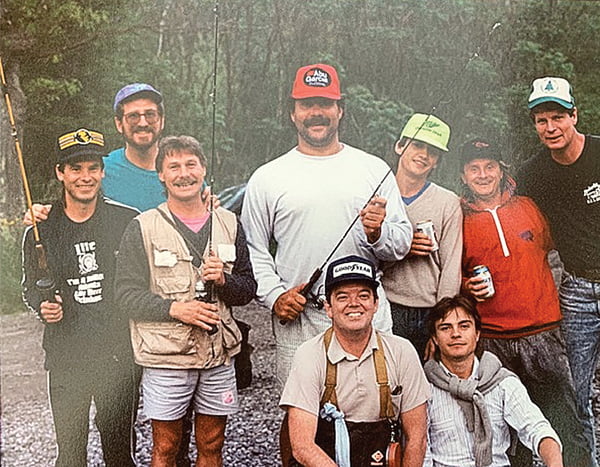 Dan Curry
Contributing Writer
It was a beautiful sunny day on Saturday, June 2, 1990.  Roger Trusler, John Snyder and I had decided we hadn't been fishing together for awhile and had agreed to meet at John's to start. Sitting on his picnic table in the back yard at the corner or 10th Street and Ninth Avenue, John mentioned that he had been working with organizations who were gathering support for the Russian Circus that had been abandoned somewhere in Georgia. 
It had made national news, Circus Bim Bom's backers had abandoned them and left them stranded.  At the same time, Snowshoe and Silver Creek were moving to be seen as not only a winter destination but a summer destination, so they were promoting summer access to the mountain.  The folks at Silver Creek had extended an invitation to provide lodging for the stranded circus members and on this very day, a portion of the circus crew – in two bus loads – were due to arrive. 
To make our day more interesting, we said to each other, "Do you think our new Russian visitors would like to go fishing?"  
So, I returned home to gather all my extra fishing poles, John added what more he had and, with a cooler full of beer, we headed in separate vehicles to Silver Creek.  
We pulled into the parking lot, self-appointed as an odd branch of the Pocahontas County Welcome Wagon, and wandered into the lobby looking for some new fishing buddies. 
Once our intentions were properly translated, we were told that several of them had commented on the many streams and rivers they had seen along the way and wondered if there were fish to catch.  With limited room in our vehicles we grabbed the first six fellows who showed an interest and headed out the door. 
We all introduced ourselves. Greesha seemed to have the best command of English so we relied a great deal on him to translate for us.  He was a big muscular guy with long curly black locks and a heavy beard.  We decided his West Virginia name would be Grizzly. 
We unloaded in the parking lot down behind Beckwith Lumber, crossed the railroad bridge and hiked down Elk River to a spot where several could fish from the riverbank.  Using hand signals and body language we managed to laugh and have a good time.  We didn't catch any fish and with little prodding, all agreed to go back to the cars and have a beer. 
Back at the parking lot I asked Grizzly what role he played in the circus.  I remember so clearly, he said, "I acrobat.  I show you." 
He turned and spoke to Uri in Russian. In seconds they joined hands and Uri was in a hand-stand on Grizzly's hands high above his head.  We applauded.  He went down to the ground then bounced up again standing on one hand to one hand.  Bounced down again and up to a one-handed stand on Grizzly's forehead. It was a great, "hold my beer" kind of moment, and we all applauded. 
We learned that the rest of the group was made up of acrobats and folk dancers and at least one clown. They were Sasha, Slava, Grisha, Uri, Veletti and Igor.
As the days rolled along, we returned to Silver Creek several times to visit our friends.  We met Grizzly's wife who, though a math teacher back home in Ukraine, was traveling with the circus as a folk dancer.  Our social visits taught us that vodka is easy to drink straight when you keep the bottle in the freezer.  And one evening, the Silver Creek manager opened the bar to us and then left us to play pool and card games and make drinks and enjoy the company. 
I recall that, at some point, new financial backing was arranged, and our friends were scheduled to leave.  They asked if they could put on a show for the community that took them in when they were down on their luck.  
As school superintendent, I arranged to have some wrestling mats and even a trampoline delivered from Pocahontas High School to Silver Creek for their goodbye performance.  They put on a nice show with little prep, and we said our goodbyes. 
I moved away from Pocahontas that August and stayed in touch with Grizzly and his wife for several years trying to arrange an exchange for students, but it never worked out.
I have always kept this picture in my office. It was taken from the parking lot behind Beckwith Lumber using the timer on my 35mm camera and setting it on the roof of my car. 
If anyone would ask, I was always ready to share the story of the day Circus Bim Bom came to town.