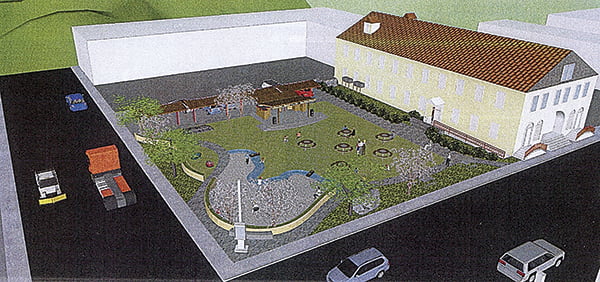 Jaynell Graham
Editor
If things go according to plan, the vacant lot adjacent to the Pocahontas County Opera House will be vacant no more.
A committee appointed by the Marlinton Town Council took on the blank slate two years ago. After working with students from West Virginia University and getting input from the public, and tweaking, tweaking, tweaking, they have a design that is fit for – well, fit for the lot and the interests of the community.
The design was approved by the Marlinton Town Council at its March 5 meeting. That approval moves the project to the next phase – fundraising. The cost for completing the design is estimated to be $255,000, much of which will come from grants. The committee is planning various events to raise monies for the coffers, as well.
Committee chairman Joe Smith said as funds become available, the work will begin with the installation of underground electric service and water pipes for a proposed splash pool. That phase will be followed by leveling the entire lot. The committee will then focus on the construction of an outdoor stage and a covered walkway adjacent to the alley, which could accommodate the farmers market, if they are interested.
The next phase would involve landscaping, as well as adding a green space with picnic tables.
Forest Ranger Cynthia Sandeno will offer her expertise at this point in the project, Smith said. She will compile a list of indigenous plants which will be used along the exterior of the opera house, as well as incorporated into smaller beds along the outside edge of the lot.
The final phase will be the installation of a splash pool.
This portion of the project led to the addition of a four-foot wall around the two sides of the lot that are exposed to traffic on Third Avenue and Ninth Street.
"We started with just a splash wall to keep kids from running out of the park area," Smith said.
But the wall in the final design adds to the overall appearance of the lot, and will be a safety feature as well as help reduce street noise.
There will be openings in the wall to allow entrance from every direction.
A flag pole is part of the plan, and all the lights – on the flag and in the wall – will be solar powered.
And, just for old-time's sake, the pay phone will remain on the corner and will be yet another interesting feature incorporated into this improvement plan for the town.
The design phase of the project took two years, and it is estimated that completion will take that long, as well.
Vacant Lot Committee members are Brynn Kusic, Roger Trusler, Lauren Bennett and Norris Long.
Donations for this project may be sent to: Town of Marlinton, Vacant Lot Fund, 709 Second Avenue, Marlinton, WV 24954.