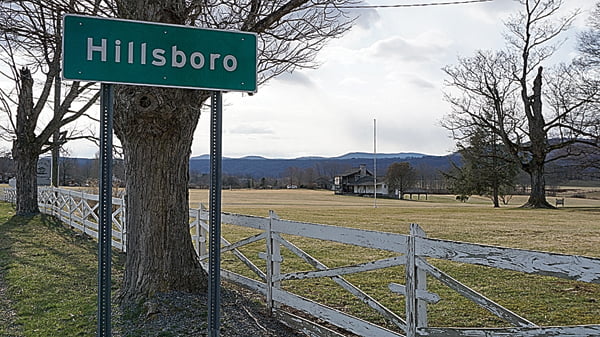 Ken Springer
Watoga Park Foundation
I arrived home a few days ago from a road trip to visit my friends and Watoga volunteers Margot and Laura who have a winter home in Austin, Texas.
Fortunately, I arrived back in time to participate in Saturday's Green Day Hike at Watoga State Park. 
It was a chilly but exceptionally clear day as Chris Bartley led a group of cheerful and talkative hikers up the Monongaseneka Trail all the way to the overlook, and what a view it was to behold on such a cloudless day. We all felt a sense of accomplishment and lingered for some time before heading back down. 
Chris stopped along the way to point out interesting features encountered on this, my favorite trail. Anne Workman, retired Forest Service employee, added her perspectives as well, making the experience informative and fun. I urge you to join us on future group hikes where you are likely to see old friends and make new ones. 
While I was traveling with my canine crew out west, David Elliott and Brian Hirt were out improving trails throughout the park. They cleaned up the 5K Route and removed trees on the Bonnie, Busch Settlement and Monongaseneka Trails. Additionally, David is constructing a bridge over the deep gully on the Allegheny Trail near Beaver Creek Road. 
In one of the trail reports written by David, he said something to the effect that I was "out discovering new places to come home from." That statement has the ring of truth for me, for no matter where I travel there comes a point in my travels when I cannot wait to get back to Pocahontas County, and this trip was no exception – I enjoyed visiting my friends, but I am very glad to be home.
Discovering New Places to Return From
I first conceived the idea to visit towns with unusual names after picking up a newspaper some years ago with the headlines Big Ugly Man Killed. My first response to such a declaration was that it was bad enough that this poor character was murdered, but to comment in such a disparaging manner about his apparently unfortunate features was a bit beyond the pale, especially in the profession of journalism where brutal honesty is only occasionally eclipsed by respect. Well, as it turned out, first impressions are often wrong – and in this case, mine was very wrong indeed.
As you may or may not know, Big Ugly is actually a community located in Lincoln County, West Virginia. They have a highly regarded community center that serves it citizens in a multitude of ways, and the Big Ugly Wildlife Management Area can be found nearby. How it acquired that name I have yet to find out.
I am often surprised at how people can be lifetime residents of a town sporting a name with certain implications without knowing how it got that name. Case in point: Letart Falls, a small town located along the Ohio River in southeastern Ohio. I once found myself having breakfast in a diner there with an unobstructed view of the Ohio River. I was struck by the fact that the water was as flat as a tabletop – where are the "Falls?"
When my waitress brought my breakfast to the table, I asked her why the town is called Letart Falls. The middle-aged woman pondered the question for a moment and replied: "You know, I'm not sure." And then in a move meant to be helpful, she shouted across the rest-aurant at a group of men sitting around a large table, "Say guys, do any of you know why our town is called Letart Falls?" The men huddled for a short while discussing the issue; presum- ably, they were all local farmers as they were, to the man, donning ball caps proclaiming their favorite brand of hybrid corn seed. After their short conversation one of the farmers issued the following; "H*ll, we don't know either, sorry." With that they returned to their discussion about crops and weather, or at least I presume that was the gist of their discourse.
A quick and conservative calculation on my part revealed that there were collectively at least 800 years of living in Letart Falls in that one diner, and not one of those folks had evidently ever questioned why their little town situated on the flat, placid and wide Ohio River was named Letart "Falls."
It was a decade or so later before I learned, on a visit to the Campus Martius Museum in Marietta, Ohio, that before the Ohio River was dammed, starting in the mid-1800s, there were a series of cataracts on the river where the community of Letart Falls is presently located. The rising waters have bur-ied and stilled the cataracts for well over 150 years.  Letart was the name of a French immigrant that drowned trying to navigate the falls in the early 1800s.
Wouldn't you think a child born into residency of a town with an unusual name would have looked up at their mother or father at some point in their development and inquire as to why they named this town Letart Falls, or Knockemstiff, Ohio; or Stabs by Mistake, South Dakota; or Pie Town, New Mexico; or more particularly Intercourse, Pennsylvania?
Even I had enough curiosity and genuine appreciation of the art of pie-making to make a visit to Pie Town, New Mexico some years ago. And yes, I got the story behind the name of the town from the loquacious postmistress immediately upon arriving. After which I proceeded to sample the fare for myself, consuming no less than three pieces of pie for breakfast – raisin cream, strawberry/rhubarb and lemon meringue. Following breakfast, I drove away with a slab each of peanut butter and egg custard pie for an afternoon snack. I would have felt downright guilty indulging in such gluttony without at least finding out the history of the town: Long live Pie Town, New Mexico.
On my recent road trip to Texas, the desire to get back home fell hard upon me after a week. So much so that I drove right by a town in Texas called Dime Box without even stopping to inquire about the history of its name. Further east, I cared not to find out the story behind Rain, Louisiana; although I saw little of it with my windshield wipers going at top speed – perhaps that itself was a clue.
Mississippi's villages of Hot Coffee, Whynot, Possumneck and Soso brought out no desire in me for even a quick visit. In Tennessee, the towns of Nameless, Nankipoo, Bucksnort and Sweet Lips had no draw for me whatsoever. I clenched the steering wheel and set the cruise control for a few miles above the speed limit intent on a single destination only.
I was forcing the miles to pass under my truck to see one sign and one sign only, and I didn't stop until I arrived there. So to other travelers whose intention or luck brings them to the sign that says "Hillsboro," there is no need to ask the postmistress how this community got its name – just stop and look; the answer is all around you.
Happy Hiking,
Ken Springer