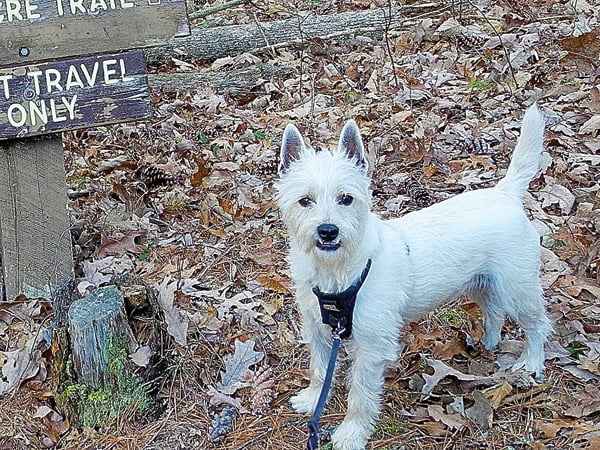 Ken Springer
Watoga Park Foundation
The improbable story about a dog named Bongo
The conclusion
The first time I set eyes on him was in a small ranch house about an hour west of St. Louis, Missouri. I had arrived there on a beautiful Saturday morning in May 2016 to pick up a rescued puppy. His name wasn't Bongo yet; the rescue agent had named him Archie; he came to her from a breeder unnamed.
Archie, a West Highland White Terrier, or Westie, was born in Arkansas with what breeders consider a physical defect, a pronounced underbite. Such a condition renders a pure-bred dog undesirable and precludes the selling or breeding of said dog. Fortunately, this one was surrendered to a small rescue agency in Missouri, saving him from a more unfortunate outcome.
At this point we must go back in time a bit to fully appreciate a curious string of events and people that led me to this little dog. In sharing this story with others, the usual labels are generally brought out – coincidence, synchronicity, random events, serendipity, God's hand.
I have heard them all.
On July 21, 2015, I lost a dog that caused grief as I had never known it before. Bonnie, a Westie, had been by my side for nearly 12 years. Anyone who had the opportunity to know her would not hesitate to say she was quite "unusual."
Bonnie not only enjoyed rock climbing and kayaking with me, but she had her own climbing harness and personal flotation device. She traveled with me on my job as a safety and health consultant that took us all over the country. 
Many of the companies that got to know her invited her to tag along as I inspected workplaces and attended meetings with company officials. 
Her death was a tremendous loss.
In January 2016, six months after Bonnie's death, I called a Westie breeder in Pennsylvania and placed a down payment on a female puppy from a litter expected in late spring. It was time to add another little furry kid to my household. 
About a month later, I decided to research "mediums" for an article.
Mediums are psychics who can allegedly contact the deceased. I am not gullible and assumed that these mediums would use a technique called "cold reading" to obtain information by observing body language, clothing, jewelry, etc.; and then asking questions based upon observations and inferences.
Usually, such mediums will speak in generalities. For example, when they see that the sitter is over 50 years of age, they may tell them "an older woman is coming forward who wants you to know that she loves you." They follow up by asking you if it could be your grandmother, knowing that it is a safe assumption that someone your age has likely lost their grandmother by this point.
So, I spent a month thoroughly vetting three mediums and had a reading with the first one on April 5, 2016, by telephone. I paid the medium through a third party so that my identity would not be known until I called her; and, the caller ID was deactivated.
The medium was over 900 miles away; she had no idea where I lived, nor did she know my last name. I was shocked at the specificity of the things that she told me. Within the first 15 minutes, she had told me everything I had done in the previous three days in great detail.
I found myself in a state of cognitive dissonance. Being a skeptic, it was not at all what I had expected.
One particular thing came up in her reading that is relevant to the story of Bongo. Approximately 20 minutes into the reading, she told me that an "entity" had come forward to say that I would not be getting a female puppy but rather a male puppy.
She asked me if this made sense. I told her it did not, and that I had already put money down on a female puppy from a breeder. This statement was repeated near the conclusion of the reading, this time adding, "You will be getting a male puppy, and you will know when it is the right one." I was baffled, and I must admit to being rattled by the whole affair.
In late April, while working on a trail at Watoga, I suddenly started thinking about a single word, one that I had not heard in many years and one that is not part of my regular vocabulary – "Bongo."
It was much like an "earworm" – you know, a song you can't get out of your head. I went to Disney World with my stepdaughters when they were children, and I couldn't purge my head of the tune "It's a small world after all" for at least a week afterward.
You have likely had a similar experience.
Because I had a conversation with my ex-wife just before going out on the trail, I thought that maybe she had said something that morning about a bongo, so I texted her to ask. She texted back, "No, isn't that a clown's name?" To which I replied, "You're thinking of Bozo."
She was little help in solving the mystery of my earworm. But she did keep the text on her phone for at least a year afterward as verification of our discussion about the persistent presence of the word "bongo" in my life.
So for a few weeks, a single word, defined as an Afro-Cuban drum, stubbornly refused eviction from my brain.
In the second week of May, I trailered my small camper up to Columbus, Ohio, to visit friends. While there, I received a phone call from a Westie rescue group out of northwestern Ohio informing me that they had a puppy needing rescue.
Puppies rarely come up for rescue. More often, it is adult dogs who, for a variety of reasons, have been surrendered to animal shelters and, from there, end up in the hands of rescue groups. Occasionally dogs come from breeders, but these are usually adult dogs no longer viable as breeding stock.
The conversation started with the rescue agent telling me that they rarely have a puppy up for adoption. She also told me it was a male puppy, to which I replied adamantly that I wanted a female and had already made arrangements to get one through a breeder in Pennsylvania.
To say that she pleaded with me to reconsider would not be an exaggeration. She added that she felt that this was a good match, and hoped that I would think it over. I would later appreciate her insistence with a depth of gratitude I find hard to express. 
I had a lovely time visiting and dining with friends that evening, but I couldn't keep my mind on our conversations. I had that nagging feeling when you know that you're at odds with the universe's intentions. Although it may have been guilt for purchasing a puppy from a breeder rather than getting a rescued dog.
I went to bed in my camper with this weighing on my mind, not falling asleep until the wee hours of the morning. I came out of that fitful drowse with a jolt around 5 a.m. – all in all, feeling quite peaceful. I had made up my mind, so I drank coffee until I thought it was an appropriate hour to rouse the rescue agent from her sleep.
She answered the phone on the first ring and seemed to know what I was going to say. I remember very clearly her saying that she truly felt that this dog was meant for me. Perhaps they say that to everyone who takes a rescue dog?
I assumed that I would be picking up the puppy somewhere in Ohio where the rescue agent was calling from. But she told me that he was being sheltered at a one-woman rescue operation in Missouri. 
I was camped less than a mile from Interstate 70, an east-west highway that runs from Baltimore, Maryland, to Cove Fort, Utah. I was now anxious to go get this little guy; I just needed the address and I would "hit the road."  
So I asked for the address, and this is what she said, "You are going to a little town called Sullivan, about an hour west of St, Louis. The name of the rescue agency is Bongo's Buddies Rescue."
Without a moment's hesitation, I headed straight to Missouri.
It is left up to you what to make of this story; I have my own thoughts. We each carry away from our experiences what we need to, and that is precisely what I did.
Ken Springer
Ken49bon@gmail.com
A special thanks to Mireya, Beverly, Kathy, Claire, and Paula; the chain of wonderful people who led me to Bongo.
A very special thanks to Dewey Burr whose quick response when Bongo had an obstructed airway probably saved his life.