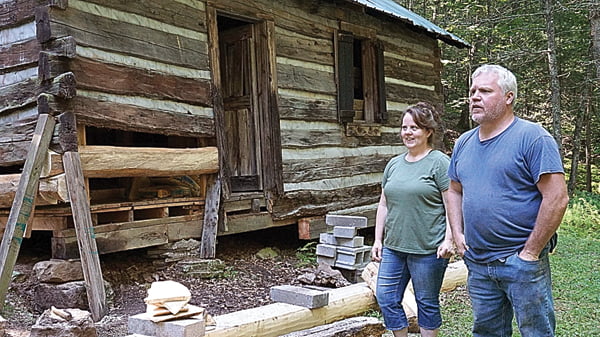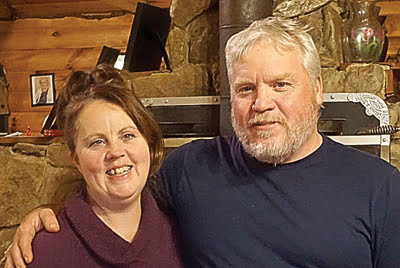 Ken Springer
Watoga Park Foundation
Ethan and Vada
Most folks who watched the series, loved it. Many wished they could live there – I was among them. But the town of Cicely, Alaska, in the long-running TV show, Northern Exposure, was the product of a writer's imagination.
As were the cast of unorthodox folks who inhabited the town of Cicely. But, to the person, they were characters that we all wish we could surround ourselves with.
I am trying very hard to avoid the clichéd word,  "quirky," but there you go. People who make life interesting and give a high rate of return for the time invested in just being around them.
I sold my log home on Summersville Lake nine years ago after a single trip to Pocahontas County that included attending the very first Wild Edible Festival at the Hillsboro Library. I felt as if I had stepped onto the set of Northern Exposure – there they were, characters everywhere.
So, I moved here hoping for the best, and I was not disappointed. This county is chock-full of interesting people. Case in point: Ethan Burgess and Vada Boback.
Ethan can best be described as a humble philosopher; a man who is not shy about his faith in God and the positive effect that this has had on his life. He looks exactly how you would imagine a mountain man to look; full beard, strong frame and ruggedly handsome.
Vada is his sister, co-worker and co-conspirator all wrapped into one. She is vivacious and thoughtful – her eyes dance with humor. Vada is also a teacher at Marlinton Middle School. Both are generous with their knowledge and their unique approach to life.
She and Ethan express great admiration for their father, the late Pat Burgess, who set them both on a path to self-confidence and self-reliance. As a team, they are formidable when it comes to really difficult projects.
Last year at this time, the Workman Cabin nestled up in the headwaters of Rock Run in Watoga State Park, was fast approaching the point of collapse. The last time any significant repairs had been made to the cabin was by the Civilian Conservation Corps during the 1930s.
The Watoga State Park Foundation had garnered some grant money to begin repairs and was actively searching for someone with the requisite skills to restore this historic structure. It was soon discovered that finding such an individual would not be an easy task.
The cabin, built in 1885, was constructed of native trees and each dovetail joint was unique in its dimensions. Additionally, the foundation logs had to be replaced and the entire structure made level.
We talked to several contractors with experience in building log cabins and one name kept coming up – Ethan Burgess.
Ethan was busy with other projects but said, "If you can't find anyone else, I will do it."
That seems to be his mantra, as we did not find anybody as qualified as Ethan, and he did take on the job. And this is how I got to know a little bit about Ethan and Vada.
In our first conversation before he began work on the Workman Cabin, Ethan, when asked if he was from Pocahontas County, replied "Yes," and he added that he was "of the land."
As a veritable vagabond in my younger years, I have always been enchanted by this phrase which I take to mean that one was born, raised and acculturated in a given locale.
I have heard this sentiment from many fine folks who were born and raised here in Pocahontas County. Now I understand that the very geography of this area is embedded within the context of the statement "of the land."
Ethan was born in 1970; he has 13 siblings which include some half-siblings. Ethan has a clear ethic and methodology about his work that is exceedingly rare. He credits his father for this and the wisdom bestowed upon him and his sister often came through in our conversation.
Ethan and Vada's father was a storyteller, and he was a man of great experience. Referring to their father, a Forest Service employee was once overheard saying, "He can move a mountain with a stick." Meaning that a difficult task is all about problem-solving, and that was Pat Burgess' great skill.
Although never a direct employee of the Forest Service, Pat worked on projects as diverse as trail building, fish habitat and crop tree release. Ethan, as well, worked on many Forest Service contracts and confessed that he prefers trail building above all other work.
Pat's skills were passed on to Ethan. As he told me during our discussion, "Put me on the spot and I will get it done."
When Ethan and Vada were children they wanted to build a treehouse near the garden. Their father gave them permission to do so with the caveat that they figure out how to do it by themselves. 
Because he also believed that nothing should be wasted, they were instructed to use boards from a structure that had been torn down, and, they were to pound out the old nails and straighten them for use in building the treehouse.
Ethan grew up working with his father and brothers in the family business of logging with Percheron horses. When Ethan was 14 years old, his father purchased a portable sawmill and sent young Ethan to Indiana to learn how to use the equipment. He spent three days there, working in the sawmill all day and sleeping in the truck each night.
At 24 years of age, he was Assistant Superintendent for the primary contractor on the Falls of Hills Creek boardwalk project. Talk about building something in difficult terrain! 
Those of you who have descended the steps into this beautiful gorge know that building a doghouse there would be challenging on the near-vertical mountainside.
When Ethan first set eyes on the Workman Cabin he knew from experience that it posed a lot of problems, not the least of which was where to start. As he described this to me, I imagined trying to dismantle a house of cards without causing the stack to collapse.
Ethan once again called upon those things his father had taught him about approaching any job regardless of its challenges. He was fond of saying, "Those things that you don't know are only because you haven't needed to know them yet." As well, his father admonished him, "Not to dwell on what you cannot do."
Before pulling the first tool out of their truck, Ethan and Vada spent a lot of time walking around the cabin and discussing how to approach this seemingly impossible job. They knew from previous experience that the first step was crucial to doing the rest of the job properly.
They also knew that the Workman Cabin, like many of their difficult projects, did not lend itself to a master plan – they had to figure it out piece by piece and do it in an order that did not endanger the structure.
I am reminded of the old adage, "How do you eat an elephant?"
One bite at a time.  
"Start by doing what's necessary; then do what's possible, and suddenly you are doing the impossible." – Saint Francis of Assisi
That, in a nutshell, is Ethan's successful approach to difficult problems.
A month later the Workman Cabin was once again as sturdy as the day it was first built, and a delight to look at. It will continue to grace the headwaters of Rock Run for another 140 years.
All thanks to Ethan, Vada and the wisdom of Pat Burgess.
Vada left me with the following thought, "We need the stories that weave the fabric of our Appalachian heritage. I think that our people, especially the youn-ger generation, need to hear and see that they have a rich history of doers.
"They must feel both proud and encouraged by who they are and where they live."
As Marcus Garvey said, "A people without the knowledge of their past history, origin and culture is like a tree without roots."
From the mountain trails of Watoga State Park,
Ken Springer
Ken49bon@gmail.com
A special thanks to Wayne Pollard of the Watoga State Park Foundation for his considerable efforts in arranging this unforgettable interview with Ethan and Vada.