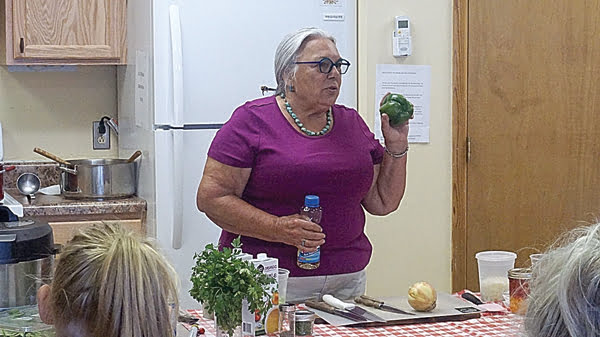 Ken Springer
Watoga Park Foundation
Gumbo, roux, and a good reason to eat dessert first
The people of Louisiana have a tradition called lagniappe (pronounced lah-nyahp) that basically means something extra. A good example here in the mountains would be buying a dozen donuts and getting an extra one for free.
Well, we got more than we bargained for at a recent cooking class at the Hillsboro Library.
Did you know that among all of the other services available at our local library, we also offer cooking classes?
Well, we do. So, write that down and put it in your hatband – now back to the story.
Sally Cobb stood up in front of a group of mostly women attendees who came to learn how to make the signature stew of Louisiana – Gumbo. With the library's kitchen behind her and a wide array of vegetables on the table in front of her, she commenced an afternoon of learning, laughter and good eats. Sally leaves no doubt that she is from and of New Orleans.
A survivor of Hurricane Katrina in 2005, she stayed on in New Orleans despite her own losses to help bring relief and order back to her beloved hometown. In doing so she introduced a new taste to the New Orleans food scene – the tamale.
As a way of making a living Sally used the few ingredients available at the time to create a Louisiana style tamale, much as African Americans did in the Mississippi River basin nearly a century ago.
Being the resourceful person she is, the tamales sold like hotcakes to the local folk who have had a long love affair with the heat and pungency of chilies.
Like any number of people from "other" places, Sally and her husband, Phil, are now living in Pocahontas County. And we are the beneficiaries of a cuisine that is wholly and uniquely American. The cuisine of New Orleans is an amalgam of culinary contributions by the French, Spanish, Cajun, Creole, Italian and African-Caribbean cultures who made New Orleans and the surrounding coastal areas their home.
No dish is more associated with southern Louisiana than Gumbo, which, by the way, means "okra" in an African language. This makes perfect sense because okra is a key ingredient in Gumbo, not only for taste but as a thickening agent. A creole version of Gumbo uses powdered sassafras leaves, called file, for thickening. But file is only added just before the Gumbo is consumed, whereas okra is in the pot very early on in the cooking process.
Under Sally's tutelage, we made a Cajun gumbo which requires a "roux." The dark roux necessary for Cajun Gumbo is labor intensive, much like making a Risotto where you have to keep stirring until the results are perfect.
A roux is similar to a gravy, in that flour is cooked in butter or meat fats until it becomes a mahogany brown. This color is crucial in giving the rich nutty flavor that is the soul of a good Gumbo.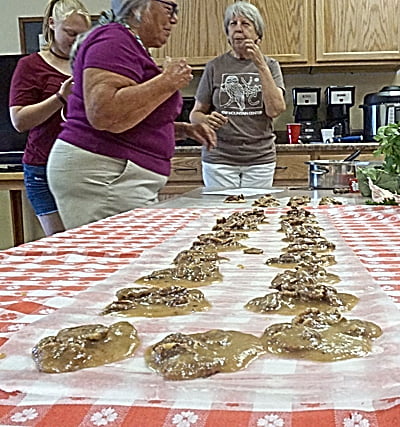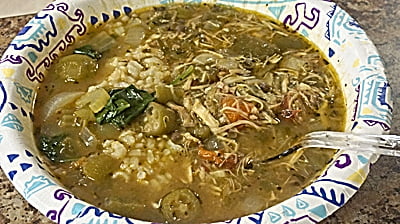 Gumbos are always made of a variety of vegetables including tomatoes, onions, jalapeno and okra. From there, meats or seafood are often added, including chicken, andouille, shrimp, crab, oysters or crawfish – often called "mudbugs" in Louisiana.
This was a hands-on class, so those attending were called upon to stir and measure; often the entire group left their seats and circled around Sally when she was at the stove performing critical tasks such as adding okra to the hot roux.
As Sally cut and diced the vegetables, she regaled us by sharing an insider's knowledge of the cuisine of New Orleans. She spoke of beignets, Café Du Monde, muffulettas, and Dooky (Queen Leah) Chase's take on everything Cajun, Creole and African-American – food that should be unlawful not to eat while in New Orleans.
As the Gumbo simmered on the stove, Sally switched her attention from the main entrée to a very southern treat. Something more confection than cookie – I am speaking of Pralines, of course.
We were not going to get out of the Community Room of our library without making and eating this exquisite patty shaped candy made with caramelized brown sugar and pecans. 
And watch how you pronounce pecan, the syllable you accent can reveal which part of the country you hail from. About that time the Gumbo was deemed 'perfecto' by Sally; it was time for many to have their first taste of New Orleans. 
One student, who shall remain anonymous, very deliberately ate her praline first instead of waiting until after she had dug in to her bowl of Gumbo. I thought that the aroma of the newly minted pralines arranged on a long strip of waxed paper had just overwhelmed her, and she simply gave in to the temptation.  
But, she told me that she had worked in a geriatric facility for many years. She said on her first day on the job she sat at a table of patients for the evening meal. As she started to put her fork into her plate of meatloaf and mashed potatoes, one old fellow gave her the following advice. "Honey, we always eat our dessert first here," he said. "Why, at our age, we never know if we are going to live through the rest of the meal."
From the looks on everyone's faces when they took that first bite of Gumbo, it became obvious that the signature dish of the bayous of Louisiana had made converts out of the entire class.
The very best compliment came from the 14-year-old daughter of an attendee. She was very apprehensive about that first spoonful of the thick fragrant stew, but she went on to take another bite. She then exclaimed to her mother and everyone else in hearing range: "This is better than pizza!"
A sterling endorsement if I have ever heard one.
Everyone will soon have the opportunity to sample Gumbo, pralines, muffulettas and many more dishes of New Orleans when Sally and her husband, Phil, open up Farmer Phil's Fresh Market in Hillsboro in early 2020. Sally will be making these dishes in the in-house deli called Aunt Sally's Café. Eat-in and takeout will be available.
It was mentioned in the lead-in to this story that the Hillsboro Library offers cooking classes and demonstrations on a regular basis. All classes, presentations and events are open to the public, including campers and cabin guests at Watoga State Park.
Here are the events for October and November:
Saturday, October 19, Fall Literary Social. Author Carter Taylor Seaton will discuss her book, Hippie Homesteaders. Music and potluck at 6 p.m., program at 7 p.m.
Sunday, November 3, at 2 p.m., All About Pie. Emily Sullivan shares her considerable pie-making skills just in time for Thanksgiving. The class is free but there is limited space, so call early at 304-653-4936 to reserve a spot.
Saturday, November 16, Finding Xiao Ming. Ken Springer's search for a woman in the backcountry of China who was separated as a four-year old child from her mother for more than 40 years. Details forthcoming.
From the mountain trails of Watoga,
Ken Springer
ken49bon@gmail.com