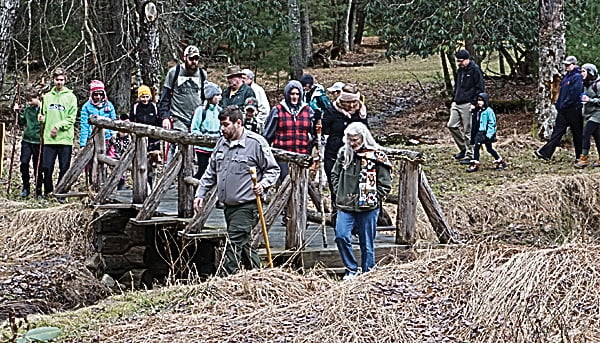 Ken Springer,
Watoga Park Foundation
The first day of 2019 started and ended with a heavily overcast sky, but that did not dissuade hikers from participating in the First Day Hike at Watoga State Park. Twenty-six people gathered at the picnic shelter at 10 a.m. to start a two-mile hike that traversed the Recreation Trail and continued on a trail that loops around Watoga Lake.
This annual hike, led by Watoga Naturalist Chris Bartley, was made up of local hikers, as well as hikers from within and outside of West Virginia. For Connie Zeitler, this adventure was not just on the first day of the year, but it was the first hike of her life.
Congratulations Connie!
Added features of the hike were the informative stops along the route where Chris pointed out the various features of the park, and other activities available to visitors. One such event he discussed as we stood along the bank of Watoga Lake is the annual Gold Rush.
On April 6, 2019, Watoga Lake will be stocked with trout, moreover, only with the fabled golden rainbow trout, which, Chris pointed out, was developed right here in West Virginia.
Other fishing news centered around Watoga Lake for the year ahead, including the annual Kid's Fishing Derby on Saturday, May 18, for youth under 15 years of age. For those who have never been fishing, but would like to learn this cherished skill, a workshop will be offered Saturday, June 8. Casting Call, where the basics of fishing – from equipment selection to using the proper bait – will be taught. It is open to all ages.
Of further interest to Watoga hikers was an announcement by Chris that Boy Scouts will begin replacing the outdated trail markers during the warmer months of 2019. At present, the trail-marking system can be confusing, particularly when one wishes to combine several trails together to make a loop hike. The new trail markers will be specific to individual trails, greatly reducing disorientation for hikers.
Other stops were made on this informative hike to look at a bizarre winter mushroom, as well as a close-up look at the Woolly-Adelgid, an invasive pest that is decimating our beautiful hemlocks.
Our last stop was at the Recreation Hall where we arrived gloriously tired and ready for coffee and hot chocolate. This is a wonderful event for all ages, and Chris spares no effort to make these hikes enjoyable, as well as an opportunity to learn about nature and the rich history of the park.
What a great way to kick off a brand new year – a walk in the woods with old friends and new friends, sharing an experience in the outdoors and learning at the same time.
We hope to see you next year here at Watoga State Park – where we are always happy to see you.
A very special thanks to David Elliott, and Anne and Sollie Workman, for their considerable efforts in preparing the trails for this year's First Day Hike.
We do apologize for the wet areas resulting from recent rains; but if you paid a little more for those "waterproof" hiking boots, you at least got to find out if they really work – mine did not.
Happy Hiking throughout 2019 and beyond.