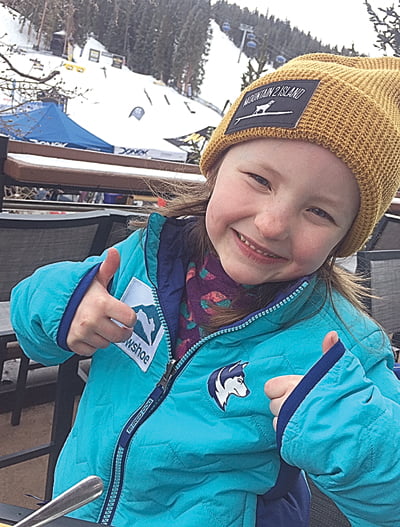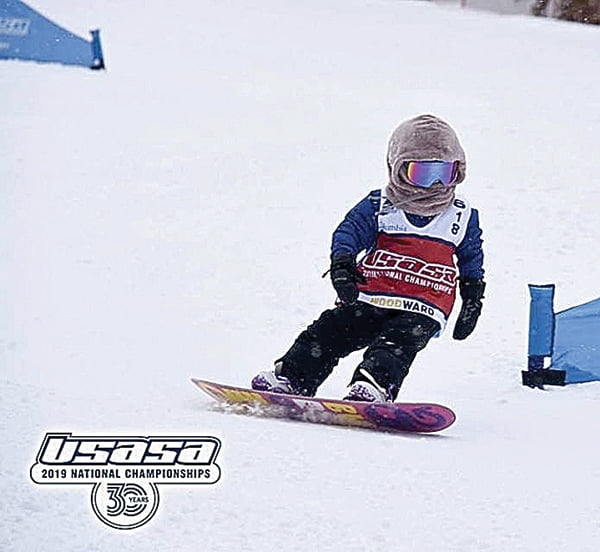 Suzanne Stewart
Staff Writer
She may only be six-years-old, but Mia Valach, of Mingo, has been carving the slopes from the time she could walk. She started with skis, but by the time she was three, she had moved on to snowboarding and before long, she was competing for the USASA – United States of America Snowboard and Freeski Association.
Mia competed in 13 events in order to qualify for the national competition. In USASA, snowboarders compete in four races – Giant Slolom, Slolom, Boardercross and Slope Style. Mia qualified in all four.
"I qualified for four divisions, but I only did three because I don't like slope style," Mia said. 
"It was huge," Mia's mom, Tracey, said of the slope style. "I don't know if I could have watched. It was huge. The jumps were huge. Everything is created for the middle of the pack. She was on a feature called a WuTang and it was almost twice her height."
In addition to competing in USASA sanctioned events at Massanuten, Virginia, and Roundtop Mountain Resort and Seven Springs Resort, in Pennsylvania, Mia also participated in the Berming Man event at Snowshoe Mountain Resort.
While Berming Man is not part of the USASA events, Mia was able to do really well, and it psyched her up for the bigger competitions. It doesn't hurt that she did better than her dad, Mikey, at the event.
"I was just old enough because it was a six to fifteen age category," Mia said. "I got ninth place. I'm pretty sure I beat dad on the course in the mogul field because he fell, and I didn't. I only fell on my practice."
In the USASA competitions, the age categories are a bit different. Racers ages seven and under are referred to as Ruggie; eight to nine are Grommett; and 10 to 11 are Menehune; and so on.
"She will be a Ruggie again next year," Tracey said. "All the girls that beat her all age out."
The national competition was held at Copper Mountain in Colorado and more than 500 kids – boys and girls – participated. In Mia's category, there were between 12 and 14 competitors, depending on the event in which they qualified.
Since Snowshoe doesn't have an official USASA team, Mia was helped by coaches from Massanuten and stayed in touch with her Snowshoe coach on the phone during the competition.
"Clay Edwards was her coach, and he was so into it," Tracey said. "It was killing him that he couldn't be there, but they're not certified USASA coaches. He was Facetiming her and trying to follow her. He was like, 'I will not do another nationals through the phone.'"
Edwards is a coach with the Snowtracks program at Snowshoe and helped Mia prepare for the national competition.
Going into nationals, Mia was ranked first in the nation for boardercross, her favorite event.
"Boarderscross has a gate, jumps, rollers and berms all in one," Mia said. "There's four kinds put together. This gate drops down – there will be a big beep, then three tiny beeps and the gate will drop on one of those tiny beeps and you go."
At nationals, Mia placed eighth in boardercross, fifth in giant slolom and fifth in slolom. Although she wasn't thrilled with the lower ranks, her parents were.
"We were super proud of her," Tracey said. "She was not happy, but we were. She was really disappointed. She had a really hard time with some of the features."
She may not have been excited with the end result, but that doesn't mean she's ready to hang up her snowboard. Mia can't wait to hit the slopes again and this year, she plans to spend even more time there.
"I had 92 days on the snow," she said. "That includes the competitions. That includes the whole road trip and everything. Next year, I'm working my hardest to 100."
Aside from spending time on the snow, Mia said she enjoys the competition because she gets to meet a lot of people with similar passions.
"I like racing with other kids that I don't really know," she said. "Next year, I'll still know them, and I can make more friends because then there will be more kids. One second we're just chitchatting and the next second, we're at the start gate."
"It's really fun to watch the camaraderie," Tracey added.
To compete in the USASA Nationals, Mia was sponsored by Snowshoe Mountain Resort, Mountain Highland and received a helmet and goggles from Giro.