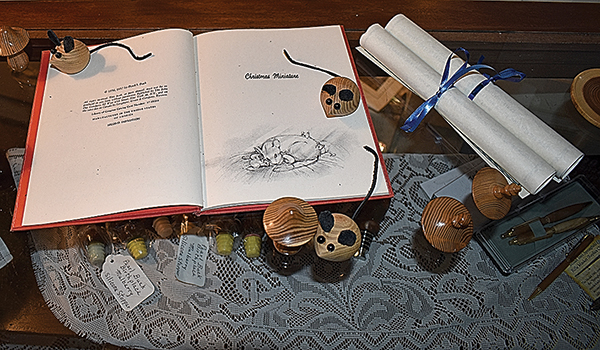 Suzanne Stewart
Staff Writer
The partnership between the Pearl S. Buck Birthplace (PSB) in Hillsboro and the West Virginia Woodturners Association was forged in 1998 when a large mulberry tree at the birthplace fell to the ground.
With the help of then PSB Association board member Ruth Taylor, the Birthplace worked with members of the Woodturners Association to turn the tree into beautiful pieces of art that are sold in the gift shop at the Birthplace.
PSB docent Phyllis Lubin-Tyler has worked with the woodturners for years, curating pieces – from large bowls to small mice – to sell to visitors.
"Gerald Chandler has been the main person for probably fifteen years," she said. "He's now ninety-two. He calls me and asks what I need, and I tell him what stock I have left."
For years, the woodturners made large bowls and candlesticks for the shop, but Lubin-Tyler said she recently asked the group to make smaller items that will appeal to the public and she said it is hard to keep them on the shelves.
"Gerald made whistles this year," she said. "A dozen whistles with high, low, medium sound. I have one left. The spinning tops, which I love. They are great tops. We also have little mushrooms and little mice."
The mice partner well with one of Buck's books, "The Christmas Miniature," which Lubin-Tyler displays with the little wooden mice.
The woodturners have never charged the Birthplace for their work and are pleased to donate their time and artwork to be profit for the museum.
"They don't want any money," Lubin-Tyler said. "They enjoy the craft. They know that it helps us here. From their hearts, they create these."
All the items are made from the wood of the felled mulberry tree, of which there is still a large portion stored at the Birthplace. The woodturners are in the process of finding help scaling down the wood to workable pieces for more artwork in the future.
The mulberry pieces are available for purchase at the Pearl S. Buck Birthplace, and Lubin-Tyler said she plans to have a booth at the Pocahontas County Opera House Christmas Bazaar again this year.