Suzanne Stewart
Staff Writer
At first glance, the newly refurbished and expanded Corduroy Inn and Lodge at Snowshoe is a sleek and modern place to stay during a visit to the mountain.
But the interior tells a different tale. The elegant and subtle lodge is the latest destination-wedding venue in the state.
Despite the COVID-19 pandemic putting most things on hold, owners Dave and Kristin Billings took a leap of faith and chose to expand their business.
In addition to 30 lodging units, the fourth floor of the lodge has a ballroom, foyer and everything needed to host a spectacular wedding. The lodge décor is in shades of gray, tan and white to ensure that no matter the bride's color scheme, the venue will never take the focus off the wedding party.
With a skilled staff that works like a well-oiled machine, The Corduroy is there from the planning stage all the way to the farewell brunch the day after the wedding.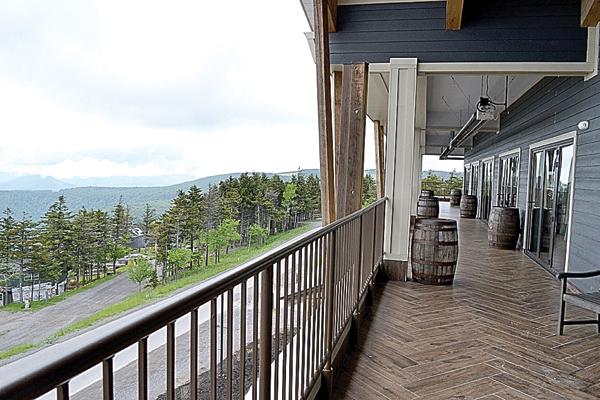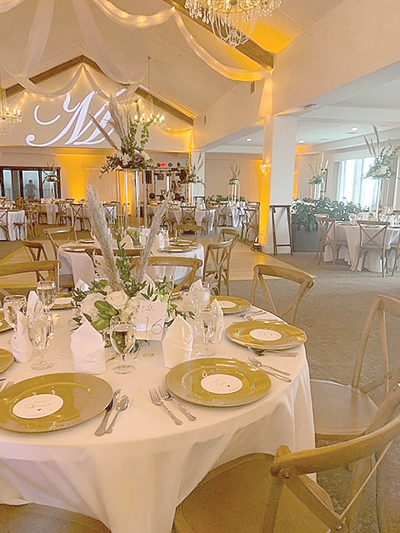 Leading the crew is operations manager Jim Ed Roush. He may not have intended to become a wedding expert, but after helping his wife, Monica, plan their own wedding, he realized he had a knack for it.
"It's funny, I left Snowshoe for a short time in 2014 and, in that time, I helped my wife plan our wedding, and I was like, 'I would never do this again,'" he said. "Then I got a call to come back to Snowshoe as the catering manager and within a week of being back, they said, 'there are thirty-seven weddings this summer.'"
That first summer of 37 weddings soon led to more and overall, Roush has planned and organized more than 80 weddings in his career.
Now that he's at The Corduroy, Roush has it down to a science and, along with his staff, can help every bride have her dream wedding.
"The good thing about this property is you can do the rehearsal, the main event and then brunch on Sunday, and no one has to leave," he said. "We still have the amenities of the resort, so they can go do things, but essentially they don't have to leave the property."
The fourth floor ballroom is used for the ceremony and dinner and can be flipped from one scene to another in record time.
"This past wedding, we had a ceremony in here and then we had one hour to flip the room for dinner service," Roush said. "We did it in forty minutes. They usually rent the chapel at St. Bernard's or they will rent Mountain Lodge lawn, but it is an option to have the ceremony here, as well."
The dining room has a balcony large enough to take the party outside – complete with treated wine barrels which can be used as tables. As for the view – nothing can compare.
The balcony provides the perfect view as the sunsets behind the mountains while the wedding party celebrates.
"We've got killer views up here," Roush said.
Roush is joined by maî·tre d' coordinator Lydia Shuttleworth – also known as Chef Ed's wife – who also has years of experience planning weddings.
She jokes that most people know her as Chef Ed's wife – her husband is the chef at Appalachian Kitchen, one of three restaurants at The Corduroy.
"I've always been somebody's something," she said. "For years, my parents had a restaurant, and I was Cornish Manner's daughter, then I became Talon and Daisy's mother, and I've always been Chef Ed's wife. I just got used to it."
Along with Appalachian Kitchen, the inn has The Pizza Slice and Tuque's Bar and Grill – all three of which cater to the wedding party.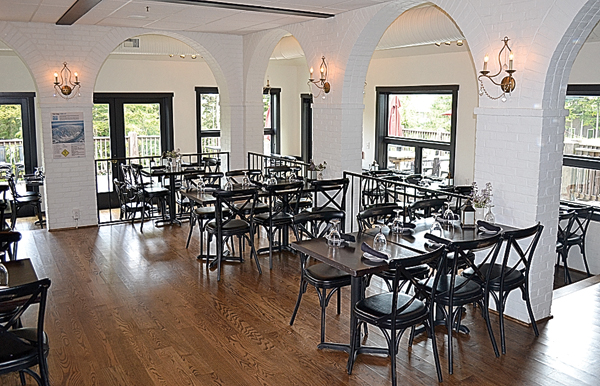 "Appalachian Kitchen is our farm-to-table, so everything is from somewhere in the Appalachians," Shuttleworth said. "We try to keep it as best we can, from season to season."
Chef Ed's culinary skills are on display at "AK," as the staff refers to it – with his venison meatloaf, filet mignon, pan-seared trout, bone-in pork chop, duck leg confit and lamb loin chops. Those are just the entrées.
Using ingredients from farms in West Virginia, North Carolina, Maryland and Virginia, Chef Ed perfectly marries the Appalachian flavor with classic French cuisine staples.
The restaurant has even been used as the venue for smaller weddings – with its wraparound porch, the dining room is a perfect setting for those who prefer an intimate ceremony.
Together, Roush and Shuttleworth work with the bride to plan every detail and ensure that the weekend will go smoothly.
"If you book with us as a bride, you're the only bride that weekend," Roush said. "We don't try to juggle two and three weddings. When you check in on Friday and do your rehearsal – you're with us all day Saturday and until you check put on Sunday. We'll do brunch or whatever you want to do before check out. It's all about the person – the bride – that weekend."
Roush has secret weapons in his staff and family – not only are they ready to do their regular jobs during the wedding, they are also skilled in other areas that may be needed at the last moment's notice.
"All of our staff – a lot of our core staff – have all worked weddings with us, as well," he said. "We have a vendor list, but everybody on our list that works here has a talent. We have two people who can take photos if there's an emergency and the photographer doesn't show. I'm an officiant. My wife bakes and bartends. We have two hairdressers. So we have all the bases covered if there's an emergency."
Weddings can be stressful for all involved, but Roush does his best to keep a cool head and injects as much humor in the weekend as possible.
"We usually quote 'Steel Magnolias' at every wedding," he said, laughing. 
Roush is also able to be the voice of reason and get stern with those trying to steal the shine from the bride, if needed.
"It's funny, too, with weddings because I've done so many – we're the voice of reason," he said. "When somebody is being a jerk, it's like 'take a step back, calm yourself down; today's not about you; it's about the bride.'"
While it is a destination-wedding spot, Roush assures that The Corduroy and its restaurants are open to all, and the lodge ballroom may be used for reunions, birthdays, bar-mitzvahs and more.
"We're going to do bus tours in the fall," he said. "We're setting those up now, so we can do breakfast and dinner for the bus tours. We've also had a couple people look at us for corporate events. We can also do things like that."
To learn more about The Corduroy Inn and Lodge, or to book an appointment, visit corduroyinn.com